This month's stories run the gamut, from the musings of a master storyteller, to a thrilling mix of tech and spycraft
Words by Charlotte Griffiths
Mantel Pieces by Hilary Mantel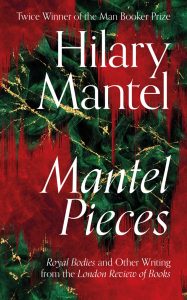 This splendidly named collection of essays, diary entries and correspondence by Hilary Mantel is a must-have for fans of her work. Beginning in 1987 with a polite letter to Karl Miller, then-editor of the London Review of Books, the neophyte writer describes her style as having "no critical training whatsoever, so I am forced to be more brisk and breezy than scholarly". 
Each piece is punctuated with sudden sparks of connection
She explains in the book's introduction that, as her relationship with the LRB grew stronger over time, her contributions became "more expansive, the work became more challenging, and my unease dissipated". While we're led to the present day via reproductions of notes, faxes, kill-fee cheques and emails, Mantel's otherworldly abilities begin to unfurl.  Turning over subjects in her mind, each piece is punctuated with sudden sparks of connection and those gradually revealed allusions that lurch up from the depths of her astounding imagination. She writes that, although there was a temptation to add afterthoughts or update the thinking on display in her earlier pieces, she has chosen to leave them as they are, describing them as "messages from people I used to be".
The book also includes Royal Bodies, her infamous (and superb) lecture on the contemporary royal family, which attracted a whirl of press attention – bookended here neatly with emails between Mantel and the LRB's then-editor, Mary-Kay Wilmers. Preceding messages discuss the practicalities of the talk, including their preferred way to describe Kate Middleton: "No question at all of calling her the Duchess of Cambridge. That would be awful," while the mid-furore follow-up email from Hilary begins: "The Daily Express is sitting outside my house…" 
Her fond, funny notes to Mary-Kay in particular allow a glimpse of what it must be like in this extraordinary writer's circle of acquaintances, treating us to a brief moment backstage before being kindly, but firmly, escorted out the side exit. Mantel's brilliance and all-consuming approach to writing mean that new projects from this author appear far too infrequently – so, any opportunity to spend more time in her company should be grabbed with both hands.
One Day I Shall Astonish the World by Nina Stibbe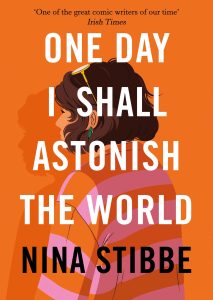 This wonderfully domestic, darkly comedic novel depicts the unexpected twists and turns that lifelong relationships are richer for enduring. Best friends Susan and Norma-Jean meet in their early 20s when they become colleagues at a small haberdashery owned by Norma's parents, and their connection endures for decades, through marriages, careers, child-rearing, and all the other challenges of adulthood. "I don't know if I thought to myself that morning, wow, it's not even ten o'clock and I've already met my future husband and my best friend for life. But I should have, because I had," reflects Susan. The book's events unfold in similar fashion, much like life: often it's the tiniest of decisions or encounters which lead us down an unexpected fork in the road.
We meet Susan in 2020, hard at work for a nearby university, reflecting on her 28-year marriage to Roy. Her husband's new obsession is longevity, specifically his desire to live to 100 years old, and Susan accommodates his increasingly bizarre exercises with the kind, but tired resignation of those in very long-term relationships. Her adult daughter Honey has also returned to the family home, scuffing up the smooth domesticity which has settled between the pair. 
Superbly funny and nostalgic
The story jumps between the present day and the early 90s, examining all of Susan's relationships, but particularly her passionate and painful friendship with Norma, and the odd undercurrent of cruelty which ripples just below the surface. Superbly drawn characters come and go as Susan reviews her life, pondering what her younger self actually wanted, what she might want from life now – and whether giving up on wild flights of fancy is an appropriate price to pay for day-to-day happiness. Superbly funny and deeply nostalgic, with an ending that might just leave you punching the air, this is a comforting read for anyone reviewing their own hopes and dreams.
Sankofa by Chibundu Onuzo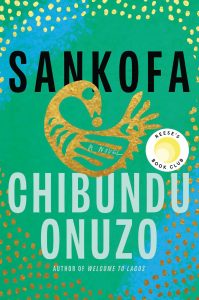 First published last summer, this, the third novel from award-winning author Chibundu Onuzo, is about to come out in paperback – and deserves a place on top of your book pile. Set between London and the fictional west African state of Bamana, we join middle-aged Anna Graham – part-Welsh, part-Bamanian – as she mourns her mother, comes to terms with her husband's recent infidelity, worries about her adult daughter, and uncovers the surprising secret of her absent father's true identity.
The book moves between the reading of her father's hidden diary, his fiery account of life as a Black African student in 60s London, Anna's experience growing up in a council house in the 70s, and the present-day. Here, she is gradually awakening to the implications of her father's history, and the realisation that for the first time in her life, she can determine her own identity. Onuzo's style is cool and collected, deftly navigating a wild storyline which might have gone off the rails in the hands of a less-skilled writer, and rendering events plausible with careful, considered brushstrokes. Scenes of racism are presented unblinkingly, as are Anna's first steps towards connection with new friends, lovers and ways of being. The book's title and cover image reference a story from the Akan tribe in west Africa: the mythical Sankofa bird, which flies forward while looking backward, carrying an egg in its mouth (in order to plough ahead, we must know where we've come from). Captivating, transporting and deeply affecting, this excellent book proves we can find our true selves at any age – and that looking to our own history is a good place from which to progress. 
Imposter Syndrome by Kathy Wang
Julia Lerner's willingness to work hard sees her hand-picked by the Russian state from the newest crop of graduates, and 12 years later, she is COO of Tangerine – one of the world's most valuable tech companies. Instantly recognisable as an icon of women in business, she's about to marry her long-term boyfriend in a lavish Napa Valley wedding – and she's also a spy. 
Julia and her long-term handler Leo have reached an understanding, but new orders come from Russia's State Protection Bureau (SPB), directing Julia to use Tangerine's bewildering – yet worryingly believable – access to people's accounts to track and report on enemies of the state. Julia bristles at the breach of privacy and the mammoth risk she runs of getting caught – but is she willing to refuse the SPB and lose her extremely comfortable existence? Meanwhile, on the bottom rung of Tangerine's precarious career ladder sits Alice Lu, a 35-year-old tech support worker who flags unusual activity on a server during a routine inspection, discovering the mysterious 'User 555'. A few curious clicks lead her to the mythical 'God Mode', which grants access to anyone's messages, search history and posts – but who could be exploiting this? Surely not the COO? 
A bitingly prescient and gripping satire on gender, race, greed and workplace culture – this is essential reading for anyone working in tech. 
Check out last month's Book Club recommendations here.