Kettle's Yard celebrates 25 years of renowned publisher Ivorypress with a special showcase of works by five artist collaborators
Words by Frances McNaughton
The artworks, objects and spaces of the Kettle's Yard House are carefully, deliberately arranged. They maximise the available sources of light, and perennially reflect the essence of the original owners, Jim and Helen Ede. Subsequently incorporated pieces must assimilate themselves with this pre-existing harmony, and such is the case with the latest ongoing exhibition: Ivorypress at Kettle's Yard. 
An ode to the Madrid-based publisher of artists' books, Ivorypress, this special display includes pieces by five individuals, encompassing paintings, drawings, sculptures and photographs, and placing them in dialogue with what's already on display at the House. Two of them – Eduardo Chillida and Richard Long – have previously exhibited at Kettle's Yard, but this familiarity continues throughout the display, which is presented exclusively in the upstairs rooms.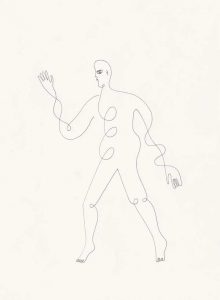 Reflections, the first artist's book published by Ivorypress, featured a selection of specially created ink drawings by Chillida. These are shown in the Attic space, alongside line drawings by Blanca Miró Skoudy, which depict abstract bodies inspired by cubism and surrealism. The pair interact beautifully with prints and drawings by Henri Gaudier-Brzeska from the Kettle's Yard collection, delineating elements of the latter's strong contrasts and subtly jutting curves to retain a sense of balance in the space. 
An artist's book by Richard Long, entitled Walking and Sleeping, is displayed on a table in the Library, and documents ten routes and seven walks taken by the artist. Between the book's covers, one page equates to one day. The photographs, texts and original mud drawings explore ideas of time, space, place and distance, offering a quiet moment for contemplation that perfectly aligns with the object's location. 
Also examining place and time, works by Fernando Casasempere are displayed in the Bechstein Room. The Chilean's three main sources of inspiration – pre-Hispanic heritage, the Chilean landscape and life in London – inform these pieces, blending to form layered collages of textural and temporal elements. Fittingly, a painting made from clay on felt will temporarily replace Roger Hilton's October 1955 Calm (Black, Grey, Brown and White) – another approach to landscape.
Finally, presented in the intimate space of Helen Ede's bedroom, six black-and-white images by US photographer Mariana Cook offer a contemplative glimpse into her characteristic abstractions of the everyday. Light and shadow define the works, many of which were captured during the last ten days of her mother's life. The interplay between the two results in strikingly rendered portraits of objectified silence. 
To see the display for yourself, be sure to book a House ticket through the Kettle's Yard website. Ivorypress at Kettle's Yard will be showing until 30 January 2022.
Find out about Kettle's Yard main exhibition, Sutapa Biswas: Lumen, here.