This image: Lucy Worsley and Philip Ardagh
Enjoy a fascinating foray into the past at the Wimpole History Festival
From the evolution of espionage to exile in Siberia, Austen to the American dream and witches to war stories, the Wimpole History Festival returns this month to take us on a continent-spanning voyage of discovery through the centuries.
Running 22-24 June, this feast of history and heritage comes our way from the team behind Cambridge Literary Festival in partnership with the National Trust. Serving as a backdrop is the Wimpole Estate; an elegant stately home surrounded by acres of gardens, which will come alive with a rich programme of talks, debates, performances, workshops and activities with some of Britain's most eminent historians, broadcasters and authors.
"Wimpole provides a magnificent setting to present history in the historic and it also allows for a variety of activities beyond the talks in the marquees," says Festival Director, Cathy Moore. "There are guided walks around the estate; there is archery, falconry, sword school, food and craft vans, a ceilidh, yoga – genuinely something to cater for every taste. It's somewhere you can spend a full-to- bursting day."
"Nothing is more inspiring than being in the place where history happened," agrees Paul Forecast, National Trust Regional Director, East of England. "Wimpole is a beautiful historic estate which has buildings, landscape and objects that tell stories across many centuries."
Programme highlights are sure to include Austentatious: an improvised Jane Austen novel, returning after a successful outing last year. A mad miscellany of modern culture and Austen-esque mannerisms and themes, performed in Regency costume, this lively show is improvised anew during each performance, led by audience suggestions. Previous 'lost works' include Sixth Sense & Sensibility, Jurassic Mansfield Park and Double O Darcy – strap on your bonnet and expect the unexpected.
Author, broadcaster and anthropologist Alice Roberts will be setting sail on an adventure in search of the Iron Age ancestors we call the Celts – deep-diving into their lives, culture, knowledge and beliefs, while Thomas Williams takes on the Vikings, the Scandinavian settlers best known for rampaging and pillaging across the British coastline. As Williams, curator of the British Museum's Vikings: Life and Legend exhibition, will tell us though, they also came to colonise and rule; their legacy shaping British social, cultural and political development for hundreds of years.
More recent history comes to the fore in Bridget Kendall and Peter Pomerantsev's exploration of the roots of the Cold War and Putin's Russia, while the fraught matter of Britain post-Brexit is the subject of what's sure to be a lively debate between an academic, a historian and an author.
There'll be plenty to delight smaller history lovers, whether they want to tussle like a medieval knight at sword school, handle magnificent birds with falconry experts or see explosions galore at the Mad Science show. There's also appearances from kids' authors including Philip Ardagh, writer of The Secret Diary of Thomas Snoop: Tudor Spy Boy, who also appeared at last year's festival. "With re-enactors everywhere – from Romans to the Home Guard – a simple walk from the green- room marquee was like stepping through time," he enthuses about last year's event. "Wimpole is such a fantastic backdrop for soaking up all things historical. It has history seeping from its pores!"
Fascinated by the cloak and dagger world of espionage? Check out the discussion between Christopher Andrew and Sir Richard Dearlove, former Head of MI6. Charting the development of spying from the Book of Exodus to sophisticated 21st century deployments, via Renaissance France and Revolutionary America, the discussion promises to offer an eye- opening insight as to how intelligence operations have impacted history.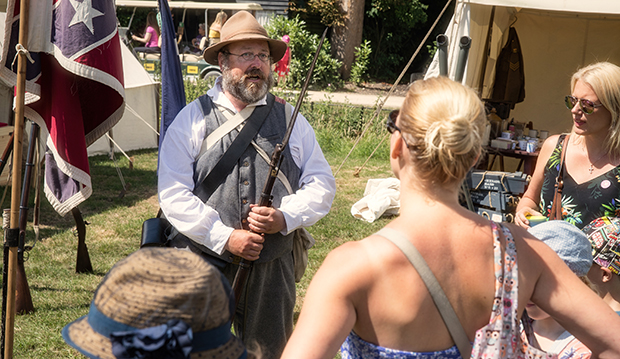 The achievements of women will be celebrated in Kate Pankhurst's talk on fantastic females who've shaped history. From the fearless suffragette leader Flora Drummond to Boudicca and Mary Shelley, it's a chance to get better acquainted with a host of world-changing women. Also putting women in the spotlight is Vote 100 with Diane Atkinson, which tells the story of the fight for female suffrage, from the half-a-million gathering of Women's Sunday in 1908 to the Representation of the People Act in 1918.
There's top historical fiction writers too, such as Tracy Borman, plus an examination of history through the lens of global culture with TV historians Mary Beard and David Olusoga.
"With so much to do and see there are so many reasons to come along," says Cathy Moore. "If you have never visited the Wimpole Estate before this is the perfect opportunity, and if you're a history lover then what are you waiting for?"
We couldn't agree more!
History Fest highlights: Speakers share what they're looking forward to
Clare Mulley, author "I am lucky enough to be interviewing Peter Snow, Ann MacMillan and Patrick Bishop at separate events about the Second World War – but also hoping to sneak in to lots of the other talks!"
Kate Pankhurst, author and illustrator "I'm really looking forward to meeting budding young historians and their families to celebrate 100 years of women's suffrage with some Fantastically Great Women. (That and the falconry!)"
Paul Forecast, National Trust Regional Director, East of England "I've been addicted to Civilisations on the BBC – I will be stalking Mary Beard and David Olusoga to answer my questions and sign my books."
Philip Ardagh, author "Mixing with fellow book and history enthusiasts, whether audience members or fellow authors."
Cathy Moore, festival director "It would have to be David Olusoga, Kate Mosse and Sarah Churchwell."