This posthumous display challenges the invisibility of black women in art history, questioning representation in a manner both timely and necessary
Words by Frances Mcnaughton
A key figure in the history of the New Hall Art Collection, Maud Sulter was one of the first artists to donate works when the collection was founded in 1992. Sulter's art has always questioned the representation of black women across art history and literature, subverting conventional depictions to highlight contextual incongruence – or notable absences. So when it came to collating and spotlighting works by the Scottish-Ghanaian artist, the curatorial team set to work searching for each piece from her photographic series Zabat, to complete what would ultimately be a richly detailed, and starkly culturally relevant, picture.
"Curating this exhibition involved quite a lot of detective work, as we had to track the pieces down," explains Naomi Polonsky, assistant curator at New Hall Art Collection in Murray Edwards College. Among the art from Zabat that needed to be located was Sulter's work Phalia (Portrait of Alice Walker), part of a series of nine photographic portraits depicting contemporary black female figures posing as the Greek Muses. "It's a beautiful, rich and important series which has rarely been shown in its entirety. We decided to bring together as much of it as we could," Naomi continues. 
"One of the portraits – Erato (Portrait of Dionne Sparks) – I stumbled across completely by chance, while researching another artist in the collection," Naomi recalls. "I was scrolling through her Instagram page and saw a picture of the work hanging on her sitting room wall. It turns out the two artists knew each other and collaborated in the 90s, so it was exciting to discover a connection between them."
The Zabat series, which Sulter described as a 'diasporan family portrait', was created in 1989 to commemorate the 150th anniversary of the invention of photography, drawing on classical compositional themes and disrupting the narratives with which they are associated. 
"A particular highlight for me is Calliope, in which Sulter photographs herself as the Muse of epic poetry," Naomi explains. "In the portrait, Sulter recreates a picture of Jeanne Duval, the Haitian-born dancer and actor, who is remembered almost exclusively for being Charles Baudelaire's lover. That photograph, taken by the prominent 19th-century photographer Nadar, was entitled Unknown Woman, despite the fact that Nadar definitely would have been aware of Duval's identity. Sulter was fascinated by the figure of Duval, and the way in which she was anonymised and exoticised." In Sulter's re-interpretation of the photograph, she turns away from the viewer striking a regal pose, head held high. On a table next to her is a daguerreotype – an early form of photograph – in which the image is deliberately obscured.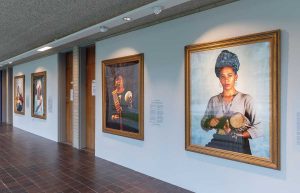 Along with each of the striking portraits that make up Zabat, you'll find an accompanying poem written by Sulter, in which she conjures the voices of the sitters. In turns comic and poignant, contemplative and punchy, the poems allow for additional exploration of the works, enriching their meaning and encouraging the viewer to contemplate key themes. 
"Some are very rhythmic, with chant-like refrains, while others tell whole narratives in a stream-of-consciousness style," Naomi explains. "Sulter reflects on issues relating to the history and nature of photography: the ethics of taking someone's photograph without their consent, the way in which photographs can be exploited by a dominant culture, and the sentimental value of personal photographs.
"I would encourage visitors to sit on the benches, and slowly look at the portraits and read the poems," Naomi adds. "All of Sulter's work is so deeply layered with references and meaning – the longer you engage with it, the more rewarding it is."
Although Sulter has been largely left out of art history, her works have existed as persistent reminders of the astounding racial disparity evident in artistic representation for decades. Tracing back to entrenched ancestral prejudices, this is rightly being rigorously dismantled, stripped of its excuse-laden protective shell to reveal a singular, disappointing core of injustice. 
"Maud Sulter's art has always been relevant, but society is only just catching up with her," says Naomi. "She passionately believed in supporting and elevating black women, and re-inserting them into the history of art and literature, from which they had often been erased."
Having passed away at the age of 47, Sulter sadly did not live to see the recognition she is now receiving. But, like many artists, her work has transcended time; its meticulously researched, yet playful nature placing both forgotten and imagined figures at the forefront – quite literally, in the centre of the frame.
"In many ways, she anticipated conversations that are only becoming mainstream now," Naomi muses. "I sometimes wonder what she would be making today, if she were still alive."
Catch the exhibition at the New Hall Art Collection, Murray Edwards College, until 2 January.
For more information, please visit the New Hall Art Collection's website.
To learn more about the background of the Collection, read our article here.