The 23rd instalment of the Cambridge Science Festival arrives with an explosion of scintillating science-based fun and discovery
The Cambridge Science Festival returns this month, bringing a smorgasbord of science-tastic events to our city from 13 to 26 March. Taking place at venues across the city, there's a dazzling line-up of events on offer, covering everything from climate change to codebreaking; astronomy to artificial intelligence; genetics to robots – and just about everything in between.
"This year the festival is getting personal!" says Dr Lucinda Spokes, coordinator of the festival. "Through debates, talks, demonstrations and performances, we'll be addressing important questions about our health and lifestyle, our place in the world and our impact on the environment in which we live. We thank all our scientists and the city and our community for their support for the festival and we look forward to welcoming people of all ages to join us in March to explore Cambridge science." Here's a taster of what's in store.
Talks
Why is penguin poo so interesting? What exactly is going on inside teenagers' brains? Would you donate your DNA? These questions and more will be getting the Cambridge Science Festival treatment over the course of the fortnight, through a staggeringly diverse range of talks which are bursting with luminaries from the world of science.
In Sex, Lies and Brain Scans (13 March, Lady Mitchell Hall), find out how MRI scans can help us to read minds and detect conscious brain activity in patients, or the same day over at Wesley Methodist Church, Conflict or Mutual Enrichment? will consider the relationship and interaction between natural sciences and Christianity.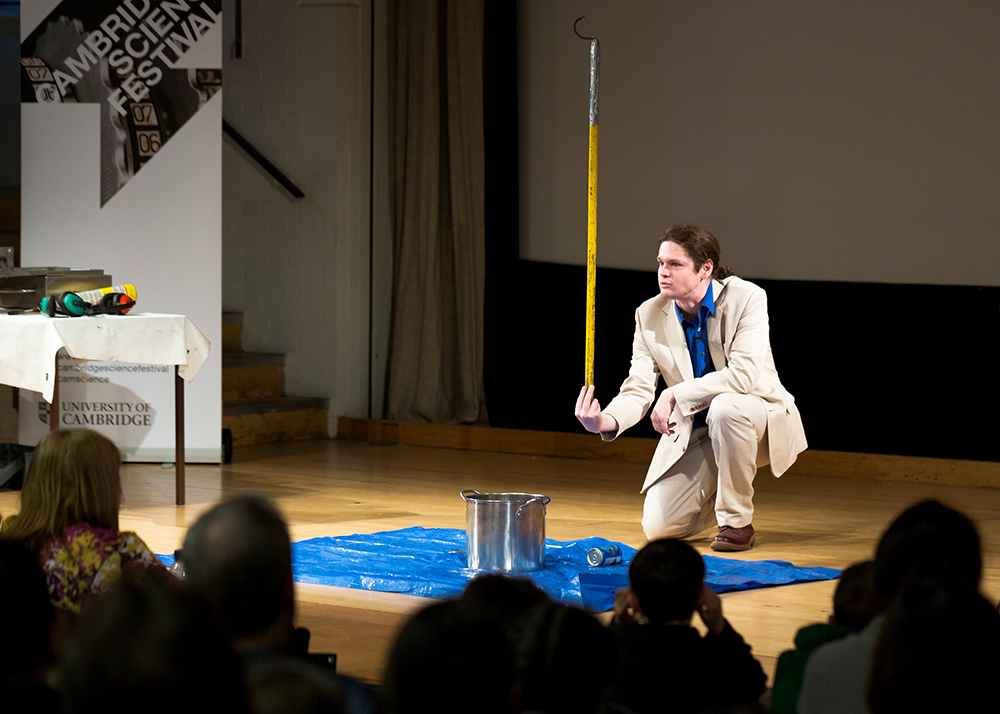 Ever wondered what our modern way of life does to your body? Join Dr Suzy Lishman, president of the Royal College of Pathologists, as she performs a virtual autopsy on a live model on the 14th at the Babbage Lecture Theatre. From lifestyle to genetics, on the 15th, when Dr John Perry will be looking at how our genes can influence our personality and behaviours, and how this may extend to predisposing us towards certain health disorders.
On the 18th, mathematician James Grime explores the life and achievements of Alan Turing, including a demonstration of an original Second World War Enigma machine. The next day you can discover how the human brain began in the humblest of ways (you'll never look at a sponge in the same way again!). More brain poking comes on the 19th, when prankster Steve Mould will be exploring the mysteries of our noggins and attempting to mess with your senses through some exciting demos and experiments.
Sure to be a hit in our city of bicycle-lovers, Cycling Science on the 23rd features Dr Dan Gordon, a Paralympian and world record holder, who'll be discussing his experiences in professional sports, plus the importance of personalised training, eating and competing. The next day, New Horizons in Robotics will offer a one-day programme of talks under the auspices of Cambridge Philosophical Society, discussing everything from the ethics and consciousness of robots to their applications in society.
---
"Kids can learn how to bug their bedrooms, using Raspberry Pi and some clever Python code"
---
On the 25th, go behind the scenes at the Cambridge University Library. Resilience, Repair and Research presents an insight into how conservators and archivists preserve important historical artefacts, including the Royal Commonwealth Society's Second World War Archive of the Changi and Sime Road Civilian Internment Camps in Singapore.
There's also a chance to find out how mathematics can help fight disease, what the impact of Brexit will be on science and technology, how digital games can support positive lifestyle changes and how science can explain the laws of attraction – plus plenty besides.
Hands On
There's a busy line-up of hands-on happenings over the course of the festival, whether you fancy making your own robot, spending a day in the life of a hacker or racing lasers. On 25 March, step inside an Anti-gravity Box, where the laws of physics go out of the window and your world is turned upside down. Over at the Centre for Computing History on the 16th, kids can learn how to bug their bedrooms using a Raspberry Pi and some clever Python code, whilst on 15 March, under fives can join in with Little Explorers at the The Polar Museum for an hour of science, storytelling and even a bit of snow.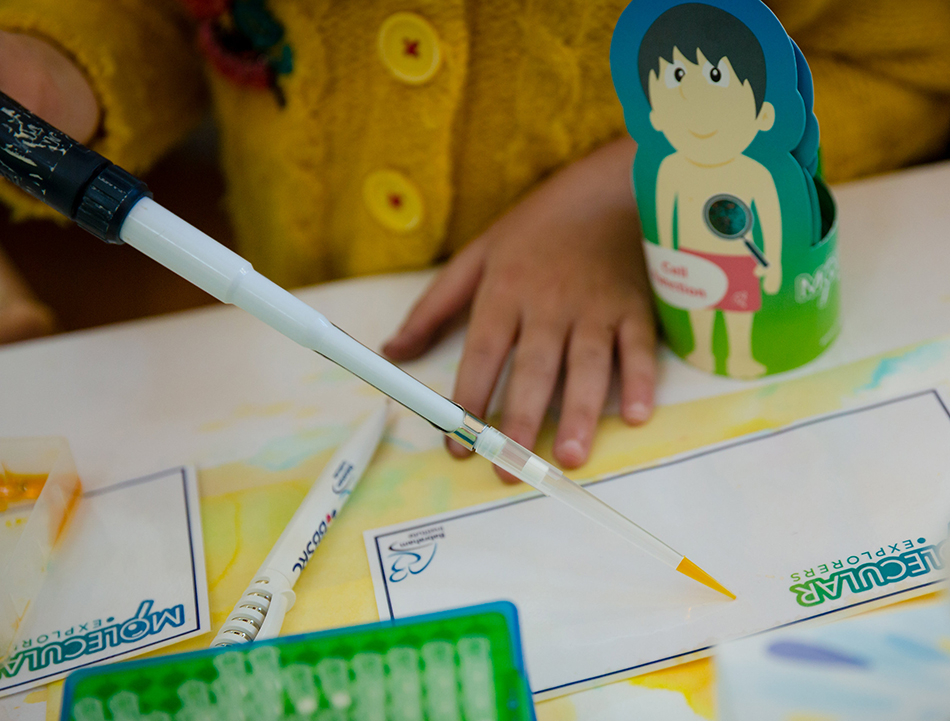 On the 16th, celebrate Four Years of Makespace, the fantastic community workshop, which will be holding a party birthday. Alternatively you can learn how to make your own 17th century diary at the Whipple Museum. On the 17th, you can crochet yourself a neuron whilst learning how to sustain a healthy brain, or pop along to the Department of Psychology on Downing Street the next day to have a go at mind reading.
Also sure to be a hit is Burning Issues on 18-20 March, in which Dr Peter Wothers will be investigating the process of combustion, via lots of fun experiments and very loud bangs!
Stem cells, DNA, exercise and diet are on the agenda for Hands-on at the Guildhall, which takes place over the weekend of 18-19 March. Running from 10am to 4pm on Saturday and midday till 4pm on Sunday, visitors will be able to test how well they wash their hands with the help of a UV gel, discover how gaming can help rehabilitate people recovering from neurological injuries and find out how fascinating blood cells are, amongst much more.
Cambridge is a hotbed of scientific discovery and innovation – and on 26 March you can find out about some of the life-changing medical research being conducted right here on our doorstep at the Hands-on day at the University Technical College (UTC) on Robinson Way. Meet the stars of their fields and learn about next-generation DNA sequencing, cutting-edge brain injury innovation and precision medicine – and find out how their research is being translated into new treatments in hospitals and medicines for the pharmaceutical industry.
Why Food Really Matters
There's never been more variety of food available to us or more conflicting information about what we ought to be eating and why. We expect convenience and availability, from bread that stays fresh for a week to pre-prepared vegetables – but are we making healthy choices or are we making ourselves ill? These questions and more will be considered at the Why Food Really Matters strand of the festival, which invites guests to take a good look at their diet, from both a personal and planetary perspective.
Films, Exhibitions and Performances
The ever-popular science-themed ceilidh returns, along with a performance from the first-ever 'breath choir' on the 13th and the 23rd respectively. Elsewhere you can catch boffin stand-up comedy with the Bright Club on the 16th, and the absorbing Ensonglopedia on the 26th – a singing, sciency extravaganza, which takes place at Cambridge Junction.
---
"A play in which a quantum physicist and a vicar join forces to solve a mystery"
---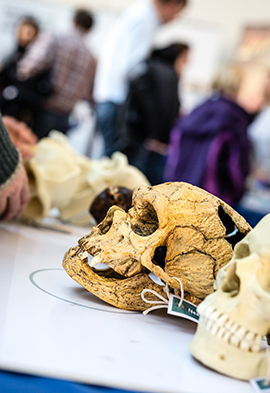 Also promising to be a highlight is the visually rich Sulphur by Sheila Ghelani; a poetic and choreographic ensemble which considers the element and its role within our lives and world on 23 March.
Several exhibitions are being held during the Festival too, including an audiovisual display of snail embryos at the Ruskin Gallery, a bounteous botany display at the Christ's College gardens, and an art show exploring the richness of space, featuring visual artists Ione Parkin, Alison Lochhead and Gillian McFarland.
There's a handful of cinematic treats for science fans too, including a special edition of SciScreen Cambridge at the Arts Picturehouse. The film showing will be the Emmy award-winning Notes on Blindness, which will be accompanied by a talk from guest speaker Dr Louise Fryer, UCL, who discusses the psychology of immersion in audiovisual media, as it relates to viewers with sensory impairment.
You can also catch The God Particle at St John's College's Old on 13 March, a play in which a quantum physicist and a vicar join forces to solve a mystery, discovering the real meaning of faith, knowledge, love and the importance of keeping an open mind.