At this unassuming gallery on King's Parade, the works on display are about to get real
Over the next couple of months, you can look forward to some stellar exhibitions at Byard Art. From 9 September through to 3 October, the gallery's Hyper Realist Exhibition will showcase a selection of works, some of which are so realistically rendered that you'd be forgiven for thinking they were photographs.
Works by Tommy Carlsson, CJ Green and Sarah Graham are striking examples of hyperrealism. In the case of Carlsson's oil paintings – depicting taut, restricted balloons, along with heavy-duty, dented lockers – the contrast between fragility and force is brought to the forefront. The works are loaded with tension, whether implicit in the nature of the subject, as with the lockers, or explicit in the imagery, as with the balloons. There's a real sense of threat present in the subtext, and the use of bright, often primary, colours against bleak shades of grey emphasises this oppressive energy, and its underlying potential for unpredictable disruption.
CJ Green combines oil and acrylic paints – and the results almost defy logic in their ability to replicate reality. The artist tackles reflective glass and chrome surfaces with aplomb, setting them against clean colour palettes in sparse compositions that offer nowhere to hide. Jelly Bean Jar is a particularly satisfying example, but be sure to look out for his deceptively modest series of egg cups, too. 
Delicious confections drenched in colour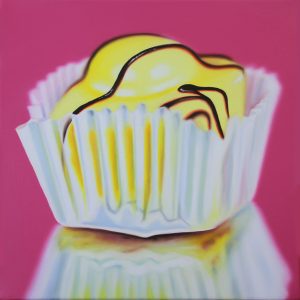 As for Graham, her art is gloriously vibrant, depicting delicious confections drenched in colour. Among these, find decadent French Fancies, ribbon-wrapped candies and fruity Chupa Chups lollipops – all starkly foregrounded and set against diffused, smoothly blended backgrounds. They're a real visual feast. Check out I Fancy You for an especially potent hit of nostalgia; its rich, glazed rhubarb-and-custard colours will take you back to your childhood sweet-shop days – or at least have you licking your lips.
Following the Hyper Realist Exhibition, works by the immensely popular Jack Frame will be on display from 7 October. The paintings are delicate and simple, yet stand out with the artist's frequent use of metallics and bold backgrounds. In many ways an ode to painting itself, they are characterised by a unique attention to detail, allowing the subjects to be appreciated in their own right – with a heightened sense of awareness that lends itself to considered, quiet reverence. 
For more details about the upcoming exhibitions, head to the Byard Art website, or keep up to date with the gallery on social media (@byard_art on Instagram).