All you need to know on three days to raise your spirits, and your glasses at the Corn Exchange
Cambridge's festival of cocktails is poised to return this month for three days of great drinks, live music and interactive fun over the August Bank Holiday. It's the third outing for this popular event, which will once again be transforming the Corn Exchange into a lively drinking den teeming with top tipples to try and fun workshops and masterclasses to get stuck into.
Local bars like La Raza, Ta Bouche, Novi and Hidden Rooms will sit side by side with world-leading drinks brands including Diageo (makers of Ketel One vodka, Tanqueray Gin, Pampero rum and Bulleit bourbon), Chivas Regal whisky, Belvedere vodka, Luxardo liqueurs, Licor 43, ODK mixers, and more – plus there'll be a chance to taste your way around the wares of boutique local producers like Cranes Drinks, Pinkster Gin and the Cambridge Distillery.
We've had a sneaky peek at the expansive cocktails list, and can tell you that there's a crowd-pleasing mix of classics like Tom Collins, Mai Tais and Cosmopolitans, alongside some innovative tipples which are sure to tickle any cocktail fan's fancy. Here's a taster of what's in store!
Get Hands-On!
Reckon you can mix up a margarita with the best of them? There'll be plenty of chances to unleash your inner mixologist at the event. "The Cocktail Weekend isn't just about the tasting of cocktails," says Charlie Anderson, co-organiser of the Cocktail Weekend and owner of La Raza and Ta Bouche. "It provides an opportunity for anyone that wishes to get involved in making them too."
With workshops and masterclasses taking place throughout the event, most of which are free to join in with, you're sure to pick up some new skills and tips to impress your pals next time someone suggests a cocktail.
Superbrand Diageo will be pitching up on the balcony at the Corn Exchange to show you how to create cocktails using everyday ingredients, while Chivas Regal will be taking over an entire room, giving you the opportunity to blend your own whisky. Under the guidance of Chivas' UK ambassadors, you'll be provided with five different whiskies to blend together, creating your own unique whisky in a small bottle. Popular around the UK, it's the first time these classes have been offered in Cambridge, and you can join the fun at a discounted price of £15 for a 45-minute session (pre-booking recommended).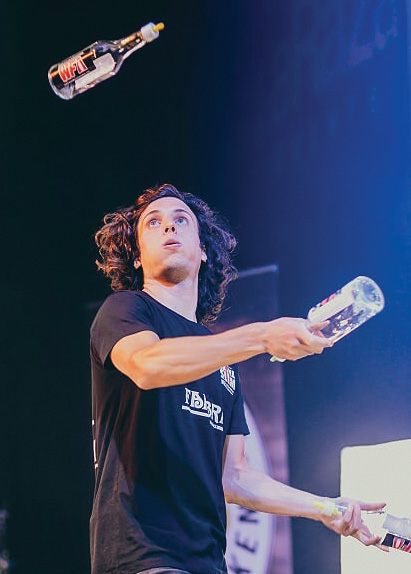 Perhaps you're more of a gin lover? Be sure to seek out the pop-up Cambridge Gin Laboratory, where you'll be able to blend botanicals to create your perfect gin, which you'll then get to take home.
La Raza, meanwhile, will be hosting a speed cocktail-making competition: you'll get a quick tutorial on daiquiri making and then duke it out with other budding mixologists to see who can recreate it in the quickest time, before relaxing and enjoying the fruits of your labour.
Mixology with Flair
The world's best bartenders will be flying in from around the globe to take part in the prestigious World Flair Association Grand Slam World Championship competition, which will take place live on stage at this year's festival. Among those battling will be the current World Champion, Poland's Marek Posluszny, along with other movers, muddlers and shakers from the worlds' top 10 ranked.
It's promising to be quite a spectacle watching these world-leading bartenders doing their mesmerising thing, while turning out perfect cocktails – the ideal entertainment while you relax with a drink or two and enjoy the music. Some of the competitors will also be bartending behind the WFA bar – swing by for a chance to have a cocktail whipped up by the world's best!
Music
It's not all about the drinks: there'll be some top-notch live music to enjoy on each day of the festival, making for a great atmosphere. Friday night will see local band Swagger take to the stage to play their crowd-pleasing classics with a spin: expect a mix of 60s groove, 70s funk, 80s cheese and 90s favourites – with a few surprises. On Saturday, it's over to the Indietones, who'll be delivering a high-energy mash-up of greats from The Beatles to the Beastie Boys. Completing the line-up on Sunday is Booga's Electric Sauce, who always get the crowd moving with their heady, funked-out covers.
Need to know
Cambridge Cocktail Weekend runs at the Corn Exchange from 24 to 26 August. Sessions run on Friday 4pm to 1am, Saturday afternoon 1pm to 5pm, Saturday night 6pm to 1am, Sunday afternoon 1pm to 5pm and Sunday night 6pm to 12am. Sessions cost £13.50 per person for evening slots and £7 for afternoon slots.
5 TO TRY
The inside scoop on some of the festival's most intriguing tipples…
1.

Crunchy Nut Banana Colada (La Raza and Ta Bouche)

A nutty, tropical twist on pina colada using crunchy nut cornflake-infused Havana rum, banana, pineapple and coconut.
2.

East & Stormy (Novi)
Havana rum with fireball cinnamon whisky, angostura, vanilla syrup and ginger beer.
3.

Spanish Martini (Licor 43)
A fruity, zingy blend of Spanish liqueur Licor 43 with lemon juice, pineapple juice and fresh raspberries.
4.

Sour Cherry Gin & Tonic (Luxardo)
Luxardo's latest invention is their sour cherry gin with Thomas Henry Tonic and garnish of your choice.
5.

Mr Pizzle's Sundae Swizzle (La Raza)
What happens when you combine Jack's Gelato's inspiring ice cream with the creative cocktail-makers at La Raza? Pete Rawlings and the team at the bar have been experimenting with tiki cocktail-inspired ice creams along with old familiars like espresso martini and Aperol spritz.
Apart from that, he's keeping tight-lipped about which flavours will be available at the Cocktail Weekend, saying "Maybe we will decide once we know what the weather will be like, or perhaps we will let our customers decide with a flavour trial at La Raza." Best keep an eye on La Raza's social media then for when the taste trials will be held!
cambridgecocktailweekend.co.uk