This Image: Novi
Zip up your zen, get the glow and eat yourself energised at these wellness-boosting city spots
Feel good eats
For clean eating which doesn't slouch on deliciousness, we adore Co at number 15 in Cherry Hinton. The whole place is wonderfully calming and serene and the menu is loaded with nutritious dishes created with fresh, seasonal ingredients.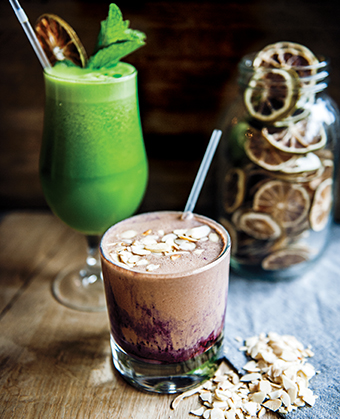 Eschew greasy breakfasts and opt for a protein-packed quinoa bowl or their goodness-filled house fry-up, with handmade vegan sausage, tomatoes and mushroom, scrambled tofu, black beans in sauce, organic quinoa bread, free-range eggs and wilted spinach.
Lovers of plant-based foods should make a beeline for the recently opened Stem + Glory, a vegan café at Mitcham's Corner. Located within CamYoga's CB4 studio, this place was made possible as a result of a wildly successful crowdfunding campaign which racked up almost £100,000 in pledges.
The money has been used to create a vegan haven; the first of its kind in Cambridge, with a sleek and modern setting and a menu filled with feel-good eats. Tuck into colourful, wholesome dishes like tofu curries, kale carbonara and stir-fried seasonal veggies or feast on an Instagram friendly Buddha Bowl, loaded with veggies, greens, pickles, dressings
and seeds.
For a guilt-free feast, head to Regent Street's Novi. By night this place may be a buzzing cocktail bar but by day, they serve up heavenly treats including quinoa porridge, chia pancakes and superfood-topped smoothies. There's home-made gluten-free quinoa bread as well as scrummy turmeric lattes with fresh root turmeric, ginger, cardamom and cinnamon.
Work It!
Many start the new year with dreams of making this the year they get in shape, creating lofty fitness goals filled with glowingly good intentions. But if you're not a natural gym bunny, getting going can be little daunting, to say the least.
"Ease yourself in gently," advises Matt Jenkins, a fitness consultant at Chesterton Sports Centre. "Getting into shape is a marathon not a sprint; it takes time to achieve your goals and you must be patient. Listen to your body and stick to an intensity that it's comfortable with.
"Whether you're performing cardiovascular, resistance or body weight exercises, you want to get your body used to moving in that way again, not pushing yourself flat out from the start expecting to see results quickly," he continues. "The last thing you want to do is injure yourself in the first week or be too sore to move the day after a workout, this will only delay your progress."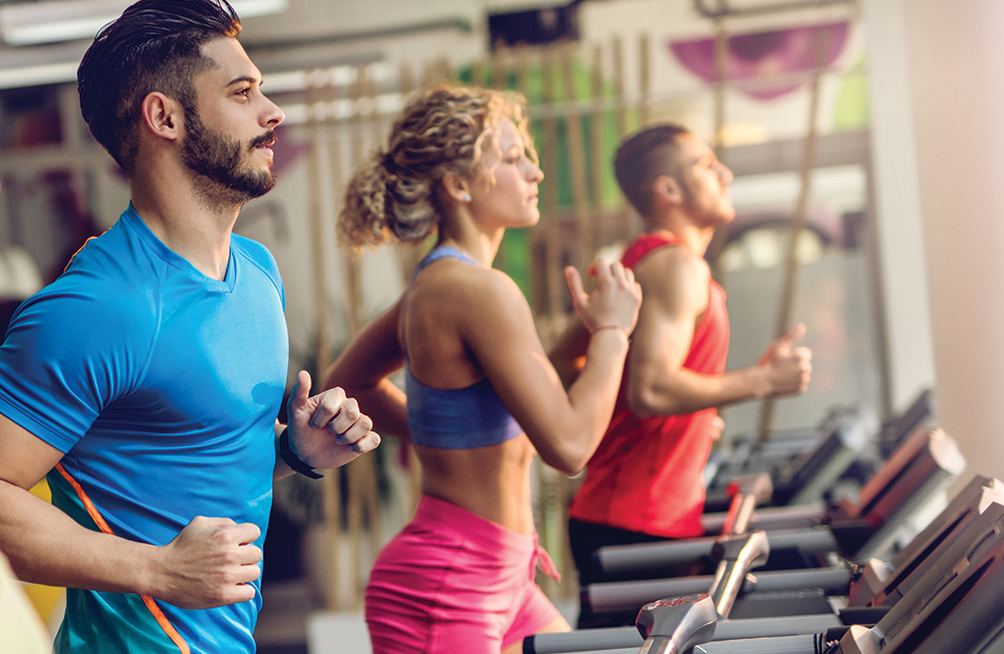 From team sports to dancing to gym sessions and everything in between – there's an awful lot of ways that you could get fit: so how do you decide which is right for you?
"At Chesterton we use something called 'aspiration mapping', which takes you through a three-stage multiple choice questionnaire to find out what makes you move," says Matt. "The results show what sort of exercise is most important to you, but also what you enjoy the most, we then use these results to recommend a range of different activities to you. This can be a specific sport at the centre, like swimming or badminton, or particular machines within the gym to suit your workout goals. We also have a colour-coded fitness class timetable so you know which classes match up to your top aspirations. We believe it's important to take part in lots of different activities. Rather than sticking to just one activity in particular, you can avoid the risk of getting bored and you'll be more open to trying any of the new classes or activities we put on."
If you want to see what's on offer in the area, make a beeline for the inaugural Let's Go Girls festival at the Guildhall, which takes place on 21 January. As the name suggests, this one's squarely targeted at the ladies: more specifically, at inspiring more women and girls to get moving and lead healthier and more active lifestyles through showcasing some of the great activities on offer around Cambridgeshire. "We want to banish the nightmares of ghastly gym knickers, cross-country and school swimming lessons and show women that being active can be sociable, challenging, stress-busting and most importantly enjoyable, particularly in January when the weight of too many mince pies and Quality Street sweets are resting slightly too heavily on our consciences," says Danielle Guy, active lifestyle officer at Cambridge City Council, which is organising the event in partnership with Living Sport. "The Let's Go Girls festival will be a great opportunity to explore what lies beyond the mind-numbing drone of the gym treadmill."
The festival will welcome a range of exhibitors from around the county including our local roller derby team the Cambridge Rollerbillies, Peterborough Royals American Football Team, Let's Run Girls, Forever Active and many more, and there will also be free taster sessions in Zumba, FitSteps, Acrobalance, mobility and strength conditioning and yoga, plus guilt-free sweet treats from Raw and Delicious. Tickets are available now from the Cambridge Live website at £3.50.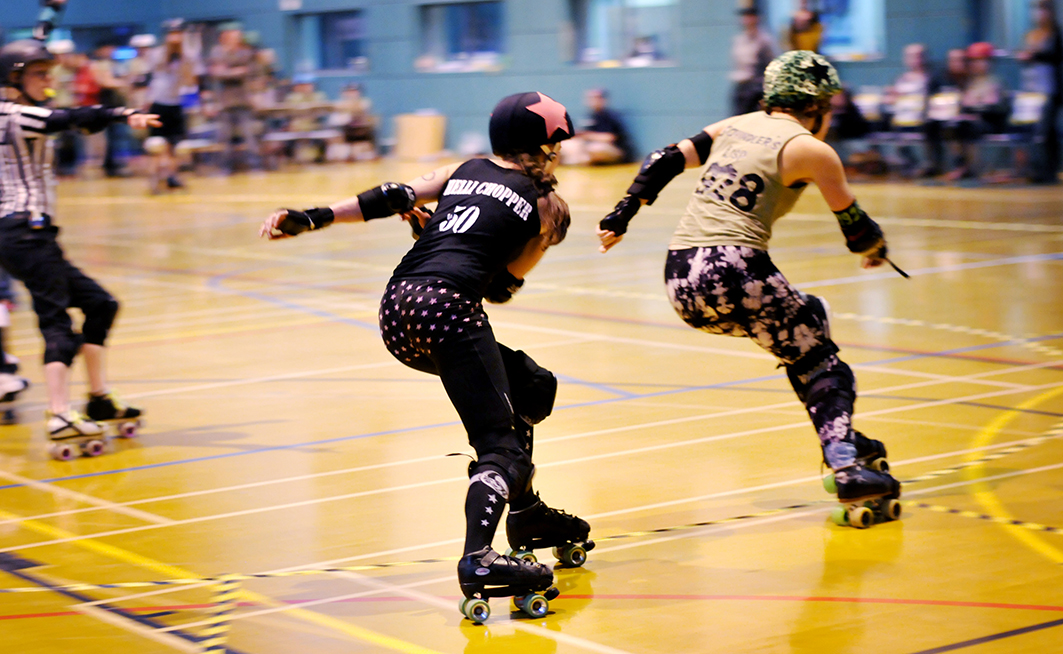 This Image: Cambridge Rollerbillies will be at the Let's Go Girls festival
Cambridge Rollerbillies, who are exhibiting at the Let's Go Girls festival, will also be hosting an intake of new skaters in on 22 January – offering a chance to learn more about roller derby as a sport, meet the team and watch a practice. Wondering what roller derby is all about? Let us enlighten you! Played on quad roller skates, it's one of the fastest-growing sports in the world – a fast, fun and full-contact game – and a fantastic spectator sport if you would rather just watch from a safe distance.
For a typically Cambridge activity, which offers plenty in the way of fresh air and endorphins, it has to be cycling. It sounds like the residents of our city need little in the way of convincing on this one – Cycling UK stats suggest that more people regularly cycle in Cambridge than anywhere else in the whole country. If you're one of the non-converts though, and need a bit of a confidence boost or simply some company to go out on a fitness-boosting ride, check out Rutland Cycling's regular line-up of led rides, which are free to attend and offer discounts on hire if you've not got your own two-wheeler to take along.
In addition to Rutland's existing branches in the city, they've just launched a dedicated e-bike centre at their Barnwell Road store, with over 40 electric bikes available to test ride and buy.
The benefit with electric bikes – which are a common sight in many European cities – is that they reduce the strain on the body, giving you an electronic boost. This can be especially helpful if you're struggling to ride long distances or coming back from injury, but is also great for simply riding faster, keeping up with friends or getting to work – making that commute to work by bicycle seem far more appealing.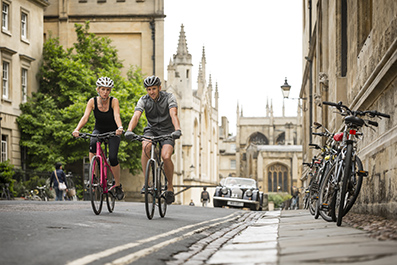 Rutland's e-bike range includes the more casual e-hybrid bikes from Raleigh, Haibike, Giant, Scott, Trek, Electra, Cube and Ebco, which are perfect if your ride or commute is just that little bit too long or hilly, or if you've got to carry a lot when you ride to and from where you need to be.
If you've already got a bike but it needs a bit of TLC, Rutland Cycling are also hosting a maintenance class on 18 January at their Histon branch. Pop along at 6pm and learn how to keep your trusty steed in tip-top condition and fix simple mechanicals while out and about. These classes, which cost £5 to attend, are led by Rutland's expert workshop team and cover skills including fixing a puncture and broken chain, replacing tubes, cleaning and safety checks.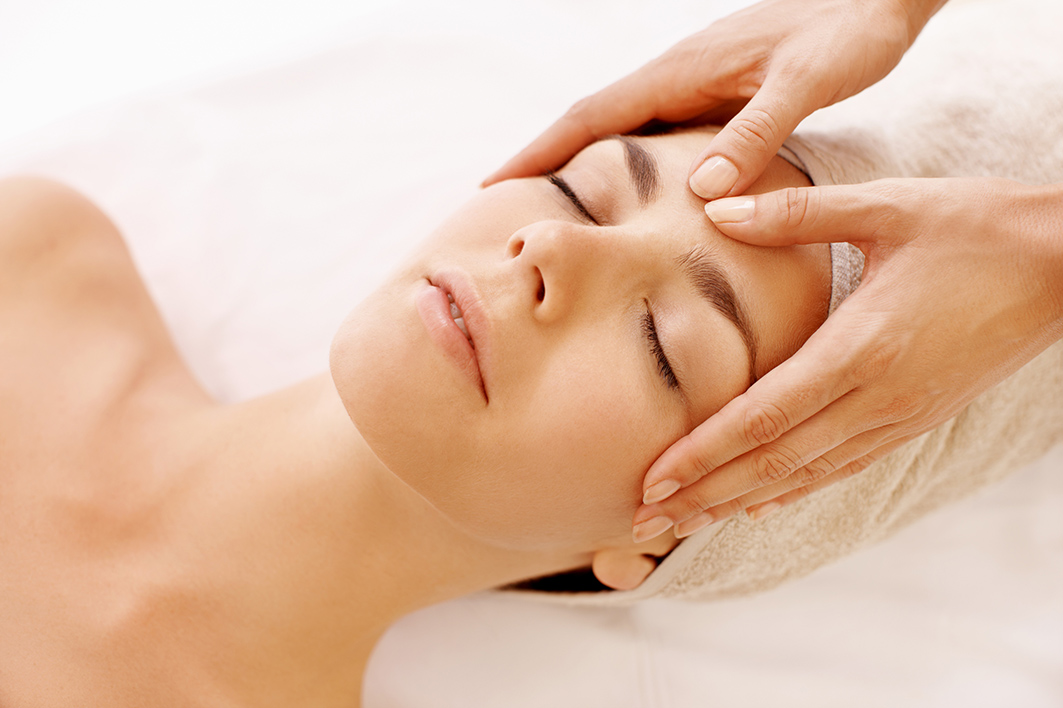 And… relax
With all its merry-making and running about, Christmas can leave you feeling pretty wiped – so January is a great time for a little pampering and self care.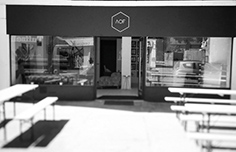 Lie back and float to complete relaxation at the Art of Float, located on Hawthorne Way in Chesterton. Part art gallery, part state-of-the-art flotation studio, it's the perfect spot to escape the stresses and strains of the world. No idea what flotation is about? The experience involves you entering a sensory deprivation pod, filled with a combination of water and Epsom salts. With zero gravity, zero stress and zero distractions, you're primed for not only blissful relaxation, but also efficient physical and mental recovery and general well-being. As you slip into a meditative-like state, the chatter and noise of day-to-day life ebbs away, leaving you zenned out beyond belief.
Just down the road, the newly opened Satyam Yoga Wellbeing Centre offers a wide variety of yoga styles and well-being activities, from dynamic, strong, flowing styles of yoga to more mindful traditional approaches such as Iyengar and general Hatha.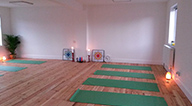 The centre hosts classes for adults, teens, children, toddlers, babies and families in its beautiful first-floor studios and community studio, as well as offering a treatment room in which you can enjoy massages and other relaxing treats. There are also sessions dedicated to mindfulness, meditation, Pilates and deep relaxation, and if you need convincing – the benefits can be life-changing.
"When you practise yoga, you learn to integrate the different parts of yourself – body, mind, breath, emotions, energy," explains Joanna Darking, co-founder of Satyam Yoga. "By focusing on your breath as you move through different stretches and postures, your attention is brought into the present. This has a very powerful effect as the mind gets a break from the usual worry. Individuals also experience an increase in their levels of physical fitness, their strength, balance, coordination and flexibility, as well as improved functioning of some of the bodily systems – respiratory, circulatory, digestive, cardiovascular, immunity and the nervous system."
Meditation and mindfulness practices, though rooted in ancient philosophies, have been enjoying a huge surge in popularity in recent years, and it's no wonder. "These practices have been proven to have a positive impact on the brain, improving symptoms of depression, anxiety and pain, lowering stress levels," says Joanna. "They can preserve the ageing of the brain along with a whole host of other benefits."
And finally, if you want luxurious pampering and relaxation, head to InnaSpa on the first floor of David Lloyd Leisure. A recent addition to Cambridge's spa scene, this serene sanctuary offers a huge range of luxury treatments and therapies to keep you feeling and looking your best. With a bright, energising space, the spa is open to all and offers Dermalogica Facials, a range of massages and a host of beauty treatments including manicures, pedicures, tanning and lash extensions.
Stay on track
Matt Jenkins, a fitness consultant at Chesterton Sports Centre (CSC), gives his top tips to help you stick to your new fitness regime
1 Keep workouts varied and keep your body guessing each time you exercise – never let it get used to the same routine. Stay in touch with your instructor/trainer to progress your programme every 15 sessions or so.
2 Take measurements on the first day, but only review them after three months, not only will you see bigger changes, but it also acts as a target to keep going. CSC uses a state-of-the-art InBody 230 to keep track of over 20 different readings during a mywellness check appointment.
3 Track your activity and water intake daily. This could be manually writing it down or automatically with an app/wearable tech such as Fitbit, Garmin etc.