Tucked away by the side entrance to the Grafton Centre, Jemporium Vintage stocks a wondrous range of clothing and accessories from the 50s through to the 90s, designed to spice up your wardrobe and put the spark back into shopping. We caught up with Jemporium owner and vintage fanatic Jenny Skilton, who has a soft spot for the 80s, loves playing with her two cats, and believes everyone can look great in vintage.
Q. What's the history of Jemporium Vintage?
A. I opened the shop in April 2010, and had traded on market stalls in Cambridge for a few years before that. I was passionate about vintage clothing and wanted to try and make a living from selling it.
Q. What do you love so much about vintage clothes?
A. I love the feeling of wearing something that nobody else in the world has. I love how you can look so unique; I love the quality of it, it just sets you apart.
Q. What is your favourite era in fashion?
A. I've always had a soft spot for the 80s! I love the colour combinations, the polka dots, the stripes, the patterns.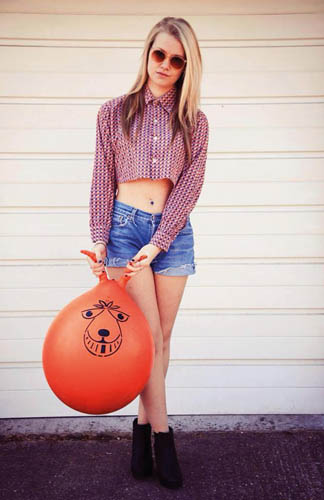 Q. What have you got in at the moment?
A. We've got Levi's cut-off shorts that look amazing on, we've got lovely tie-dye T-shirts, patterned shirts, USA sweatshirts, denim dungarees, cute dresses, blouses and rucksacks.
Q. Where do you get your stock?
A. We have great suppliers from all around America, Europe, and the UK.
Q. What are the prices like?
A. Some of our jewellery starts at £3, our vintage scarves are just £4, and we have some scrunchies made from vintage fabrics at £4.50. Prices go up to around £30 for our Levi's denim jackets and £35 for wax jackets.
---
"I've always had a soft spot for the 80s! I love the colour combinations, the polka dots, the stripes, the patterns"
---
Q. Have you always lived in Cambridge?
A. I moved here when I was 11 so I pretty much feel like I'm from Cambridge: it's definitely my home town.
Q. Do you think it's a fashionable city?
A. Yes I think people of Cambridge have style – I wouldn't say its uber fashion focused but I think we look good and have a laid-back style.
Q. What do you like doing when you're not at the shop?
A. In the summer I like sitting by the river with friends or having barbeques with my family. In colder weather I love playing pool and snooker! And of course playing with my cats, Pearl and Pansy.
Q. What's been your biggest personal fashion faux pas?
A. Oh, there have been quite a few! Either the topknot I wore for about three years, or perhaps when I knitted myself a luminous orange headband and went to a lecture wearing it – the lecturer seemed pretty distracted!
Q. What do you say to people who think they 'don't suit' vintage?
A. I have a couple of friends who say vintage clothing doesn't suit them – he thinks I won't have anything in his size and she thinks it won't look good on her. I've invited them in to the shop so I can style them in vintage, as I think it's just a question of trying things on, finding what suits you, and what you like: everyone can look great in vintage.
:: Jemporium Vintage Unit 61, The Grafton Centre, Cambridge CB1 1PS