Hawk Walk at The Raptor Foundation:
It's traditionally a merlin for a lady and a kestrel for a knave, but last weekend I took a hawk for a walk with the Raptor Foundation near St Ives.
Their Hawk Walks are just one of many fantastic experiences offered to visitors wanting to get up close to these magnificent birds and see them out in the open, behaving as they would in the wild, rather than just looking a bit disgruntled behind cage doors.
Arriving one blustery May morning, there was time to walk round the outdoor centre and say hello to a few owls (a hooting Tawny and a funny, puffed up Little Owl) before meeting my guide, Harley, and his beautiful Harris Hawk, Lothain, who I'd be taking out today.
:: Did you know? Harris Hawks are used to control the pigeon population in Trafalgar Square ::
The size of a small eagle, with glossy brown and auburn feathers, Lothian came to the centre around four years ago and has been a working bird all her life. She's 21 (hawks like her can live to 30 in captivity), native to America and has a particular taste for pheasants, I'm told. Harris Hawks can catch prey as big as hare, and there's plenty of fodder out there, Harley assures me, which she may or may not go for, depending on what mood she's in.
Next, I'm kitted out with a thick, leather glove and a bag of treats. Now, there's no space for squeamishness in nature: and by treats I don't mean chocolate drops. Let's just say Lothian ain't a vegetarian, and that fishing bits of dead chicks out of your satchel becomes less disgusting the more you do it. I promise.
After all, one soaring attraction of the Hawk Walk is just this: getting up close to nature. As we tramp through fields, beneath a stormy sky (Harley showering me with information on this magnificent bird he clearly adores) we stir up all manner of fauna. Astonishingly, the first thing we disturb is a roe deer, which leaps up elastically right in front of us, then away through the high rape field to safety. I can't help but wonder what else lurks beneath this silent sea of yellow.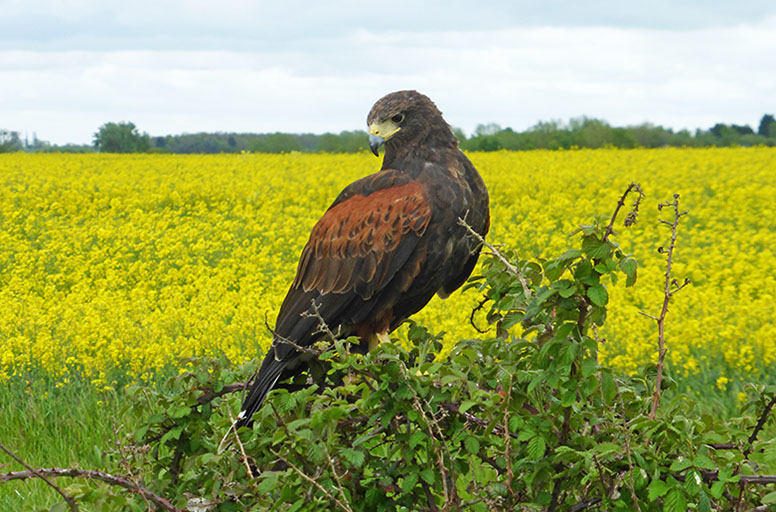 All the while, Lothian is perched weightily on my arm. I keep stealing glances at her; that chocolate plumage, ruffling in the wind, those fearsome yellow talons and that shining, noble eye in which I can see my own reflection. To get so close to such a bird is breathtaking.
Then, following a short grip of her talons and a beat of her wings, she's off. She doesn't go far, landing on the ground a short way ahead. The idea is for her to come and go as she chooses, following us as we walk. To lure her back, I simply grab a 'treat', hold it aloft in my glove, then watch her fix her eyes on me and land with a flourish on my outstretched arm.
Independent charity The Raptor Foundation, in Ramsey, started life in 1989 when founders Liz and Stewart McQuillan were asked to look after an injured Tawny Owl called Boris. Now, the team look after over 200 birds, either for rehabilitation into the wild or educational purposes. As well as Hawk Walks, you can watch handlers fly owls in the wild and see them hunt at a Twilight Flying display, followed by a BBQ back at the centre. The next one takes place 8 August.
:: A half-day Hawk Walk costs £40 to include a one-to-one hands-on flying experience, tea/coffee and a photo to take home. Suitable for ages 16+. Bring a friend for free.
---
Dining in the dark proves an eye-opening experience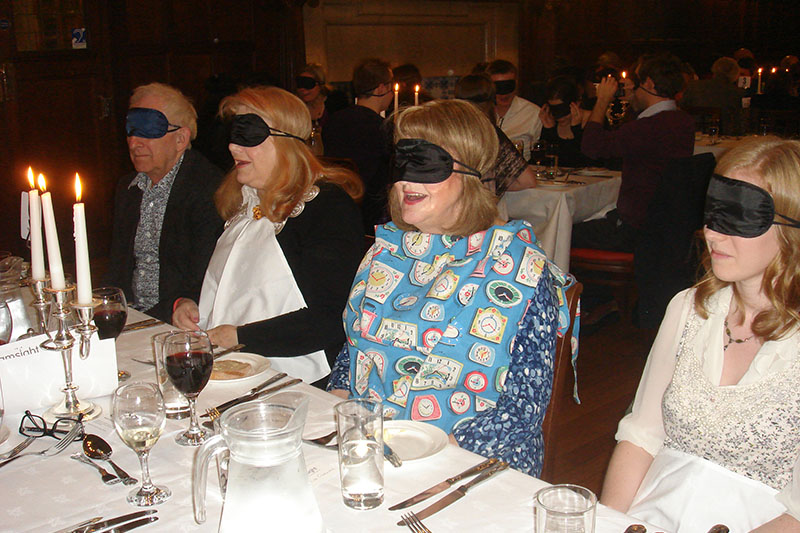 The first attempt is a failure.
I can feel something with my knife – it's sticky and hard to cut – then it drops. I try again, silver navigating tinkling china, lifting it gently, then: success!
A small, warm hand finds mine and an accompanying voice enquires, "Are you still there?" I am, I reply, mouth full. Even if my table manners slip, no-one will know, as not a soul at this dinner table, myself included, can see.
It's always a privilege to dine in one of Cambridge's beautiful formal halls, except this time, the beautiful vaulted ceiling and wood panelling of Westminster College are lost on the diners below. Tonight, thanks to an inspired idea by CamSight, we were Dining in the Dark, allowing us to experience, if just for one evening, the challenges of living with limited or no sight.
Dining in the Dark is held twice a year in Cambridge, usually at the Black Bull in Balsham or the Red Lion, Hinxton. Tickets are so popular, however, that this time organiser Sally Nott approached Westminster College to lay on a full-scale feast for 85.
The dinner begins as most do, with drinks and chatter before groups gradually find their seats and await the arrival of the first course. Next to our napkins are black eye masks, which we're instructed to put on as the servers appear with our mysterious starter. The whole menu is a secret, and throughout the evening we're encouraged to try and identify as many flavours as we can.
Blindfolds on…
As I affix my blindfold, my world goes dark and my ears sharpen. I'm instantly aware of the buzz of chatter in the room and the step and swish of the servers as they pass close behind me. I catch a waft of someone's perfume. I also feel conspicuous, aware of my body seated in the chair. After a few moments I realise the conversation on my table has dwindled – a result of each of us turning our thoughts inwards and the difficulty of striking up a conversation without eye contact. Happily, there's the food to discuss.
Sally explains to the room that there's something on our plates at 9 o'clock, 12 o'clock and 3 o'clock. Locating my plate and cutlery with my fingers, I plunge in with my fork and meet a soft object. "Oo, I've got something chewy," someone nearby exclaims. I slice, blindly, though I've no way of knowing how big a chunk I've cut, then find my mouth and chomp. Smooth and cold with a crumbed, meaty accompaniment, this unmistakable taste of picnics and homely lunchtime snacks is definitely a scotch egg.
The other objects don't prove quite so easy to determine – one is gristly (I'd have cut that off if I'd seen any fat) and the other is something runny, with tomato and onion. Not being able to visualize it, the flavours seem duller: clearly the information our eyes send our brain play a large part in our ability to taste.
Starters finished (assuming we've not missed something on our plates), and flavours discussed, we're allowed to remove our blindfolds for the main. The room is blinkingly bright and it turns out I've nudged a few morsels onto the tablecloth (though thankfully not spilt anything down my ill-advised cream dress).
'Sight is important in the anticipation of eating, locating the food on the plate… You don't even know if someone's left the table unless they say so'
The process repeats for dessert and the staff conscientiously announce themselves as they lean in to deliver our plates. Once the final dishes are cleared, we return to the room to list the flavours we thought we tasted. It turns out there were 45 different ingredients used, and the ginger icecream I was sure I tasted was actually cinnamon; the chewy item venison tartare with gherkin (!) and the sticky pastry item we'd thought might be apple and caramel was a pineapple tarte tatin.
I discuss this mind trickery with Sally afterwards. "We all found this evening that your brain can play tricks and tell you you're tasting something you're not," she agrees. "When you don't know what's there, you imagine instead what you're eating, and sometimes you get it completely wrong!
"We've been doing these events for about four years and the idea is to give people an idea of how important sight is to the enjoyment of food," she adds. "Sight is important in the anticipation of eating, locating the food on the plate… You don't even know if someone's left the table unless they say so. We hope the events give people something to think about as well as a good time."
Dining in the Dark is a fascinating, humbling experience which really brings to the fore how important our sight is to everyday events such as enjoying a meal – and how much we take that gift for granted. And, living in such a beautiful city as we do, it hit home how easy it is to overlook and undervalue the world-class, painterly scenes we're met with every day.
Most importantly, it's a reminder that everyone can benefit from seeing the world as someone else does – even if that means not seeing it at all.
How to get involved: The next Dining in the Dark will take place next spring – sign up to the CamSight newsletter online. You can also volunteer by visiting people in their homes, reading, driving and helping at social events.
---
Combining my love of books and making things at a bookbinding course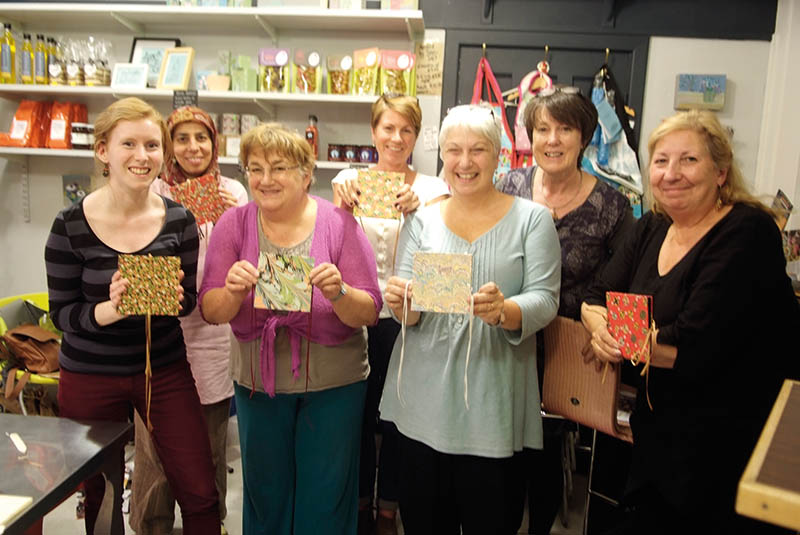 Currently, I have a floral notebook in my bag, a journal by my bed, a diary at work, sketchbooks, photo books… and I'm pretty sure there's a thumbnail-sized 'book' buried in the bottom of a drawer which I bought for £1 – simply because it was so impossibly dinky and pretty. I've no idea what I'll do with it. In short, I can never have enough books in which to draw, scribble down ideas or simply enjoy looking at. A bookbinding class, then, sounded right up my street and a fascinating way of learning more about this ancient art.
Edel Hopkin has worked as a bookbinder in Cambridge since 2007, a career written by her teenage love of decorative Venetian papers and the lovingly hand-bound books made for her by her mother and grandmother as a child in Ireland. A stint in Asia, where Edel discovered traditional Japanese printed paper, fuelled her passion further.
Now, alongside her commissions, she runs regular pop-up workshops in and around Cambridge, including this one at Urban Larder. Groups are rarely more than six; there's tea and cake; and if you've never done anything like it before, that's fine. Edel is helpful and her instructions clear as day (she also used to be a teacher), so that everyone comes away with a finished book at the end of each session.
Today, we were making small, square, concertina photo books. After choosing our paper (mine a beautiful red and gold Japanese print), Edel set us off identifying the direction of the grain, glueing the paper to a piece of sturdy card, then trimming the edges to form neat folded corners. Much folding, a little more glueing, some ribbon choosing and noisy hole-punching later, and we each had something that satisfyingly looked like a useable, rather beautiful photo book. One student, Edel told us, had filled it with photos and given it to her daughter to take on her gap year: it had been hung in hostels around the world.
Anyone wanting to make more at home can buy kits after class, and one lady excitedly showed us two booklets she'd made inspired by last week's session using striking tribal fabrics she'd picked up while on an educational project in Africa. It turned out I'd joined a fascinating group, including two painters and a sculptor, and there was plenty of time to chat (and laugh) as we worked on our books together.
I'm very much in favour of spending an evening out, dedicated to crafting: home has too many distractions – and you don't have to clear your dining room table or turn the house upside down hunting for your glue and brushes each time the crafting urge sets in.
As we said our hearty thank yous and goodbyes, Edel also offered envelopes for anyone wishing to give their books as gifts. That's my first Christmas present sorted then!
:: Edel's next series of bookbinding classes will be launched at Cambridge Christmas on 24 November.
---
The verdict: what Twitter made of Grantchester

The first episode of Grantchester aired last night (6 October), introducing us to brooding vicar Sidney Chambers and his parish of potential murderers and murderesses. A beautifully shot nostalgia trip back to 1950s Cambridge (which, bar the big dresses and vintage motors, doesn't look much different to today), Grantchester opened with some jolly japes on a rope swing and closed with a dramatic incident at a train station, via a funeral, a sad but pretty widow, some backgammon not in The Eagle, a scrumptious black Labrador pup and lots and LOTS of cycling.
Twitter was a hive of discussion, with #Grantchester still trending an hour after the episode ended. Here's what you guys had to say:
@lemondrizzle: 'How many times will we see King's College in #grantchester?'
About as many times as you'll see a long-shot of Grantchester Meadows under a wide sky, @lemondrizzle. It's true, Sidney certainly did a lot of cycling from Grantchester to Cambridge – work those calves, Chambers. (Did anyone else notice that, such was his hurry, he cycled in the wrong way?)
Fans of the books were placated:
@gillybethstern 'So true to the books. Fabulous. If you haven't read the Sidney Chambers stories, what are you waiting for!'
Though @kids_cats_golf was less than impressed, tweeting: 'Why did I bother watching #grantchester. It was #downtonabbey with a murder'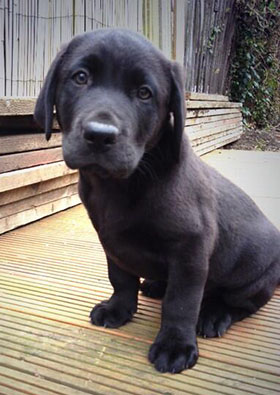 – Forgetting that Downton Abbey, after all, is Downton Abbey with a murder.
We feel @Elab49 could be onto something:
@Elab49 'Idea for #grantchester – ditch the two leads and just follow that gorgeous little puppy around for the next few weeks'
Let's have another look… Nawww!
Others, meanwhile, were looking elsewhere:
@CamCows 'I can confirm that all vicars in Cambridge look exactly like this #Grantchester #holyhottie'
@LucyAC_ART 'Just putting it out there, if @jginorton was an actual vicar, the church congregation would triple! #Grantchester'
Amen to that.
:: Read our interview with leading man James Norton
:: Breaking stereotypes and a cast vs villagers cricket match: we find out more about the making of Grantchester from the writer and exec producer
---
I get crafty, knit yet another scarf and meet some inspirational women

Summer may be great for barbecues, beaches and topping up your tan, but for me, autumn is the time of year I really look forward to. Warm, golden afternoons followed by crisp, cosy nights, autumn is an excuse to pull on a favourite jumper, take long country walks then snuggle down in front of the latest Sunday night drama.
It's also when a lot of us cast about for a new craft project, either with Christmas presents in mind, or because you can't have too many scarves – ever.
Chunky wool in hand, I joined the first Meet & Make session of the year at Craft Days, Saffron Walden, to find out more about this community of crafters. Jane Shaw set up Craft Days three years ago. It's a wondrous emporium of beads, buttons, fabrics and, above all, ideas: stop by for a ribbon and you'll almost certainly leave with a full dress pattern, some papier mâché animals and plans to make a king-size quilt before winter is out.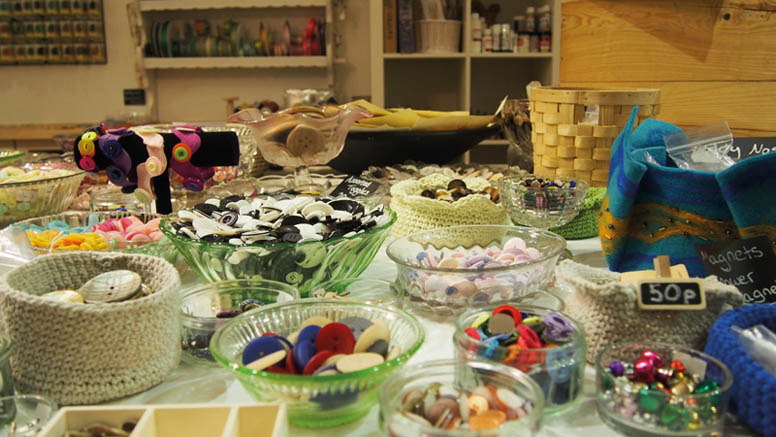 Meet & Make evenings are held in the shop every other week, and a chance to bring along whatever you're working on and have a natter with other local crafters (with tea and biscuits too, of course).
There's a range of ages present here and the atmosphere is friendly and relaxed. I'm sandwiched between two busy, chatty knitters, while Jane, opposite, knits a cosy cowl – like a tube scarf – for the shop window. "One ball of wool makes one scarf, and they're great Christmas presents," she says.
Jane uses largely British suppliers and buys in only natural materials where she can, including a new wool blend of alpaca and silk, which is proving popular.
Behind me sits an elegant lady in a beautiful blue and green patterned dress – which I learn, enviously, she has made herself. A dressmaker too, Jane teaches a range of classes at Craft Days, including dressmaking, shirtmaking, crochet, needle felting and even bookbinding. There's also a Get To Know Your Sewing Machine evening on 25 October, which sounds ideal for an eager novice like me.
The Meet & Make evening wraps up just after 9pm, and in the last three hours I've picked up tips and ideas, and got to know a room full of friendly, intelligent and creative women. Jane jokes that the class doubles as a support group, as everyone chats about their day and airs the odd office grievance. The gatherings also helped one admirable woman through a difficult illness; the knitting and sewing focusing her mind and the companionship of the group providing emotional support and a grounding sense of normality.
Whatever your motives, and whatever you're making, getting together with other creative types over hot drinks, surrounded by beautiful colours and textures, isn't a bad way to spend an October evening. My scarf, now a few rows closer to completion, might even be ready for that first real cold snap. Bring it on.
Craft Days is at 27 High Street, Saffron Walden.
---
A brush with fame and a delicious steak dinner at the new Marco Pierre White Steakhouse, Cambridge

---
He's made Gordon Ramsey cry, kicked complaining diners out of his restaurants and earned a fearsome 'no prisoners' reputation in the kitchen. So when invited to meet celebrity chef-turned-restaurateur Marco Pierre White at his new steakhouse at the DoubleTree by Hilton earlier this week, I wasn't exactly expecting a cosy tête-à-tête over sirloin and chips. But I was curious to find out more about the Yorkshire-born culinary king who left home at 16 and arrived in London with £7.36 in his pocket, determined to make a noise in the notoriously nasty arena of fine dining.
When my editor and I turned up (at 6pm on the nose – we're punctual in the provinces, I told the bemused London PR; we don't get Champagne dinners with celebrity chefs in Cambridge every day), the hotel lobby was abuzz with VIPs. MPW himself was yet to emerge, still, the moody black-and-white portraits on every wall left no-one in any doubt as to whose territory we'd strayed into.
After half an hour's chat, we were ushered into the restaurant (more glossy photos) for dinner. Marco was yet to be glimpsed, but we cared not: an array of splendid hors d'oeuvres for sharing had just arrived (potted duck, whitebait, real Scotch eggs, salmon). For the main event, I couldn't not try the steak, and it arrived juicy, plump and perfectly pink in the middle, served with thick, crispy chips and vegetables in dinky copper pans.
By now Marco had appeared, the whispers told, and was signing books and aprons in the lobby. An air of unpredictability reigned – he was taking a break, no, he wasn't – and there was a question mark over what mood we might find him in (we were advised not to mention that we were journalists). When our turn came, I lined up with the rest, had a pinny signed and a photo snapped, then nipped back to finish my steak. My dinner goes cold for no-one…
Having gotten to know the DoubleTree's newest, very lovely press recruit over the savouries, I spent dessert talking theatre, publishing and sneaking into wedding venues with a charming gent in tweed to my left, while the cheerful, efficient and remarkably collected staff kept things running smoothly all night. Having a celebrity guest – and a fiery chef patron at that – visit your restaurant is surely a test for anyone, and it was a credit to the MPW Steakhouse and DoubleTree team that the launch was such a success. It was gone 10 when I took my leave (long drive ahead, Bake Off to catch up on…), other guests still chatting and polishing off the last of the mini sticky toffee puds, brownies and wine. Marco, you missed a grand evening.
The man, the myth
After arriving in London, Marco Pierre White (Yorkshire-born to Italian parents) began his classical training under Michel Roux at Le Gavroche, before opening Harvey's in 1987, for which he won his first Michelin star*, swiftly followed by a second. A third came for The Restaurant Marco Pierre White making him, aged 33, the first Brit and the youngest ever chef to earn the coveted hat-trick.
Still, in 1999, unsatisfied by fame and the Michelin system, he handed back his stars, hung up his apron and began life as a restaurateur instead. His next adventure was to front the first series of Hell's Kitchen (before Gordon Ramsey, with whom he had worked, reduced to tears and fiercely fallen out with, after Gord brought a TV crew to Marco's third wedding).
His latest Cambridge steakhouse adds to a portfolio that covers London, Bristol, Birmingham, Liverpool, Chester, Nottingham and Newcastle. Prices at MPW Steakhouse Cambridge range from £5.95 to £10 for a starter; mains £12.50 to £31 for a fillet steak.
www.mpwsteakhousecambridge.co.uk
*Speaking of Michelin stars, well done to Alimentum and Midsummer House in Cambridge for retaining their one and two stars respectively in this year's guide. Keeping Cambridge on the map!
---
Banana leaves and finger food: Celebrating Onam at the Rice Boat, Cambridge

Indian dining has come a far cry from Anglicised tikka masalas and chicken kormas in recent years, with our more diverse, savvy population crying out instead for a real taste of the subcontinent.
Last weekend (19-21 Sept), modest, tucked-away Keralan restaurant the Rice Boat in Newnham hosted its annual Onam Feast. A Hindi festival celebrated in India's lush southern state, Onam essentially means 'Harvest Festival' and marks the homecoming of the mythical King Mahabali. It's a festival of colour and tradition – and feasting aplenty – all of which Rice Boat owner Jacob Abraham has made sure to bring to his excellent establishment.
My visit to the Rice Boat last Friday was my first, and indeed my first taste of Keralan food. Flavour, rather than heat, is key, Jacob explained, and their special Onam menu meant I'd be sampling a range of Keralan curries and delicacies in one sitting.
In-keeping with tradition, the Rice Boat serves its Onam Feast on a whole banana leaf. It's a beautiful means of presentation, and added to the authenticity and theatre of the occasion. What's more, Keralan food is eaten with the fingers – though you can ask for cutlery if your British sensibilities get too much. I decided to abandon my middle-class table manners and enter into the spirit of it and, after some initial squeamishness, was soon enjoying the feel as well as the look, the smell and the taste of the food before me.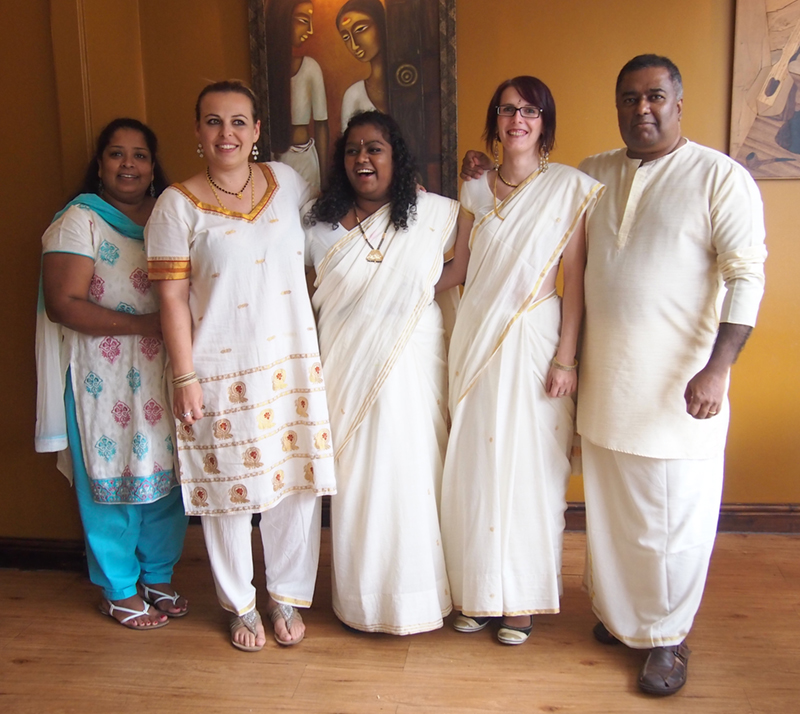 Jacob ran through the different curries arranged on my leaf, telling us to leave the sweet, mini banana (seriously, the smallest I've ever seen) and sugar-coated banana chips (sarkara peraty) 'til last.
The servers – beautifully dressed in golden saris – were on hand all evening to keep us topped up with extra portions. I particularly enjoyed the mixed vegetable Avial and the hearty, warming Okra Theeyal (ladies' fingers in a roasted coconut and onion sauce), which partnered deliciously with the creamy, soft-textured Kalan (chunks of unripe banana cooked in yoghurt).
I'm usually a fairly serious meat-eater, finding vegetarian dishes often don't quite hit the spot, but the complexity of flavours, textures and sheer variety of matter before me meant I didn't miss meat a bit during this eclectic, exotic feast.
Still, I made a note to return for the Rice Boat's signature dish: King Fish cooked in spicy, smoky red curry: another new discovery I'll look forward to.
The Rice Boat is at 37 Newnham Road, Cambridge.
Past posts:
:: I take to the water and give wakeboarding a try
:: Nice buns! Learning to make Fitzbillies' famous Chelsea buns
:: Cruising the Cam on an atmospheric bat safari