Yes, there have been a few big success stories like Pink Floyd and Mercury Prize winners Alt-J, but popular opinion has it that our city is a long way off being an incubator of musical greatness. Well, we're on a mission to disprove the prevailing wisdom on Cambridge's music scene. Over the coming months, The Cambridge Sound will take a look at some of the brilliant and influential acts to emerge from the city, introducing up-and-coming artists and paying homage to some Cambridge greats.
You're probably familiar with drum and bass as a genre, defined by its fast tempo, breakbeat and heavy bassline, but you may not realise that Cambridge is home to one of the most innovative and well-respected producer/DJs in the game: Matt Gresham, aka, Logistics.
Along with his brother Dan (Nu:Tone, with whom he regularly collaborates under the Nu:Logic moniker) he has enjoyed a hugely successful career, releasing some of the finest drum and bass on the scene through the world-famous Hospital Records. His two other brothers are also creative forces to be reckoned with: Nick is better known as producer/DJ Other Echoes and Tim as visual artist Mr. Penfold. So what's the Gresham secret? "We all grew up in a very creative family and spent a lot of time together as kids," says Matt. "We shared very common interests and it just went from there really. We were lucky in that our parents really encouraged us to pursue creative professions, which might not be the case in a lot of families."
Matt started producing music 12 years ago, but a seminal moment came in 2004 when Hospital put out their The Future Sound Of Cambridge EP, also featuring Nu:Tone and school friends Commix (Cambridge-based drum and bass duo George Levings and Guy Brewer). It was around this time he started garnering attention from industry heavyweights and getting radio airplay. "It was a very exciting time for us," recalls Matt. "I remember listening to Radio 1 hoping that our music would get played and when it finally did it was the most incredible feeling. It's also been really great to see Hospital Records go from being a relatively small left-field independent label to now being one of the biggest independents in the world."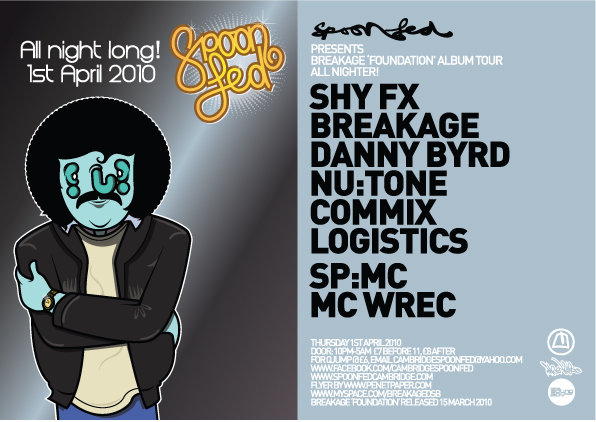 Due to the lack of soulful drum and bass nights on offer in Cambridge at the time, the gang set to work creating their own. The Spoonfed nights are now the stuff of legend, originally housed at Fez Club and subsequently Cambridge Junction, they brought renowned acts such as DJ Marky, Shy FX and Goldie to Cambridge. "I have so many memories of those nights, having Shy FX play for us was always a roadblock and highly enjoyable, the same goes for DJ Marky. I remember Skream playing a disco set for us right after he'd done his remix for La Roux so there was a huge buzz around him and to have him playing in such an intimate club was really special." The Spoonfed nights are sorely missed, but we have word from Matt that there are plans to restart them soon, so keep your eyes peeled on the pages of Cambridge Edition for updates!
Alongside production, and co-organising a successful monthly club night, Matt also DJs around the world, often as part of the ever-popular Hospitality franchise, playing some of the biggest and best gigs around. "Getting the chance to play festivals like Glastonbury and Bestival is a real honour; I dreamt of playing those kinds of gigs when I was younger so it was very surreal to finally get these opportunities."
With a distinctive sound, blending together soulful basslines and expressive melodies – without forsaking the dance floor oriented nature of the genre – Logistics has won huge critical acclaim and the praise of the most popular DJs in the game, his tracks regularly played by the likes of Andy C and Friction. "I always find it hard to step back and be objective about my own music but I really like music that is uplifting but also has a sense of melancholy to it as well," says Matt when asked about what defines his musical style. "I write quite a wide range of music but for the most part I think that is the common theme running through my songs."
Now that you know you're practically a neighbour of drum and bass royalty, your interest piqued, and eager to hear for yourself what the fuss is about, where do you start? "I'm really passionate about a track called Slow Motion. It's one of my less well-known tracks but I've always been really proud of it. Together is a good place to start if you're not familiar with drum and bass music." With a brand new album with Hospital Records due out in the summer and ongoing collaborations with Nu:Tone bound for release in the not too distant future, we certainly haven't heard the last from Logistics.
www.facebook.com/logisticsdnb