1. Speedy home deliveries can be local and ethical
Before Covid came along, our options for ultra-quick deliveries of food and products were limited to the likes of Deliveroo, Uber Eats and Amazon – all global companies that have come under fire for their working practices. But cometh the pandemic, cometh the plucky delivery start-ups, reporting for duty to bring the best of Cambridge's shops and restaurants to your doorstep. Foodstuff, which launched during the first lockdown in March, has a mission of giving independent eateries a fairer deal in the delivery marketplace, working alongside favourites like Aromi and Nanna Mexico, while Click It Local has proved a hit for its same-day deliveries from indie outlets such as Malloy's Craft Butchery and Calverley's Brewery. Both companies deliver via bicycle, so as well as supporting indie businesses, they're eco-friendly too! 
2. The grass at King's College is the city's best picnic spot
If you were lucky enough to enjoy the elicit thrill of a Pimm's on the lawn outside this famous college last summer, we're sure you'll agree that it's got it all: spectacular views, people watching and top-notch takeaways from Cambridge Wine Merchants. Now that the students and porters have returned, sitting on the grass is back to being strictly forbidden and the whole thing feels a bit like a fever dream…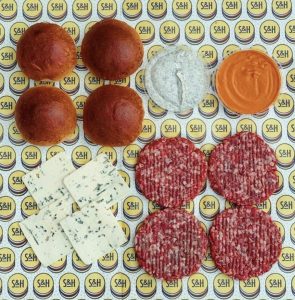 3. Meal kits are amazing
When dining out became impossible, Cambridge eateries stepped up to the plate with innovative solutions to getting their food to our tables. Particular highlights included Steak & Honour's DIY burger kits (pictured below), Vanderlyle's cook-at-home veggie feasts and Pint Shop At Home, a range of oven-ready homemade pies, doughnut bread pudding (yum!), 'vegan date night' dinners and more. Absolutely the next best thing to a meal out.
4. We'll queue for gelato and bread
When Jack's Gelato reopened its doors, the queues were huge – we mean really huge. Whenever the hatch was open, you could virtually guarantee a chain of customers that snaked down half of Bene't Street; in fact, the business was enjoying such a boom that it opened a second brand on All Saint's Passage. Also proving to be queue-worthy was Grain Culture in Ely, which (if Instagram Stories are to believed) welcomes an army of bread lovers each Saturday morning, queuing – in a socially distanced fashion – for as far as the eye can see.
5. We're really lucky to live here
Objectively, of course, we knew this already. Cambridge is city that lives in the imagination of the world; images of its grand architecture and punt-dotted river unmistakably belonging to the place we call home. But with the 'great pause' came an opportunity to really appreciate Cambridge's charms, and reflect on how fortunate we were to spend our government-sanctioned daily exercise pedalling past handsome colleges or meandering through gorgeous Grantchester. The past year has made many of us fall in love with the city all over again.