Passion and a belief in offering customers exceptional quality with something truly unique sets this store apart
A furniture emporium passed down through five generations, Angela Reed is a family business in the truest sense of the term. Proudly championing beautiful, high-quality homewares, its five-floor flagship store is a sprawling treasure trove of handpicked pieces, from stylish Conran sofas to handmade wooden bookshelves and cabinets. The current custodians are David Reed and his wife Kate, who returned to the fold in 2011 and have helped grow the brand into the thriving operation it is today, with branches in Cambridge and Saffron Walden as well as a successful online shop. 
"A lot of it is down to passion," says Kate. "The family has always really believed in the business – it's never been a chore. It's always been something that everyone has loved to do. David and I, for example, used to work in professional rugby, but he always knew that he was going to come back and take over the family business, and that was his burning ambition."
Surviving wars, recessions and navigating ever-changing shopping habits is no mean feat, and the company has proven remarkably resilient over the course of its 140-year history, continually repolishing its brand to meet the needs of each new generation. Part of the reason for its success, believes Kate, is a steadfast commitment to exceptional quality and being able to offer customers something truly unique compared to the big chains that dominate the high street.
"I think what sets us apart is that everything is handpicked by us," she explains. "It's David picking everything
and curating it, and he has a really good eye, as do the people who work around him. We have a good understanding of what our customers will like and what will work. 
"We know that they look for things that are inspirational and a bit different; things that you're not going to find in John Lewis. It's that personal curation – that's what makes us different."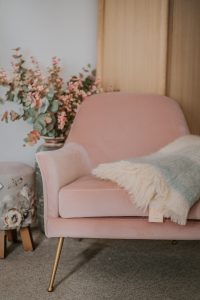 The pandemic has brought a new set of challenges, forcing the business to temporarily shut down in March last year and revamp its online shop on a much tighter timescale than originally planned. 
"It's given us the opportunity to make some much needed changes," says Kate. "We've now looked at digital marketing as a whole and brought in some really good people to help us with that. We've been able to broaden our market beyond just local people and we're now sending around the UK and to Europe, too". 
One benefit of lockdowns for a homewares company such as Angela Reed is that it has prompted many of us to spruce up our living spaces. As a result, business has remained strong for the company throughout the past 12 months – though Kate has noticed a shift in what kinds of products people are investing in. "At the moment, we're selling a lot of home office stuff, and dining, too, which I thought was curious, considering we can't actually dine with anyone," she laughs. "And the other thing that people are still looking for is outdoor living – so firepits are still really popular for us. We thought that was probably just going to be over Christmas, so people could be outside together, but we're still seeing a big uptake in that. So I think it's just trying to finds ways to be outside – and make being outside enjoyable! 
"In terms of inside the home, we're finding people are looking at how they can add colour with little touches, rather than a full redecoration," she continues. "So throws, cushions, rugs – things that can update your home and bring a bit of happiness and colour and joy."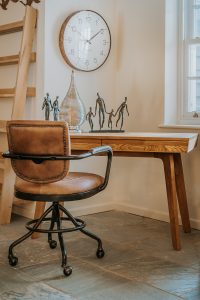 Part of the couple's mission has been to rebrand the shops, though Kate stresses that they're not reinventing the wheel, but simply updating the branding to reflect the current offering. "We've changed the colours and we've made it more contemporary. We wanted to show that we've been contemporary since 1880!" she explains. "We're always trying to stay ahead of the curve – there is a traditional element, but we're keeping up with the times and not getting stuck in old-fashioned tastes.
As for the future, plans for a third bricks-and-mortar shop are on hold, with the team focusing on strengthening the online offering. "We're setting our sights on making sure e-commerce keeps going with the momentum. Everyone is shopping online and we need to keep up. That's our key ambition at the moment," says Kate.  "But we're equally keen not to be seen only as an online shop. We want to still be a physical shop, so you still get really good customer service – you can always speak to someone on the telephone, who is working in the shop. It's still that personal, family business touch." angelareed.co.uk