There are countless Instagram accounts showcasing our city's world-famous scenery. Here are a few of our favourites in their own words, although the pictures speak for themselves…
Over the years, we've selected many of your gorgeous photos of the city as part of our regular #InstaCamb feature. Instagram has been around for over a decade now (it's only a few months older than us!), and we've received so many fantastic submissions in that time. We love looking through your lovely Cambridge photos every month, and there are a few accounts who never fail to deliver when it comes to their #InstaCamb entries. We caught up with them to find out a bit more about their accounts – and why you should be following!
Followers: 500+
"I started using Instagram in 2013, covering mostly student life and travels. Last year, I launched @cambridgeman, inspired by Nicholas Chrimes' book, Cambridge: Treasure Island in the Fens, to share images more focused on Cambridge and its beauty. In such a cinematic and photogenic place, every walk can be a photo walk! I would describe this account as a visual celebration of the city's essence: iconic architecture, people, nature and street life. The gallery also includes a few images of college experiences and my recent travels.
"My favourite picture of Cambridge that I've taken is called Punting in the Cam (main photo above), which won a competition, while my favourite accounts to follow include @humansofny and many @natgeo travel photographers. There are so many inspiring Instagrammers in Cambridge, too, but I would definitely recommend the artist and illustrator @sarahbethhsieh, and photographers @humanofcambridge, @dougwallacephoto, @bandriu01 and @pretty_little_cambridge, to name a few."
Followers: 7k+
"I started my photography page six years ago as a small passion project. I then spent a year in Australia and New Zealand, where the landscape really inspired me to pursue my photography career. On returning to my home town, Cambridge, I realised I loved shooting the local landscape just as much. I like taking photos of Cambridgeshire in the evening, as I enjoy capturing sunsets – I really love that light. A lot of my friends have moved away, and they find my account very nostalgic. I'm most proud of my photo 'Water Under the Bridge' at Jesus Green lock, as it was a successful long-exposure shot. And at my opening exhibition, it was the first one to sell out. I follow a range of photography accounts, as not only do I focus on landscapes, I do wedding photography, too. I would recommend @pretty_little_cambridge, @cambridgelittlegems, @danielackerley (weddings) and @dougwallacephoto."
Followers: 1.7k+
"@tomjuggins_uk started over three years ago when I was visiting the V&A for my birthday. I had done some photography previously, at college and university, but on that day I took my camera to try and reignite the passion. From then on, I took photos around London (where I worked at the time) and Cambridge, when I visited on the weekend. Followers can expect to see photos of Cambridge primarily, but also other cities and towns I visit around the area – and places I travel to. I try to capture the beauty of buildings and nature, while finding unique angles. The photo I'm most proud of (as I scroll through them trying to find one!) is the one I took through a window of an Airbnb in the Isle of Skye. I had planned this ten-day photography road trip around Scotland and hardly took any photos, but this is probably one of my favourites, and it transports me right back to that holiday. My favourite Instagram accounts are actually two Danish photographers, @anthonybogdan and @mortenordstrom, who I admired when I first got back into photography. But there are many Cambridge-based accounts I also like. There is a great community among the photographers here."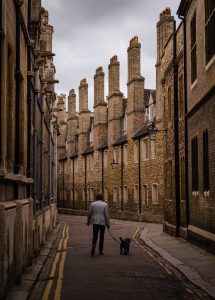 Followers: 9.3k+
"I started @pretty_little_cambridge in summer last year as a pandemic project. I used my daily walk during lockdown to explore the city, as I had only moved to Cambridge a few months before, and took my camera with me. A couple of months later, I began my Instagram account as a way of tracking my progress as I learnt more about photography and editing, and also to show others how lovely Cambridge is! I like to use my account as a way of showcasing both the popular photography spots in the city, such as Trinity Lane and the view of King's College Chapel from the Backs, as well as less well-known areas that are just as beautiful. I think the photo I captured of the River Cam, from the Garret Hostel Bridge, one evening last September is probably one of my favourites. Cambridge always looks so stunning at sunset; I love the way the light catches the punts! The surrounding greenery and dramatic skyline make this photo look like a painting. It was a very quick capture, but I'm really proud of how it came out. 
"I recommend following @exploringcambridge, which showcases the best of our independent small businesses, while @humanofcambridge captures editorial-style pictures of the lovely people of the region, and is a new favourite of mine. @johnhenryscott is an incredibly talented landscape and wedding photographer who takes the most beautiful golden hour and sunset photos of the city. And @cambridgelittlegems – curated by Ellie Dyduch – showcases other local photographers and their amazing pictures."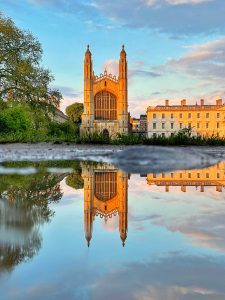 Followers: 27.5k+
"I wrote a regular online diary in the early 1990s, which became 'Cam Diary' in 1999, and evolved into the present photo diary in 2007. I've been posting to Flickr for over 14 years, since before mobiles and social media platforms became popular. I've been a passionate smartphone photographer for over ten years – and am part of the global mobile journalism movement. Followers can expect a range of photos documenting this incredibly beautiful, historic university city, showing its architecture, nature and people. There's a lot that goes on in this tiny city out in the Fens. I do regular photo walks, Q&A sessions and workshops. I also feature photos from other Cambridge accounts.
"In terms of my favourite photos, I get excited about the next diary entry, not the previous ones. So, it's the next photo I'm going to make. It's about documenting and enjoying slices of time. The photos featured are a few I've enjoyed in the past.  
"I have wide photo interests, including photojournalism, architecture, street and black and white work. I follow mobile photography accounts like @mobiography, @brendan.o.se, @jackhollingsworth and @24hourproject (I'm the Cambridge ambassador for the event on 24 July). Locally, I'd recommend @cambridgeuniversity, which I started in July 2014, and has recently reached one million followers." 
City Slickers
Whether it's food, shopping or arts, these are the go-to Cambridge Instagrammers for tips and recommendations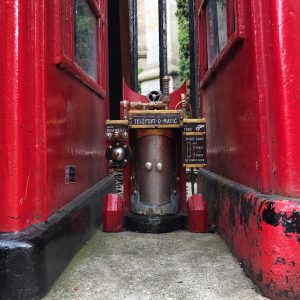 Followers: 2.6k+
If you're interested in finding out what's happening creatively in the city, follow @thetrove_cambridge, which shares snaps of local discoveries, street art, public artworks, exhibitions, craft fairs and workshops.
@thetrove_cambridge recommends:
• @cyclesandsatchels  • @cambridgemade • @one2culinarystew • @butterdreambakery • @thymelanephoto • @cambsocialmedia • @willowandwolfflowers • @pretty_little_cambridge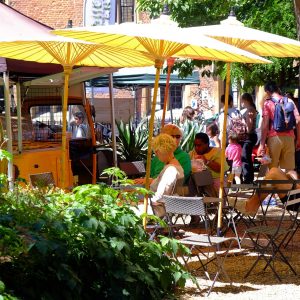 Followers: 2.8k+
Love Cambridge is the consumer brand for Cambridge BID, an organisation that works with the business community to improve and enhance the city. It's a great one to follow if you're looking for a one-stop shop to get a feel for the place, as the brand works with local shops, bars and restaurants to promote what they are up to.
@lovecambridge_ recommends:
• @cyclesandsatchels • @mrskunderwoo • @cambridgefoodblog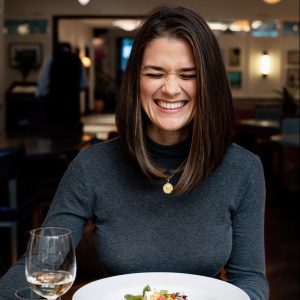 Followers: 4.2k+
For news on the city's up-and-coming hotspots, Katie Underwood has you covered. Her account @mrskunderwoo showcases the best of the local food scene and offers a glimpse into the goings-on of the city's thriving business community. Expect Cambridge restaurant and venue recommendations, news and events – plus an exclusive look into the workings of KUCO, Katie's hospitality communications agency. 
"Over the past ten years, I've been documenting my career in hospitality, as well as all the best places to go out and about!" Katie enthuses. "It started with restaurant visits before I had kids, then developed into a platform to share insights from the industry. Instagram is all about conversations, and I've created so many professional and personal relationships by engaging with people online."
@mrskunderwoo recommends:
• @cambridge.foodie • @parkers_tavern • @espressolibrary • @levante.kitchen • @workinsocialtheysaid • @cambridgefoodblog
MORE LIKE THIS:
Local life: Humans of Cambridge