From Thursday 4 to Sunday 7 July, enjoy workshops, discounts and competitions celebrating Cambridge's independent scene
With so much doom and gloom in the national news about the fate of the British high street, you'd be forgiven for forgetting that, here in Cambridge, we're fortunate to have a vibrant shopping hub in the city centre – and one that is especially notable for its abundance of independent retailers. From great indie restaurants and cafes to clothing shops, gift shops, art galleries and, of course, the bustling market, there are all kinds of gems to discover. 
This month is the ideal time to explore and celebrate Cambridge's flourishing indie scene, as the Cambridge BID (Business Improvement District) Independents' Week is returning from 4 to 7 July. Part of a national campaign that supports independent businesses across the country, the event will see stores and eateries in a celebratory mood, offering all kinds of special offers and in-store events. 
These shops bring uniqueness to Cambridge
For punters, it's a chance to snap up everything from bargain meals and discounted books to free goodie bags, revisiting old favourites and discovering new treasures. For retailers, meanwhile, it's a chance to "shout from the rooftops that there are over 200 of us in the city centre!" enthuses Anne Bannell, owner of Jacks on Trinity. "These shops bring uniqueness and vitality to Cambridge's high street – and it's a case of use it or lose it," she continues. "We've sadly seen a lot of indies disappear from our streets. Cambridge is a victim of its own success as national stores want a presence here and can afford much higher rents, consequently making it more difficult for small businesses to compete. But there are many success stories, too, so seek them out and be proud to shop with independent stores." 
Jacks on Trinity will be getting in the spirit with a very special guest during Independents' Week (more details on page 82), while other Trinity Street residents – including Cambridge Contemporary Art and Cambridge University Bookshop – will be getting in on the action, too. 
Anne's sentiment is echoed by Indira Bir, studio coordinator at Green Street's Harriet Kelsall Bespoke Jewellery, who says the superior experience of shopping at independent retailers makes them worth cherishing. "You get excellent one-to-one customer service and knowledgeable staff at an independent – and better value for money," she explains. "In our case, our jewellery is made locally and by hand, and our bespoke service is not something a chain could offer at the standard we do." 
"Cambridge is an amazing and beautiful place, and an obvious tourist attraction," she adds. "A range of interesting, local and unique independent shops is what the tourists want, alongside the historic buildings and other attractions. It adds to the charm and gives the centre of Cambridge much of its character." 
Pop along to Harriet Kelsall during Independents' Week and you can see a display of exquisite gemstones (right) from around the world; an exhibit that focuses on unusual cuts and colours, handpicked by the store's gemologist. After you've admired these dazzling stones, venture further up Green Street to Harriets Café Tearooms, where you can indulge in a traditional afternoon tea with all the trimmings for a discounted price. 
Another foodie favourite joining the initiative is De Luca Cucina & Bar, Regent Street's long-standing Italian restaurant. For the team there, Independents' Week is a way to support the indie community in the city and rally together against current challenges, encouraging the public to do the same.
"It's a difficult time for the high street", says Robin Phillips, from the restaurant. "There's pressure from online offerings and uncertainty over Brexit, which has led to a lot of big chains closing over the past few years. But we know people value the independent offering in Cambridge and we urge people in the city to use the power of their patronage to support the businesses they are fond of." 
And despite many challenges, there are positives to be found, suggests Robin, who adds: "We do see that when times are tough, people come back to the businesses they trust, owner-run businesses that are friendly, remember you and focus on quality, consistency and customer care – places that have a passion for local produce and supporting the local economy in any way they can."
Another benefit of buying from independent businesses is the variety of choice they can afford shoppers, says Pippa Sandison, owner of King Street fashion boutique, Boudoir Femme. "Independents continue to offer something really different on the changing UK high street: individually selected and often unheard-of new brands, together with the chance to connect with an owner who has a story to tell, a passion for their brand and who can really make shopping a pleasurable, personal experience. The Cambridge shopper knows they can rely on us to provide something niche and special."
One thing every retailer we spoke to agreed on was the fact that independent businesses are a very fundamental part of what makes Cambridge special as a shopping destination, and a city. We've come a long way since that now-infamous think tank damningly concluded that Cambridge was the 'worst clone town in Britain', but the challenge of retaining the city's uniqueness and creating an environment where indies can thrive continues. 
"We don't want an indistinctive, unembellished town with homogeneous offerings" concludes Meggy Yip, co-owner of Bridges cafe. "Independent shops have brought individuality to our city, making Cambridge more appealing not only to visit, but also to live in. There is such an excellently established entrepreneurial spirit here and we hope to be brought together to celebrate what we are doing and to demonstrate the diversity and charm Cambridge has." 
INDEPENDENTS' WEEK DIRECTORY
Hashtag #CambridgeIndependentsWeek
Cambridge Gin Laboratory, Green Street
Garnishing your gin: how to decorate your gin at home using simple ingredients and easy-to-master techniques. A 20-minute lesson with the garnish expert, which includes two drinks, for £15. Classes are running at midday, 2pm and 4pm during Independents' Week. Places are limited to ten people per lesson.
Cambridge Contemporary Art, Trinity Street
An evening of delicious mocktails and cocktails on Thursday 4 July, with art from all over the UK to admire. RSVP is required via Eventbrite.
The Tamburlaine Hotel, Station Road
The Tamburlaine Hotel will be offering a discounted menu, where diners can take advantage of a three-course menu for £15, or a two-course course menu for £10.
Tindalls, King Street
Thursday 4 July and Friday 5 July: a two-day calligraphy course following modern calligraphy and brush lettering. Saturday 6 July: children's workshop, aimed at those seven years and up, looking at creating work inspired by Matisse. There will also be in-store demonstrations every day, from alcohol ink to acrylic, where you can engage with the artist and get hints and tips. As well as this, there will be 20% off all Lamy pens, plus 20% off all Da Vinci Casaneo watercolour brushes. 
Jacks on Trinity, Trinity Street
Jacks on Trinity has tracked down the long-lost cousin of Professor Dumbledore – Colonel Crumbelclaw – an alumnus of the ancient, little-known Cambridge college of St Barnabas, found at 34 and Three-Quarters, Trinity Street. He will be visiting between 2pm and 4pm on Thursday 4 July and has promised to show all the Cambridge muggles some spectacular magic! Just turn up for this one-off opportunity to meet a real wizard!
Boudoir Femme, King Street
Rachel Jackson, London jewellery pop-up shop and styling event on Saturday 6 July, 11am-3pm, free gift with every purchase. Meet the team from London and get tips on styling the jewellery collection. A wide range of styles to choose from in store, from bestsellers to the new SS19 collection. Refreshments will be served in store on the day.*
*One gift per customer and available only on Rachel Jackson jewellery purchases on 6 July.
Cambridge University Press Bookshop, Trinity Street
Buy one get one half price on texts by Shakespeare and ELT readers, 30% off concise histories, 30% off writing and research guides, 20% off primary education, and a summer reading promotion. 
The main window will be connected to a walking tour map designed around illustrious authors connected with Cambridge. 
Harriets Cafe Tearooms, Green Street
Traditional afternoon tea: enjoy Harriets Special Blend No. 6 tea, six finger sandwiches including cucumber, chicken and egg mayonnaise, followed by two fresh scones with Cornish clotted cream and strawberry jam, finished with a home-made fudge brownie, a macaroon and a handmade sweet tart. Cambridge Independents' Week Price: £16.95. This is the original afternoon tea served at Harriets in its first year, 20 years ago in Bury St Edmunds. It expresses the traditional values of Harriets, with fresh-baked scones, daily-baked bread and handmade patisserie. Clotted cream is from Cornwall, the jam is especially made and can be taken home in jars, and the tea is blended just for Harriets.
Campkins Cameras, King's Parade
• Take a selfie, then upload to Instagram using the hashtags #MyFujiPrints and #IPC for a chance to win a Fujifilm Instax camera.
• Chance to win 500 free prints by entering competition in store.
• Buy one get one half price on canvas printing.
• £5 off montage printing.
• Purchase a frame and receive a free image.
• £15 saving on camera servicing, for example sensor cleaning.
• Free 16GB card with any DSLR or CSC camera purchase.
• 10% off binoculars and telescopes.
La Raza, Rose Crescent
• Buy one coffee, get one coffee free.
• Two cocktails for £10 during happy hours   5pm-7pm & 9pm-10pm, excluding Saturday.
• Live music on Thursday and Friday.
• DJ on Saturday night.
Giles & Co, Trinity Street
Giles & Co will be at Cambridge Market on 7 July, offering customers a taste of three award-winning extra virgin olive oils, and a chance to try out olive oil-based natural skincare products. Available to all. 
Win a Cambridge goodie bag, including a sweatshirt and a selection of gifts. To enter, all you need to do is complete the entry form in store. A name will be picked out of the hat on Monday 8 July.
Harriet Kelsall Bespoke Jewellery, Green Street
Stone exhibit: pop in to the Green Street jewellery shop to view a beautiful collection of precious gemstones that have been personally picked by a gemologist. A unique collection of unusual cuts and colours has been gathered together from Harriet Kelsall's gemstone traders around the world to view from 4 to 6 July in the Cambridge shop. From rich purple sapphires to watery aquamarines, discover the possibilities! Pop in to see them, or if would like to arrange a free consultation with one of HK's designers to create a unique bespoke piece of jewellery, call 01223 461333 or email [email protected]
Laird Hatters, Green Street
Laird Hatters is offering 15% off all hats, free copper hatpins, or a free feather or shot of whisky.
OSKA, Green Street
Free style-coaching experience and gift on purchase, plus a glass of champagne throughout Independents' Week.
Nanna Mexico, Regent Street, Petty Cury, Fitzroy Street
Nanna Mexico is offering a £5 burrito and soft drink deal, or £6 for a burrito and Corona beer. 
Ta Bouche, Market Passage
Ta Bouche will be running a buy one, get one free on coffee, plus a buy one get one free on cocktails (excluding Saturday).
SageBrown, Trinity Street
SageBrown will be offering 20% off handbags and 10% off everything else in store.
NOVI, Regent Street
Novi will be offering lunches for £5 and dinners for £10.
Cambridge Property Investments Ltd, East Road 
Cambridge Property Investments Ltd will be offering free landlord set-up and a free agency switch service, plus two months commission free letting service. 
Bridges, Bridge Street
Bridges cafe is offering a main (a savoury, toasted sourdough sandwich or panini) with a drink (hot or cold) and a sweet treat for £10, or a Chinese rice or noodle dish with a drink (hot or cold) and a sweet treat for £10.
Elegant Atelier, Rose Crescent 
To celebrate Independents' Week, Elegant Atelier (right) will be serving fizz in store, plus a there's a chance to win a personal styling session. This will include a one-to-one styling appointment covering up to three outfits presented over a glass of fizz. The summer sale will also be in full swing – and the store is offering 10% off sale prices with every purchase of three or more sale items.
Byard Art, King's Parade
Byard Art, the independent gallery on King's Parade, will be offering glasses of prosecco and strawberries to visitors on 6 and 7 July, plus a 10% discount on all framing ordered in the gallery throughout Cambridge Independents' Week. 
Signorelli's Deli, Burleigh Street 
Signorelli's Deli is offering 10% off all food bills, Italian wines, spirits and dry deli. Not to be used in conjuction with any other offers.
De Luca Cucina & Bar, Regent Street 
De Luca will be offering 20% off for parties of six or fewer from 4 to 6 July until 6pm.
Primavera, Magdalene Street & King's Parade
Primavera is supporting Cambridge Open Studios during the weekend of Independents' Week, and featuring Sarah Allbrook's painting at 13 Magdalene Street. Celebrating local jewellers: Primavera exhibits the best contemporary work by British artists, and this July it's showcasing collections by jewellers based in Cambridge.
In the downstairs room on King's Parade, you can find work by Tricia Taylor, Jutta Robinson and Hannah Souter among others. Marcella Cooper is also showing her work at King's Parade from 4 July. Visitors can get 25% off any future purchase of one item of the same amount from 4 to 7 July. 
Cuckoo Clothing, St Mary's Passage
Win an amazing summer goodie bag featuring a hand-picked selection of Cuckoo's favourite summer accessories, worth £170!
Cafe Abantu, Hobson Street
Buy one get one free on all hot drinks or iced teas and coffees.
Open Air, Green Street
Open Air is offering a free Rab enamel mug with any Rab clothing purchase, a free Rab enamel mug with any Lowe Alpine pack purchased and a free 12L dry sac with any Osprey pack purchased (while stocks last). 
There will also be other sales running in store.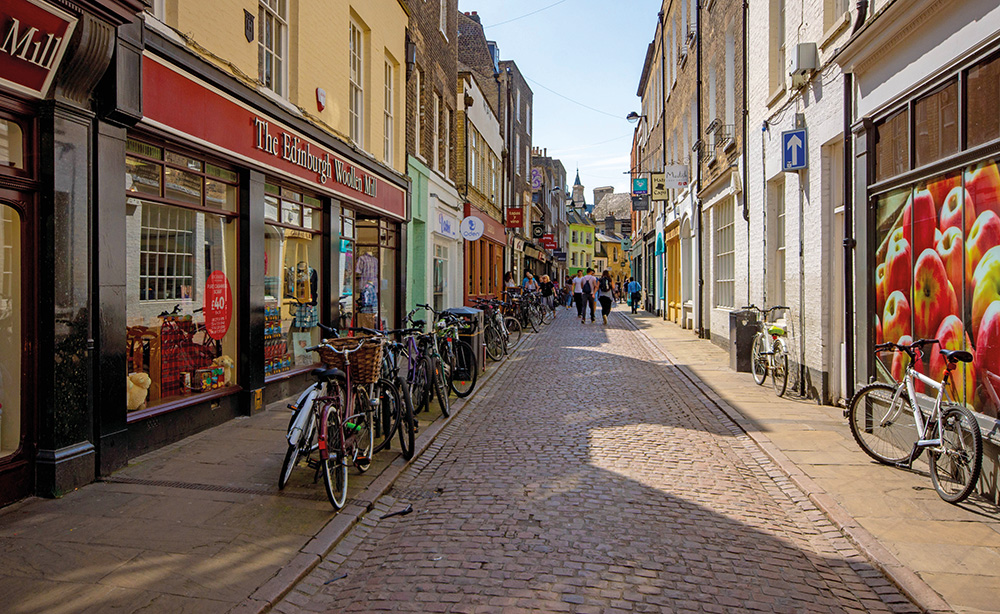 The Cambridge Fabric Company, Peas Hill
Free lampshade making demo: 11am daily, 4 – 7 July. Join in and learn how to make The Cambridge Fabric Company's lampshades. Learn how to create a 30cm drum rolled-edge lampshade using any fabric, gain insider tips and the confidence to have a go yourself. Ideal for beginners, no sewing involved.
Charcoal Grill, Hills Road
Charcoal Grill will be offering a three-course meal for £14.50.  
Bubble Tap, Lion Yard
Visit Bubble Tap for one waffle, one gelato and one topping, all for £5.
Poco Kids, Magdalene Street
Poco Kids is offering 50% off its summer collection, including brands such as Bobo Choses, Repose AMS and Sometime Soon.
Cambridge Satchel Company, St Mary's Passage
Staff from the factory will be in store on 4 and 5 July to demonstrate how Cambridge Satchel Company's bags are made, plus there's a free gift to anyone who spends over £250.