Getting to grips with presents, food and decor can be overwhelming, but we're here to guide you through
Christmas shopping guide
Get your hands on some great gifts ahead of time
Grand Arcade
The Grand Arcade is a great place to start if you're still calibrating your Christmas shopping compass. It's got a fantastic selection of high-street giants, including the likes of Apple, Mango and John Lewis, and is also home to a couple of local favourites where you can pick up some excellent gifts (looking at you, Chocolat Chocolat). This time of year comes with a calendar of family-friendly events, too!
Scotsdales
If you're on the lookout for Christmas decorations, Great Shelford-based garden centre Scotsdales may have just what you're looking for. This time of year, the shop is packed with festive goodies to jazz up both your indoor and outdoor space – whether you're after a Christmas tree, some seasonal garden furniture or a string of lights. There are five main themes for Scotsdales' 2021 Christmas offering: botanical romance, frozen nature, sugar and spice, noble creatures and winter glow. 
Sew Knit Craft
Thinking of giving some handmade gifts this year? Sew Knit Craft has got you covered. The family-run craft hub stocks an impressive range of materials to enable your sewing, knitting and crocheting projects, as well as additional craft supplies to
get your creative juices flowing.

Cambridge Satchel Company
The Cambridge Satchel Company never fails. Staple investment pieces, bags that are blessed to have this brand's name on their label make for standout gifts. Whether you're treating yourself or a loved one, a Cambridge shopping trip wouldn't be complete without at least a lustful gaze through the shop's ever-inviting window.

Iris & Violet
It would be a crime to sidestep Cambridge Satchel Company's new neighbour while you're out! Iris & Violet has quickly become an Edition favourite – as you may have noticed from our recent wish lists – and that's for good reason. The store's muted palettes and soft textures span its entire clothing and homeware collection, offering an on-trend aesthetic that will serve up plenty of gift-buying inspiration this festive season.

Port Hill
Independent candle brand Port Hill has recently opened a studio in Cambridgeshire, so if you're looking to source this year's gifts from local indies, it's a fab shout. With a wide range of bespoke scented candles, wax melts and other olfactory goodies, the company is committed to having as little impact as possible on the environment, producing its products in small batches and presenting them in reusable and recyclable packaging. You can also get your gifts parcelled up for you in the run-up to Christmas – music to the ears of those who loathe wrapping.
Hill St
Chocolate? Lots of it? All in the same place? Welcome to the heaven that is Hill St. If anyone on your 'to buy for' list happens to be a chocolate fiend, you can knock their socks off with a gift from this fine establishment, which will no doubt sell out of its magnificent festive offering if you don't get in there quick. We're not joking; this shop is a fail-safe Christmas gift haven.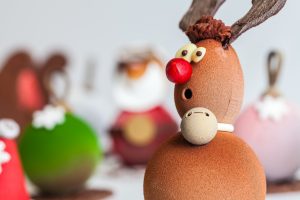 Cambridge Cheese Company
Once you've peeled yourself away from the chocolatey wonders of Hill St., we'd recommend popping into the Cambridge Cheese Company next door. As well as being great for gifts, it's a prime spot to stock up on your winter snacking goodies. If you come away with hunks of cheese whose names you can't pronounce, your trip has been a success. 
Grape Britannia
No self-respecting Christmas shopper would neglect to select some wine for the festive season. Understandably, you may not be up to carting heavy bottles around town after you've spent the day picking up presents, but that's the beauty of Grape Britannia. You can browse a dazzling array of fine English wines online, and get them delivered to your home. And if you time it right, they may just be waiting for you when you get back from your shopping trip…
---
Time well spent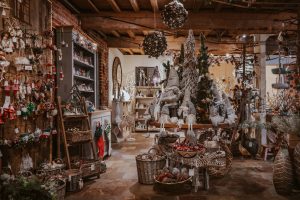 Saffron Walden is packed with charming independent shops to visit – have you planned your shopping trip yet?
Whether they've been around for five months – as with new kids on the block, Bricks and Makers – or five generations, as with family interiors company Angela Reed, Saffron Walden's thriving independent business scene makes for a fantastic shopping experience. And, as we're approaching Christmas, there's never been a better time to explore all the lovely local shops in the town. 
One of the oldest shops in Saffron Walden, Gray Palmer, has been trading since the 1840s. It offers exceptional-quality menswear, personal tailoring services and formal hirewear. To this day, the business is run by the same family, and after more than a century of providing high-class service, it's a safe bet for all your formal attire needs. 
Another long-established, family-run favourite, furniture brand Angela Reed has been on the scene since 1880. The shop on Market Hill is full of gorgeous home additions to transform your space through the seasons, as well as sturdy furniture that's made to stand the test of time. 
Cafe-wise, The Mocha has served up hearty fare and great coffee for the past 50 years. Its choice of seven breakfasts are cooked to order and served all day, Monday to Sunday, and there's always a fantastic range of freshly prepared specials, light bites and speciality dairy ice cream. 
Vibrant, independent business spirit can be felt in Saffron Walden
If you're in need of a gift, Talents on King Street is a great option. With over three decades of expertise, the shop's colourful stock selection features ceramics, books, homeware and all manner of dinky trinkets, so you'll be sure to find something that catches your eye. Every product is hand-picked, offering beautiful design with a spotlight on sustainability – which has always been a focus for the brand.
Over on the high street, Craft Days has got all your creative needs covered, selling a wide variety of yarns, fabrics and pattern kits to get you started on your next project. "Craft Days will be celebrating its 10th anniversary on 3 November," says owner Jane Shaw. "Pop in anytime and you will find a treasure trove of beautiful yarns and fabrics. You will also enjoy friendly, helpful advice – and plenty of inspiration!" If you check the calendar in advance, you can attend crafting workshops, and pick up a few new skills along with your supplies. 
Saffron Walden's shopping scene isn't going anywhere, anytime soon, if Bricks and Makers is an indication. It's one of the newest businesses to emerge in the town, and is home to a thoughtfully curated collection of home decor, gifts and lifestyle items – created by talented local and UK-based designers. The shop on Market Row is flying the flag for sustainability, and continues to champion the vibrant, independent business spirit that can be felt in Saffron Walden.
---
Season's eatings
Get your fill of festive treats at some of the city's finest
The Ivy Cambridge Brasserie
What do you get when you combine pan-fried lemon sole and brown shrimps with buckwheat, chickpeas, pumpkin seeds, sesame, pomegranate, crumbled feta cheese, harissa sauce, coriander dressing and a healthy dash of beurre noisette? A delectable dish of freshly festive goodness, that's what! And what's more, it's but one of the array of newbies to land on The Ivy Cambridge Brasserie's menu this winter. You'll also find a particularly seasonal – and satisfying – hit of roast butternut squash with cranberries, as well as a true Christmas classic: mince pies. Lovingly made with plump fruits, buttery pastry and rich brandy, these traditional British treats are not to be missed during the festive season.
De Luca
De Luca Cucina & Bar is getting back into the festive swing of things this year, offering an Italian twist on the classic Christmas menu for something refreshingly different. Sharing starters include Italian breads and antipasto dishes, while mains range from baked turkey breast to beef lasagne or melanzane parmigiana. Don't skip the delicious Italian desserts to finish, which include rich tiramisu and espresso affogato. The upstairs cocktail lounge at De Luca will be welcoming back the Piano Bar, too. So, from November, you can enjoy award-winning Friday night entertainment from Robin P-iano after
your dinner. 
Fitzbillies
Famous for its stellar yuletide offering, Fitzbillies is smashing it out of the park once again this year, rolling out an even bigger selection in the spirit of Christmas. This ranges from traditional cakes and puddings to new hamper boxes, gifts and Chelsea bun subscriptions. The sweet treats are ideal to stock up on for your own Christmas feasting, or to give as gifts to friends and family. Many of the gift boxes and cakes can be purchased online, for delivery anywhere in the UK, along with the bakery's 100th-anniversary book, mugs and tea towels. If you're ordering more delicate items, including Fitzbillies' unique Cambridge Christmas Cake and Christmas Puddings, you'll need to pop in to collect in person – and make sure to plan your purchases ahead of time, so that your festive baked goods stay fresh.
---
Igloo dining
To take your festive dining to the next level, why not enjoy your meal in an igloo? Available at The Three Horseshoes, Madingley and The Cock at Hemingford Grey, the Christmassy igloo pods can be booked via the Cambscuisine website from 26 November for up to six people. And don't worry; the pods are fully heated. 
As for the food, you've got two delicious Christmas menus to choose from. At The Three Horseshoes, highlights include confit duck baklava with fermented garlic honey. A succulent list of mains includes braised blade of beef with potato terrine and red wine sauce. The Cock offers a similarly flavoursome menu, which features pigeon breast with caramelised parsnip puree, and spiced squash and red onion strudel. 
---
Winter wonderland
Get involved with some icy adventures and theatrical fun
Take to the ice
If you're more of an indoor skating fan – or if the weather just isn't up to the North Pole's more exposed set-up – there's always the Cambridge Ice Arena to hit up instead. The full-size, state-of-the-art ice rink on Newmarket Road offers public skating, ice hockey and figure skating sessions suitable for all skill levels. There are also curling sessions on Thursday evenings (it's the only ice rink in England where you'll find them), so you can put on your skates, even if your skills leave something to be desired. 
Pop to the panto
Chances are, you'll already have the city's various pantos on your radar, but keep an eye out for pantomime at the Theatre Royal in Bury St Edmunds, too. This year's show is a classic – Cinderella – and offers the traditional family experience packed with vibrant stage talent and plenty of laughter. Audience favourite Chris Clarkson will be returning to play an ugly stepsister, and the professional cast will be supported by a line-up of young local performers. Catch it from 26 November. 
Visit the North Pole
From 19 November, you won't have to trek through inhospitable terrains for hours to reach the North Pole, as it'll be coming to Cambridge! This version is much more sparkly and inviting, though, with the main attractions including an ice rink on Parker's Piece, and a brand-new ice slide – along with plenty of Christmas market stalls and speciality food nights. You can wrap up warm and get merry to your heart's content in the ice bar, and get a taste of that après-skate feeling. It's a seasonal staple! 
---
Make a night of it
Enjoying yourself? Then by all means, add an extra day to your stay
Gonville Hotel
Adorned with glorious Christmas decorations from this month onwards, the Gonville Hotel is a superbly located choice for those looking to book a festive stay right in the heart of Cambridge. Alongside Parker's Piece, you'll be right on the North Pole's doorstep – and only a stone's throw away from the city's shops and attractions.
Turing Locke
For a more flexible stay, head to the city's new aparthotel Turing Locke, which prides itself on offering apartment-style living. You'll have plenty of space to spread out and relax after a day of exploring the city's Christmassy best bits – and you can make the most of the complex's co-working space, coffee shop and workout studio, too.
Centennial Hotel
Set in six idyllic Cambridge heritage townhouses and located opposite the Cambridge University Botanic Garden, the Centennial Hotel offers 40 bedrooms with classic Cambridge charm: a perfect, cosy base for exploring our historic city. The bar and restaurant, open seven days a week, offers a seasonal set menu, changed daily by the team of talented chefs. The lounge meeting room, meanwhile, is a contemporary take on a traditional interior, offering the perfect space to relax and unwind. And if you are new to the city, there's a bespoke, hand-painted mural map of Cambridge, designed to provide an insight into exploring this charming place.