Get your glass bottles and containers at the ready – let's fill up on zero-waste shopping
Words by Alex Fice
It's no secret that we need to change our attitudes towards single-use plastic and waste production. Although we may try to 'do our bit' by recycling plastic packaging, it can only be repurposed so many times before making its way to landfill. For this reason, we need to see recycling as a last resort, rather than a goal, which means it's time to look for more impactful alternatives.
Zero-waste shops provide a solution to mindless plastic consumption, offering a supply of loose fruit, veg and bread – and a vast selection of refill stations for oil, dried goods, spices, baking supplies, cleaning products and more. Many stores also stock beauty products, ranging from bath bombs and plastic-free razors to reusable cotton pads, face masks and eco-friendly makeup. More and more, it is common to find that zero-waste and refill shops offer home delivery or a click-and-collect service, making it easier than ever to migrate your weekly shop away from plastic-packed supermarkets.
While many agree that a waste-free lifestyle is the way forward, lots of things stop us from making the switch to more sustainable shopping habits: the main one being that we are creatures of habit – we just don't like change!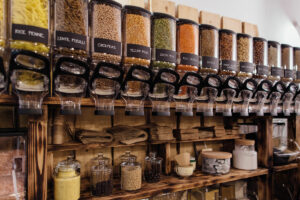 Co-owner of zero-waste store Full Circle, Johanna Laibe, recognises that adapting your routine can feel daunting. But she encourages people to be kind to themselves and start small, recalling a favourite quote of hers by chef Anne-Marie Bonneau: "We don't need a handful of people doing zero-waste perfectly. We need millions of people doing it imperfectly." 
Johanna suggests making simple, small adjustments based on lifestyle, such as investing in a refillable cup if you like to buy coffee on the way to work – or purchasing reusable cotton pads instead of makeup remover wipes. These items may seem more expensive than their single-use alternatives, but bear in mind they are investments that will begin to pay for themselves after several uses. 
Here is some more handy advice, to help set yourself up for the transition to a zero-waste lifestyle:
Ease into it
You can make lots of quick, easy switches, like buying a bamboo toothbrush, swapping shower gel for soap, bottled hair products for a shampoo bar, and synthetic sponges for natural ones.
Prioritise your pantry
Start by gradually phasing out plastic-wrapped pantry products such as pasta, rice, cereal, cooking oils, sugar and sweet treats. Once you've filled up the first jar, you won't need to refill for a while, only needing to head back to the local shop when you've started to run low. And don't fret – they will weigh the jar and its remaining contents before topping up, so there's no need to wait until you've used every last grain of rice!
Opt for home delivery
One of the things that might hold you back is the concern that it's just not as convenient as going to the supermarket for a one-stop shop each week. If you can relate, make sure to check out your nearest zero-waste shop's home-delivery options. Simply place an order online and it will be prepared in-store and delivered at a time that suits. Loose goods come packaged in paper bags, while liquids arrive in glass bottles which you can swap with your empties. These will be taken back to the shop and sterilised, ready to be used again.
Did you know? Cambridge's very own zero-waste store, Full Circle, does its home deliveries using a hybrid electric car, keeping its carbon footprint to a minimum! Check out delivery days for your postcode on the website.
Ask questions!
The beauty of shopping at independent businesses is that you can have face-to-face conversations with enthusiastic staff and store owners. Why not ask them about their favourite products, find out about locally sourced brands, and get more tips on sustainable lifestyle habits? 
Make sure to investigate the different plastic-free and refill stores near you – simply head to scambs.gov.uk and search for 'refill shops'.