We round up the best ways you can bolster the efforts in Ukraine, show support and counter the crisis
From across the seas, it is easy to feel futile while hearing about the destruction that is unfolding in Ukraine. As the country's major cities, including Kyiv, come under bombardment from Russian president Vladimir Putin, the situation seems increasingly bleak. There are, however, ways you can help the people of Ukraine, from donating to charities to campaigning for change.
Get involved with a local relief effort
From local shipping container businesses to regional football teams, a horde of Cambridgeshire businesses and organisations are raising the flag for Ukraine.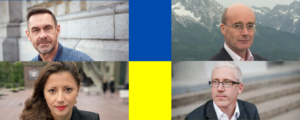 In partnership with Cambridge University Ukrainian Society, the Cambridge Literary Festival will be hosting a special fundraising event, 'The War Against Ukraine', with all proceeds donated to Cambridge4Ukraine. The event promises to be a fascinating insight into the politics of the crisis, as well as a fantastic way to raise money to provide aid – speakers include journalist, author and filmmaker Paul Mason, historian and academic Dr  Olesya Khromeychuk, associate professor of Ukrainian Studies, Dr Rory Finnin and professor of international history at the University of Cambridge, David Reynolds. Tickets to the event at 12pm on 24 April are pay what you can and you can also donate throughout the festival weekend at the Old Divinity School.
Singers and Musicians of Cambridge live-streamed their performance of Brahms to raise money, which is still available to watch here. Their JustGiving campaign is taking donations here and has tallied over £24,000.
A&R Containers Ltd on Newmarket Road are sending a trailer filled with donations to the Polish border with Ukraine, their crowdfunder target of £1000 already exceeded by over £6000.
Buffaload, an environmentally minded logistics network, has swiftly founded a charity, Ukraine Lifeline Appeal, converting its warehouse at Little Downham into a centre for Cambridgeshire's humanitarian efforts. Ukraine Lifeline Appeal have taken donations of essential items from major companies and from individuals, teaming up with Cambridge Search and Rescue to deliver the donations to displaced people from Ukraine. Keep an eye on their Facebook page for details on their eight drop-off locations and on how to volunteer.
The Newmarket community has organised a mass donation and collection effort. Their initiatives are ongoing and can be followed on their Facebook page.
Cambridge Ukrainians frequently posts about organisations collecting donations for Ukraine, taking everything from batteries to baby food. Collection points include Travis Perkins at Devonshire Road, TWI at Granta Park and Fancett Bistro on Mill Road – follow Cambridge Ukrainians' Facebook page for further details.
The Cambridge Cat and Dog Rescue Support Programme has been specifically taking donations of pet food as well as mediating adoptions across the border.
Football team Cambridge United has been raising money at its matches for A&R, while staff and pupils at Northstowe Secondary College have been helping pack trailers crammed with donations – community action is well underway up and down the county.
Donate to charity
For those looking to make a monetary donation, the Cambridge city council has recommended the following charities: British Red Cross, Disasters Emergency Committee, International Committee of the Red Cross, International Rescue Committee, Save the Children, SOS Children's Villages UK, UN Refugee Agency, With Ukraine Global Support Fund and UNICEF.
The World Health Organisation Foundation is also fundraising with a target of £43.2 million, while The Disasters Emergency Committee has tallied £55 million.
The Ukrainian Embassy's With Ukraine fund is spending funds on humanitarian aid for the civilian population and supplies for the Ukrainian army.
Write to your local MP
Getting in touch with your local MP is a key way to put pressure on the government to improve their offerings for refugees from Ukraine, hardening sanctions or sending across medical and other essential supplies.
The Cambridge city council has so far made its stance clear: Cllr Anna Smith, leader of the council, has co-signed a letter calling on the UK government to do more to help refugees escaping Russian invasion.
Attend a protest for peace
On 5 March, 300 people rallied on the streets of Cambridge in support of Ukraine.
To show solidarity, head to further events, Cambridge #StandwithUkraine, taking place weekly on King's Parade. Protests are organised by Cambridge University Ukrainian Society.
If you are a local business, group or initiative working in aid of Ukraine, please get in touch via social media.