The comic actor and writer tells us why he's looking forward to this latest adaptation of one of his books
It's been 14 years since David Walliams, together with comedy sidekick Matt Lucas, burst on to our screens with sketch show Little Britain, poking fun at the idiosyncrasies of our national character. A further BBC series, Come Fly With Me, followed, together with judging Britain's Got Talent.
Less well-known is the fact that, impressively, Walliams is currently the most successful children's author in the UK, having penned 11 hit books so far. With one of his most popular offerings to date, Awful Auntie, at Cambridge Arts Theatre this month (25-29 October), we caught up with him to find out what audiences can expect from the show.
Q. First things first, what or who inspired Awful Auntie?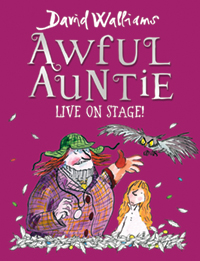 A. It may not be the answer you were expecting but I am obsessed with the film The Shining. I wanted to create a horror story where a child was trapped in a house with a dangerous relative, cut off from the outside world. As for the character herself, I had a lot of fun creating Aunt Alberta. Villains are always so much more fun than heroes. I wanted her to be funny as much as scary, which is something my literary hero Roald Dahl always did so brilliantly.
Q. This is the second time you've worked with Birmingham Stage Company (BSC), Why do you think the collaboration has been so successful?
A. I think I share a sense of humour with Neal Foster, who runs BSC and has written both adaptations, so it has been very harmonious. Also, the company are really successful, and have been making magnificent family shows for years, so I completely trust them.
Q. Are there any challenges with this production?
A. I think the world of Awful Auntie is very heightened, for example Aunt Alberta has a henchman who is actually an owl. So I think capturing the tone of the book and still making it believable will be the biggest challenge. Also trying to balance the humour with the frightening moments is never easy, but I have every faith in BSC.
Q. How do you anticipate children will react differently to the show than the book?
A. When you read a book it's normally on your own, whereas when you watch a stage show you share the experience with an audience. You are likely to laugh more in an audience, so hopefully the stage show will be a hoot.
Q. What do you hope children will take from the production?
A. Stella is a pretty self-reliant heroine, and so I hope children will be inspired to find the strength within themselves to deal with bad situations. Also Stella is posh and even has the title 'Lady', but by the end of the story she realises none of that is important and that all people should be treated the same. I believe that too.
Q. … And for adults?
A. The message for adults is don't lock your niece in a country house, or you may end up being killed by a giant snow owl.
Q. When there are so many technologies vying for children's attention, why do you think children will still pick up a good book?
A. I think books are so immersive that children do like being alone with them. I think we all have J K Rowling to thank for turning children onto books in their millions.
Q. And what actually makes a 'good' book for a child?
A. I think a good children's book should be funny and exciting, and have a message that makes you think about it long after you have finished reading it.
Q. Which other modern children's authors do you admire and why?
A. Dame Jacqueline Wilson is a genius. I read 'Tracy Beaker' and instantly thought I should give up it's so brilliant. Michael Morpurgo is an astonishingly good writer who has found an exciting way to teach children about history. He is an absolute gentleman too. Andy Stanton's books are very funny, as are Jeff Kinney's. I love to read Julia Donaldson books with my son. Judith Kerr is a brilliant author and illustrator, and let's not forget Michael Bond who created Paddington!
Q. Do you have a favourite of your own novels and why?
A. Mr Stink is my favourite. I think it has a strong message about how we treat people less fortunate than ourselves, and Sir Quentin Blake's illustrations are absolutely magical.