Nicola Foley catches up with frontman Orlando Weeks ahead of The Maccabees' gig in Cambridge this month
The Maccabees first came to the fore in an era which saw the British charts saturated with forgettable indie, but unlike many of their peers, they've soldiered on. Rather than becoming irrelevant, they've evolved – growing more and more creatively ambitious and proving that they're masters of their craft, capable of genuine longevity. Four albums in, a collection which includes the Mercury Prize-nominated Given to the Wild, they've won critical acclaim and an ever-growing following. 2015 has been their best year yet, with Marks to Prove It yielding their first ever number one when it powered straight to the top of the charts back in July.
"Just having the record out has felt like a massive relief to be honest", says Orlando Weeks, The Maccabees' magnetic frontman, when I catch up with him during some downtime ahead of their American tour. "We're constantly giving ourselves a hard time for being disorganised, and yet somehow we managed to have all our ducks in a row with so much time to go before the actual release that it felt like it was never going to arrive. It just feels like a weight off that it's sort of out of our hands now – that's a nice feeling."
It's no wonder the relief is palpable – the process of making the album was a long and arduous one. In fact, the gestation period for Marks to Prove It was more than two and a half years, all told, and Orlando freely admits that the reason for this is that band are dogged perfectionists, intimately scrutinising every tiny detail of every single track.
"It's always been like that. Our way of making a record involves exhausting all possibilities and alternatives and sometimes coming back to where we started, or finding something on the way" he says, sounding tired just at the thought. "That's the way we make a Maccabees record, it's a slog."
The effort, it seems, was worth it. Released 12 years after they formed, Marks To Prove It is widely acknowledged as the band's best album so far. The record is a bold offering, with tracks ranging from heartstring-tugging ballads to anthemic stadium rockers, via various unexpected and imaginative diversions.
"Released 12 years after they formed, Marks to Prove It is their best album yet."
The album takes inspiration from a corner of London not often credited as a creative muse, Elephant and Castle, where the band spent so many months squirrelled away in their scruffy studio. It's less a concept album though, and more affectionate tribute to a place they feel deeply indebted to.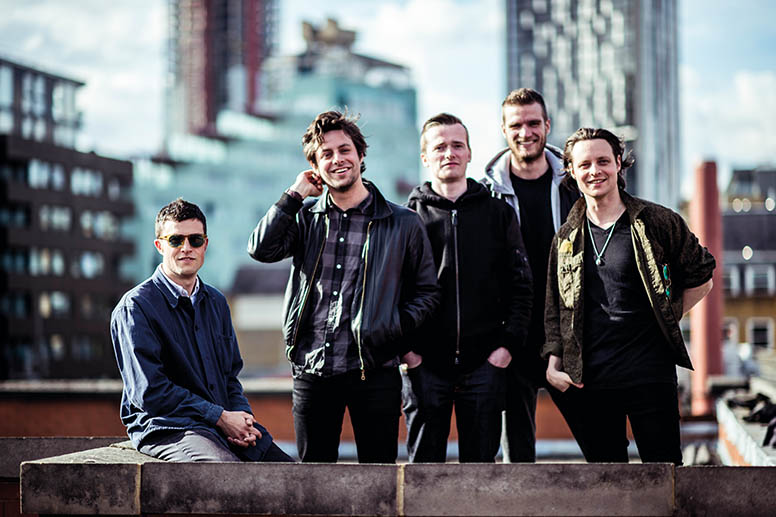 "We were making our own record and we were producing it in our own studio that we'd been renting for about four years and then we were just in a place… We wanted a kind of reminder that we were rooted in this area", explains Orlando. "The record doesn't really reference the place – there's no lyrics about the Walworth Road or the Elephant and Castle necessarily, but we just felt like the album suited it. It feels like an urban record; a night-time record".
The music videos, too, pay homage, as well as the album's artwork, which depicts the Michael Faraday Memorial – a brutalist-style steel box that sits at the centre of a busy interchange in Elephant and Castle.
"We were also making the point to ourselves that everything we would need was in our locality" continues Orlando. "And it was those kind of limitations that we put on making the record as well. We wanted it to sound like it was us playing the songs, like we could achieve the sound of the record just by playing in the room we have there."
In addition to Marks to Prove It, The Maccabees also put out Elephant Days – a documentary companion to the album which premiered at the BFI London Film Festival last month. It chronicles both the making of the album and the lives of various Elephant and Castle residents, from members of the Peckham Pride basketball team to regulars at the pie and mash shop.
"On the last record we made a ten-minute film that was kind of a mood setter," says Orlando when asked about how Elephant Days, directed by James Cronin and James Caddic, came about. "It was kind of abstract and trying to show some of the process of birth and death and all the life that goes on in between. We were very proud of it, but it felt short and it maybe didn't get the recognition that we hoped it might. And so we thought, we want to soundtrack something so lets try and make a film about us making the record. Originally I just wanted to make a film about the Elephant and Castle – it's a very odd and eccentric and kind of wonderful place, once you get below the surface of it. But the record label said that the only way that they'd put the money into making it was if we were in it too."
"I think chasing the zeitgeist is a very dangerous road to go down."
The result is a stirring documentary (superbly soundtracked, naturally), which offers an insight into an oft-overlooked area of London: its colourful community and the looming threat of gentrification – as well as the band's own painstaking creative process.
You get the impression that The Maccabees will continue to surprise us with their creative output, both with side projects such as this and also with the artistic growth of their music, which determinedly swerves any kind of chart trends.
"I think chasing the zeitgeist is a very dangerous road to go down", muses Orlando when quizzed about whether the band concern themselves with staying 'fresh' and relevant. "We've just tried to make records that we felt like we could justify and wouldn't feel like frauds when we put out. So that has to be, and that's always been, the kind of acid test".
And what of the future of The Maccabees? Aside from daydreams of collaborating with legendary composer Randy Newman, Orlando says he's 'not much of a targets man', though would love another opportunity to play the Hollywood Bowl (the band supported Florence and the Machine there in 2012). Mostly though, he's intent on simply appreciating the moment.
"I think I just hope that we can all enjoy this chunk of time", he says. "I hope we can feel like it's a celebration of the huge effort that's gone into making the record". A very well deserved celebration it is, too.
The Maccabees play the Corn Exchange on 22 November, tickets are £25.50.
Image credit to Jordan Hughes