Amid rising mental health problems in young people, we find out how local schools are making wellbeing a priority
Words by Nicola Foley 
Bringing social isolation, disruption to routines, bereavement and money troubles, the pandemic has conjured a perfect storm for mental health issues. And while most of us have felt the strain at one point or another over the past year and a half, increasing evidence indicates that children and young people have been among the worst affected. 
According to NHS research, one in six young people are now estimated to have a mental health problem – rising from one in nine pre-pandemic. Startlingly, when Young Minds surveyed young people with pre-existing mental health issues, 80% agreed that the Covid-19 pandemic had made their mental health 'worse', while 41% said it had made their mental health 'much worse', citing increased feelings of anxiety, isolation and a loss of coping mechanisms or motivation.
It's no wonder that parents, teachers, health practitioners and others at the coalface are sounding the alarm. "There are so many factors at play," says The Perse deputy head, Ed Wiseman. "Reduced social interactions, the bombardment of bad news, the removal of many protective factors to mental health, such as exercise. Plus, there's the general pressure everyone is experiencing – as well as the fact that parents might not be able to take things in their stride and provide perspective as they might normally." 
At The Leys, the pandemic – and particularly the first lockdown – was especially challenging for overseas boarders, with several unable to go home, and others unable to return straight away when the school reopened after lockdown. However, the situation came with unexpected silver linings, according to the school's director of pastoral care, Helen Hynd.
"A small number of pupils remained with us during lockdown, so we reinvented our provision, bringing them together in a new, small community," she explains. "We were very aware that they were trying to find a balance between school life, lessons and homework, while thinking about and supporting families back home who were, in some cases, having a tough time. Birthdays and university offers were celebrated and, actually, it was a rare chance to live as a family with such a small, but diverse group." 
Actually, lockdown was a rare chance to live as a family with such a small, but diverse group
Determined to prevent a mental health crisis among their students, schools in the area went into overdrive, offering new initiatives and wellbeing-bolstering activities. At The Leys, it was a multimedia extravaganza, with a podcast, e-newsletter, workout ideas from the sport department and resources from a mindfulness coach. Meanwhile, international pupils were invited to explain what life was like where they were, giving the school's community an important reminder that Covid was a global issue, not just a national concern. 
Maintaining a sense of continuity was the most important thing for the school. This was achieved by taking communal aspects of school life – such as assemblies, chapel services and music recitals – online, bringing pupils and teachers together and helping to prevent isolation.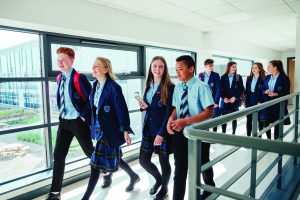 Continuity was also key at Gresham's School, where teachers ensured that each aspect of school life was accessible in an online format, from lessons to extracurricular and social activities. "We very quickly ensured pupils had a routine that was as normal as possible," says acting deputy head, Julie Flower. "The houses are a vital part of the pastoral support we provide pupils, so the housemasters and housemistresses ensured a sense of community was rife throughout. We also facilitated social interactions between the pupils, from fitness challenges and dance competitions, to online quizzes and baking." 
The school strengthened its already impressive mental health infrastructure, utilising an existing system of peer support. "Each new pupil is assigned a 'big brother' or 'big sister' when they arrive. We also have 'mental health first-aiders', a group of year 13 pupils trained to provide support and advice to their fellow pupils," explains Julie. "They focus on wellbeing by promoting open conversations and sharing important tips on looking after mental health, helping to prevent the need for further support in the future. They provide a listening ear, signposting fellow pupils to the appropriate places for help, and during lockdown, they set up an online support hub for pupils to access." 
Tutors at Gresham's School have a crucial role in providing support, too, with each looking after a small group of students with whom they have weekly group and one-to-one meetings. This enables them to gain an understanding of the individual challenges and pressures pupils are facing, and recognise any changes in a timely fashion. 
"We haven't allowed the pandemic to negatively impact these avenues of support," says Julie. "We ensured the pupils could access help they needed online at all times, while any support they were receiving continued."
---
Autism and coming out of lockdown
Gretton School in Girton, specialising in pupils with an austism or Asperger syndrome diagnosis, offers a different perspective on adjusting to life post-pandemic
Transitions and unexpected changes to an environment or routine can cause significant peaks in anxiety, meaning that new strategies must be implemented. Despite the notable limitations of lockdown, one thing it did provide was a reliable and stable 'bubble' that was predictable for our students. Teachers entered the house through the screen of a device, while social communication was curtailed – as were many of the challenging changes to the environment created by other people carrying out their business. Again, some students found this to be helpful. 
In the background, there was the monitoring of infection rates, social distancing, regular testing, mask wearing and other measures dictated by the pandemic. These caused a new heightened sense of alertness that has impacted us all; but for some, the controlled environment has brought some certainty, enabling guards to be dropped.
We've all experienced those days where we have been in back-to-back meetings, making small talk with lots of people. It's exhausting. If you do it regularly, you build up resilience, and employ strategies as much as possible. Often, autistic people report this as their daily life. Over time, this is mitigated a little by developing useful coping methods, as well as a general increase in tolerance.
How to help:
• Be understanding that transition back to 'normal life' is going to be long and tiring.
• Allow potential for mistakes and breaks, building resilience over time.
• Support others to be mindful of the increased cognitive load everyone is under, but be aware that autistic people will be impacted in particular.
• If possible, include a transition period. Allow people to build up experience of situations they find demanding over time, enabling them to manage the pace where possible.
• Be kind.
---
At The Perse, along with increased contact from tutors, there was a focus on making the academic side of things as engaging and manageable as possible, while also introducing fun activities, such as baking clubs, music contests and form-time games. 
"What we've found works well has been a combination of maintaining a sense of community, providing a personal approach to support and making every interaction with our pupils count," says Ed Wiseman. "We've also sought to maintain challenges at an appropriate level to develop self-esteem."
The Leys school was able to draw on work done by its Mental Health Project – an initiative launched by two sixth formers in 2017 and still going strong. The project has involved an enhanced mental health and wellbeing strategy at the school, including a broad range of resources on topics such as stress and sleep, plus guidance on mindfulness and meditation techniques.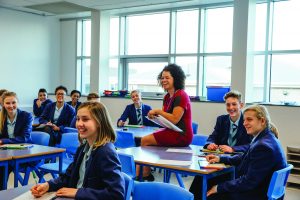 "Our strategy for mental health and wellbeing continues to develop, but it was good to see that our work over the past three years meant pupils had a knowledge and understanding of mental health as they went into lockdown. This helped them understand the experience," says Helen Hynd. "Feedback from pupils is important, and we recognised that readjusting to being back in school could pose challenges. Damien Rigden, our mental health first-aider, produced guidelines that parents could share with their children. These acknowledged that mixed feelings – from excitement to apprehension – would be quite normal under the circumstances. He also offered tips for returning to the school routine and reminders about healthy living, assisting others and seeking support." 
Reflecting on the past year and a half, the school has been delighted at how resilient and resourceful its students have been in meeting the "challenges of the pandemic with good humour and flexibility", concludes Helen. "We are so proud of how they have coped and grown because of their experience." 
While we can now tentatively hope that the worst of the pandemic is behind us, the period of readjustment ahead brings its own challenges. So as we return to normality, what can we do to keep children's mental health, and long-term wellbeing, intact?   
As we go back to normal – don't lose that creative spark!
Staff at The Perse wanted to ensure that any issues on the horizon were caught early and mitigated, carrying out a school-wide survey designed to identify needs for returning to school. Looking to the future, the school will focus on inspiring and motivating students, "generating a love of learning, rather than considering learning to be the end goal," says assistant head Dani Creese. "We also want to ensure the positives that have come out of the pandemic – such as increased uptake for school community interests and extracurricular activities – continue. We want students to keep embracing and understanding the importance of these."
St Mary's School has a whole host of ideas for adapting to the new normal, including looking after physical health factors such as sleep, healthy eating and exercising. The Junior School head, Matthew O'Reilly, also advocates embracing a variety of hobbies.
"Lockdown encouraged many of us to take up new (or old) hobbies and spend more time together as a family, whether it was cooking or baking, doing arts and crafts, playing board games or getting out into nature for walks or cycling excursions," he says. "With schools and businesses reopening, things have started to go back to normal – but don't lose that creative spark!"
As is often the case, talking it out can be useful. Rather than taking a stiff-upper-lip approach, one way to help a child process what's happening is to look at the changes together and talk through them. "Find out what your child is thinking about and how they are feeling," suggests Matthew. "Try to answer their questions in an age-appropriate way, reassuring them that it is fine to feel worried or unsure. Just talking through their worries might help your child to feel calmer, or you can use play to try and eke out their feelings through role playing. If you have any concerns, talk to your child's class teacher. We encourage a two-way conversation with all our families to ensure we are all focused on the children in our care." 
Another recommendation involves reminding children that, while they can be frustrating, the rules help keep them and others safe. Encouraging them to see things like hand sanitising and keeping to bubbles as a way of doing their bit can help kids contextualise everything. Ultimately, Matthew concludes: "Let your children know that the rules won't be in place forever – and things will eventually go back to normal."