We discover how local schools are adding arts into the STEM subject group to make STEAM – and why this approach could be a game changer
Words by Charlotte Phillips
In addition to commemorating an amazing scientist and Covid-19 hero, the recent launch of the Sarah Gilbert Barbie doll also shows – if proof were needed – just how attitudes towards science and allied areas have changed. It's a shift that was taking place well before the pandemic struck, as our regard for STEM subjects (that's science, technology, engineering and mathematics), and the people who have mastered them, has soared. 
The impact of STEM subjects on the learning experience has been extraordinary. In 2019, sciences were more popular with girls than boys, based on the numbers sitting them at A-level, while in 2020, the top A-levels across the board for all pupils were maths, psychology, biology and chemistry. Part of that is down to the huge amount of work in our area's schools to bring STEM subjects out of the lab, off the blackboard and into the limelight. And quite right, too, given their importance not just to the young people who are studying them, but to the world and humanity as a whole. 
A couple of decades back, there was a sense that maths and sciences were losing their popularity. It was essential to find new ways of engaging young people in these subjects, with their relevance growing as the world became ever-more reliant on technology. What didn't help was the traditional approach that kept different subjects in their little boxes separate.
While it was efficient, it just wasn't very exciting, explains Laura Davies, deputy head academic at St Faith's.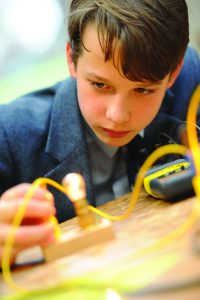 "Teaching subjects within their discrete areas that are like canisters or chunks of learning wasn't having the desired effect," she explains. "We weren't having huge numbers of young people saying, 'This is really for me,' so it came from this sense of needing to galvanise these subjects."
It was also about ensuring that schools reflected what was going on in the outside world – something that could be all too easy to forget, says Ned Kittoe, head of science and physics at King's Ely Senior. "It is very easy for teachers (and therefore students) to lose sight of what problem-solving and project design and management is like in the real world," he comments. "Very rarely is any sort of project siloed into one academic area, let alone subject." 
One way to do this was the 'only connect' approach – showing how all these areas related to real life. Bringing the arts into the mix – turning STEM into STEAM – added an extra dimension and immediately made it relevant to many more students, as well as widening their choice of subject areas further down the line. 
There's also been an emerging recognition of the benefits of 'softer skills' within the curriculum over the past decade, points out Dr Gareth Lloyd, principal at Stoke College. These "develop and demonstrate empathy, an appreciation of one another, a respect for our humanity in all its forms from the invincible to the vulnerable", he says. "Ask any enlightened teacher, and they will argue for a balanced curriculum, where STEAM – the A representing the arts – will be central to
a child's positive education." 
There's also a practical benefit. "Studying subjects from that STEAM range often means that students have got a platform for their education that keeps a lot of doors open," says Richard Morgan, assistant head at The Perse School. Just as well, too, he points out, given the propensity of young people to change their minds. "What they think they might be studying aged 13, or even 16, doesn't always match up with what they end up studying at 19 or 20, when they've gone to university," he points out. 
Increasingly, you'll find STEAM subjects located close together in a physical sense, too. From September, the opening of the fabulous new Dyson Building at Gresham's School will mean that every STEAM subject is under the same roof, courtesy of a generous donation from former pupil Sir James Dyson. 
It means you can draw on different areas of learning
It's all about disrupting conventional thinking that forces children to make a binary choice between science and the arts. Instead, the emphasis is on inspiration, letting children experience the way that, as Gresham's puts it, "knowledge gained from one discipline can be used in a creative way in another" – and encouraging pupils to exchange ideas, work collaboratively and take their learning beyond the curriculum. 
This way of thinking is very familiar to staff at St Faith's. In 2018, the school opened its STEAM hub, connecting the engineering, science, maths, computing and arts departments. It was to make both philosophical and physical connections, explains Laura Davies. "STEAM is all about people in terms of creativity, desires and needs, and I think this is where the 'A' comes in," she says.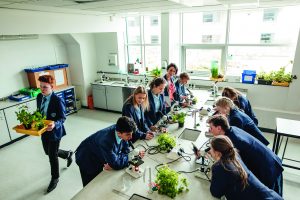 She believes in forging connections, finding solutions to human problems through a greater understanding of cultural traditions. It's now completely natural for St Faith's pupils to transfer a way of learning, working or thinking from one subject to another. "It means you can draw on different areas of learning, look at new perspectives, ask more questions, and that the innovations coming through are more lasting and meaningful," she says. 
When it comes to the activities themselves, there's been a careful nurturing of talent that has seen pupils go way beyond the curriculum – wowing not just their own school communities with a dizzying array of originality, but winning accolades from the outside world, too.
This kind of thing is for absolutely everybody
At The Perse School, the ever-expanding array of STEAM-based opportunities is hugely popular, says Richard Morgan. Pupils regularly win awards in international science and maths contests, while clubs include Cyber Girls, a coding and programming group for year 8 pupils. The school also runs what's now grown into an international team coding competition, where pupils from all around the world compete for the Braben Cup.  
Pupils at St Faith's start early, with a weekly engineering lesson from age 7 upwards. Putting it at the heart of the curriculum makes it a natural part of school life, capturing that early interest and passion before any of any stereotyped notions about science (that still persist, unfortunately) have the chance to take root. "They can see that this kind of thing is for absolutely everybody," comments Laura Davies. You'll find year 6 pupils building simple geared machines, and students in year 8 working to explore how engineering principles come into play when you're lighting a film and need everything to look a million dollars.  
A similar view at King's Ely Senior focuses on a broad range of STEAM-related interests. Three after-school clubs cater for budding medical and veterinary students, future physicists and engineers, and a new computer and coding club whose first project – developing a number plate recognition system to track vehicles around the school site – will also involve the engineering group. At The Leys School, too, in addition to an app development society, a coding club and junior science club, there are moves to integrate AR and VR technology into the classroom, courtesy of pupil-led societies. 
There may be some way to go. Women engineers and scientists are still under-represented in senior posts in science, engineering and technology, for example – and no Barbie doll, however inspirational, will change that. But it all helps. And with schools in our area taking on a bit of a superhero role themselves by boosting the popularity of STEM and STEAM subjects, there's never been a better time for pupils to embrace their inner scientist or engineer.