Local schools discuss how extra-curricular activities can help shape resilient, well-rounded pupils – and set them up for future success 
Words by Charlotte Phillips
If your mental images of school life revolve around static classroom scenes, it may be time for a reboot. Because while there's plenty of traditional learning going on in our area's schools, it's coupled with a richness of mind-expanding, eye-opening opportunities that don't just add knowledge (pretty much a given), but also offer new ways of being and thinking, capable of shaping the way that pupils' lives will evolve in the future. 
The heart of education remains, of course, the curriculum – broadly speaking, all the subjects that feature on the timetable, with a particular emphasis on core academic areas. But that's just the start of the learning experience. In addition, there are the co-curricular or extra-curricular activities, covering everything from after-school clubs and drama productions to debating competitions, sports fixtures and community service. 
It's these aspects of education that can forge the most enduring memories. Ask adults what made the biggest impression on them at school, and they're likely to recall the triumphs and tribulations of sports matches or drama productions, ahead of academic success. 
"What mattered was their interaction with one another, often thwarting the teachers' expectations of acceptable behaviour while away from home and school," confirms Dr Gareth Lloyd, principal of Stoke College. "It is through the co-curriculum that children truly grow: developing personalities alongside skills, in addition to their academic development and achievements." 
That's as it should be, says Richard Morgan, assistant head at The Perse, because it's in these areas that pupils will develop abilities that won't appear on a certificate, but will stand them in good stead in later life. 
You're taking people with similar interests and giving them a shared purpose
He points out that while academic qualifications show just how good you are at a particular subject, it's the co-curricular activities that tell a future university or employer how you're also brilliant at running a fundraising project, or keeping up morale when captaining a team that's lost its mojo in a crucial match. 
There's also the ability to give back – something that's a big feature of the co-curricular programme at The Perse, where students go into over 20 primary schools in and around our city to teach a range of subjects, working alongside Perse teachers. 
"You're taking people with similar interests and giving them a shared purpose," says Richard. "That can work on so many different levels. That shared interest can mean they are able to collaborate, achieve shared goals and demonstrate teamwork."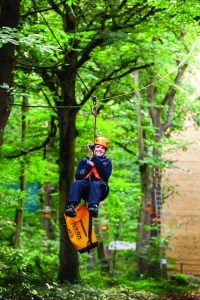 Other schools share that view. The goal is to ensure that pupils are happy and successful, helped by giving them opportunities that they might not have encountered elsewhere. 
"It's about developing the whole pupil and bringing out their interests, talents and actually their character as well," says Laura Davies, deputy head academic at St Faith's. "They're working with different groups of people, perhaps coming up against unfamiliar things and building positive attitudes and resilience." 
For William Earl, director of the wider curriculum at The Leys School, the importance of the co-curricular programme can't be emphasised enough. Given that it complements pupils' academic studies and helps their personal development, what's not to like? "We try to join up the three pillars of education at The Leys; academic, pastoral and co-curricular. So, to us, the co-curricular programme really matters," he says. "It has traditionally been core to our ethos and an integral part of the school week for all pupils. We give a significant amount of time in the afternoons and early evenings towards it." 
When it comes to showcasing what's on offer, the range is mind-boggling. If you want to try robotics, archery and climbing, all three feature among the expansive range of clubs and societies available to secondary school pupils at The Perse. 
At St Faith's School, opportunities include the Green Goblins club, where pupils plan and build electric go-karts. "They design the team name, colour, body work, then go and race them," says Laura. And that's just the start. "We've got quiz clubs, with pupils competing in national competitions – where we've got a very high success rate – to things such as art clubs and our productions," she adds. Drama workshops offer the opportunity for pupils to collaborate, write scripts, then perform them. Other interests are well catered for, too. There's even an ornithology club. 
The Leys, too, is jam-packed with options. From sport (squash, badminton and outdoor pursuits such as canoeing, climbing and rowing) and entertaining (card games), to edgy performance art (street dance) and giving back through volunteering (via the Duke of Edinburgh's Award scheme – taken by up to a quarter of the entire school community), it would be a rare child who didn't find something that lit a spark. Sometimes this means students setting it up by themselves – which is what happened with a group of sixth-formers that wanted to create podcasts, involving interviews with people outside school on diverse topics including innovation in ballet, sleep, brain scanning and mental health. 
Pupils find their own passions and talents
The co-curricular programme is also "hugely important at Gresham's", says the school, enabling pupils "to explore new opportunities and find their own passions and talents". 
The timetable is carefully constructed, so there's ample time during the week for activities – including drama and music rehearsals, additional training for talented athletes, or careers advice. Year 9 pupils enjoy the thrills of a survival course, building shelters (and fires) and preparing wild food, all taking place in the school's own well-equipped outdoor activity centre. And it's not just about honing resourcefulness, responsibility, confidence and leadership skills, but inclusivity, too. Students, for example, who love drama, but won't necessarily aim for a leading role, can get just as much from being involved in a production as a naturally gifted thespian. 
With well over 100 clubs, societies and activities on offer in many schools, it's no wonder the co-curricular programme spills out into spare corners of the day. Before-school training, lunchtime rehearsals and end-of-day clubs and societies make schools vibrant and exciting places to be. 
As if that wasn't enough, there's also the super-curriculum. Some schools term it 'enrichment' – a way of exploring a topic, subject or interest in more depth than is possible in timetabled lessons. It might include bringing in external speakers, whose insights and passion resonate with their young audience. It could involve independent research, to help pupils whose hearts are set on a career in a highly competitive area such as medicine, to gain vital, CV-enhancing skills and experience. 
Sometimes it's a case of taking those with an existing interest to the next level. "It's fantastic to give them the opportunity to go and work on something they feel passionate about and look into it in real depth," says Richard. Pupils at The Perse School are encouraged to carry out original research from the very start, with those in years 7 and 8 producing an essay, an artefact and extended presentation, while older students can work towards formal qualifications. The school also runs a research competition encouraging just that type of original thinking, currently aimed at local schools, but soon to go national.  
At a time when the world seems an ever more uncertain place, the fact that schools are busily ensuring their pupils do far more than acquire sheaves of top grades (although they're extremely good at that, too) is reassuring. While the future – as always – remains unknowable, our only hope is the next generation. In addition to being hugely satisfying, the co- and super-curriculum are likely to provide the resilience and flexibility of mind that will benefit us all in the decades to come.