Images: India Lacey
The adult education team at Hills Road take a look at how popular TV programmes are boosting enrolment in activities and hobbies
The Adult Education team at Hills Road Sixth Form College have seen a rise in the number of students enrolling onto courses such as dressmaking, ballroom dancing, painting and tracing your family roots.
This may be due to inspiration from TV programmes such as the BBC's The Great British Sewing Bee, The Great Pottery Throw Down, Strictly Come Dancing and Sky Arts's Landscape Artist of the Year of which one of the College's tutors, Emma Copley, was a heat winner and semi-finalist in 2015.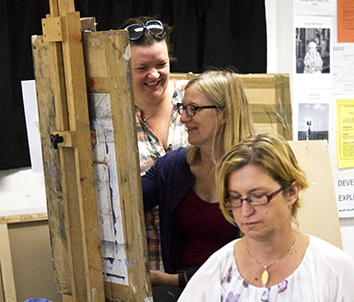 Emma teaches painting for beginners and portraiture at the College on Wednesday and Tuesday evenings respectively. She says, "I believe that these TV programmes capture the imagination of the public and inspire them to take up a new hobby or to pursue an existing interest further."
With the increase in popularity of pottery classes the College now offers ceramics courses every evening from Monday through to Thursday and on Saturdays too. There are three dressmaking courses at the College including a next-step course.
The tracing your family roots courses, which also includes a next-step course, have gained recent popularity following the television programme Who Do You Think You Are? which looks into well-known celebrities' family trees and at their ancestry.
One course the College is sadly unable to offer is a cookery course because there are no suitable facilities. However, people may be inspired to take up learning a new language, for example, learning to speak Italian after watching Gino D'Acampo's TV programme Gino's Italian Escape. There has been a steady rise in the number of students learning diverse languages such as Arabic, Chinese, Japanese, Russian and Turkish as well as Italian, French and German.
---
"These TV programmes capture the imagination of the public"
---
Have you been inspired to try something new after seeing a TV programme? Go along and find out more about taking up a new hobby at the College's Adult Education Enrolment Evening on Wednesday 4 January 5-7.30pm, Hills Road Sixth Form College, Hills Road, Cambridge CB2 8PE.
Telephone the Adult Education team on 01223 278002, email [email protected] or have a look at the selection of courses on the website www.hillsroadadulteducation.co.uk.