The internet, and social media in particular, has opened up new ways to communicate for schools and parents
Words by Charlotte Phillips
Schools might have been slightly slower than their pupils to take to social media – but boy, are they making up for it now. It's a rare school that doesn't have its own Facebook page, and they've taken to Twitter like ducks to water – or should that be a birdie to tweets? And who can blame them, given the number of different audiences they're able to reach. Take King's Ely, which reaches out to "current families, members of staff, the students themselves and former students," says Jordan Day, head of media and public relations at the school. "Our website and social media platforms are also a fantastic way for prospective families to get a feel for all the opportunities that are on offer here at King's Ely, and what a vibrant community we are."
"Parents don't have to move far from a chair to see what the school has been up to"
Parents don't have to move far from a comfy chair to see what their child's school has been up to on an hour-by-hour – almost minute-by-minute – basis. Over a 24-hour period on Twitter, whizzy events and activities reported in 280 characters or less by local schools included successes in sport (a winning hockey fixture), a successful brush with gourmet cookery (no taste buds harmed in the process), the unveiling of a new pupils' art exhibition and a cyber skills-sharpening session. On Facebook, another school in our area was gearing up for an open day with the unmissable offer of a free teddy bear for every visiting child (it's a safe bet that interest was high, possibly unbearably so…). 
In addition to showcasing classroom-to-playing-field news and views, there's also the reassurance of seeing that your child's teachers have the digital know-how that matters when it comes to crafting timely, well honed messages. 
Social media is an immensely powerful tool, explains Dave Watkin, assistant head at Culford School, who notes that: "The power of social media is bringing to life the stories of the school in real time." And that's particularly valuable where, as at Culford, parents include a mix of locals and families who may be thousands of miles apart. "In the international boarding market, it's keeping parents who may be at a distance from their children engaged in their child's day to day life," says Dave Watkin. 
Facebook and Twitter are probably the best-used social media channels, but you'll also find schools on Instagram and YouTube, as well as LinkedIn. Even Pinterest features, though used less to promote schools than as a fabulous visual resource where teachers can inspire and support pupils with images and teaching aids, all with a weblink back to the original site.
"We use social media channels including Facebook, Twitter, Instagram and YouTube"
At The Perse School, Claire Ziwa, director of communications, masterminds what sounds like a 24/7 operation to ensure that parents can get an in-depth understanding of what life at the school is like – something that, as she recognised when she first joined, wouldn't necessarily be conveyed during a tour of the school. In addition to using platforms such as Facebook, Twitter, Instagram and LinkedIn (with commendably fast responses – even at weekends – to any comments) she has also set up a YouTube channel featuring films about different aspects of school life. "Prospective parents can have insight into lessons, into things we do extracurricular wise and into some of the voluntary charitable work that we do," she says. 
The 40-plus films include Perse School students abseiling down the side of a building in the city centre to raise money for cancer research. Another film shows a 12-day expedition with pupils trekking across India. Add films that show what it's like to study a particular A-level or GCSE and what you get, says Claire Ziwa, are "deeper insights into life at the school that you wouldn't necessarily get when you're walking round."
At St Mary's School, Cambridge, social media channels used by the school are similarly varied. "We use various social media channels, including Facebook, Twitter, Instagram, LinkedIn and YouTube, although Facebook, Twitter and Instagram are the main sites that we use," says Zoe Scoular, social media officer and marketing assistant.
Conveying details of school life in a way that says worlds about a school's character and ethos is also a big thing at Stoke College. Head of admissions George Moore coordinates posts for the school's three main channels – Instagram, Twitter and Facebook.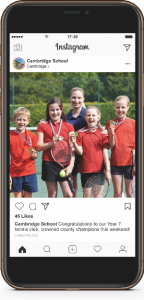 Not only does he have an encyclopaedic knowledge of everything that goes on at the school, he also manages to vary the communications so parents following the school on all three platforms don't get the identical information each time. It's clearly engaging, judging by the numbers of people liking their general Facebook page. The information is a mix of the factual and the pleasantly quirky. Academically related achievements are celebrated (one video features a pupil recalling pi to 186 digits) while another recent post features a tour of the grounds, all from a mouse's perspective. "Our juniors are learning about country mouse and town mouse, so they made felt mice in class and did a search round the grounds from the country mouse's point of view," says George Moore. Also popular was a post featuring a meteorite shower filmed to look as if it had taken place in the school's walled garden – making for a memorable lesson on the topic for the school's nine and ten year olds. 
For working parents, social media does a wonderful job of keeping families connected with the life of their child's school in a way that just wasn't possible a decade ago. With so many parents putting in long hours, there's nothing like being able to take five minutes out before a meeting to see what's going on, from reports on school trips and concert rehearsals to clocking the latest guidance in exam revision (a preoccupation for many families at this time of year).
"It can be a really good initial insight into the school"
Schools' digital presence isn't just a godsend for current parents but an increasingly important part of their interaction with prospective parents. Taking a closer look at schools' social media output can tell you an awful lot about what a school's like and whether it might suit your child. And while scanning a school's website or scrolling through its latest tweets can't replace the first-hand impressions gained by touring a school, getting to know it virtually can help to address the worries and questions that every prospective parent has – in a nutshell,  helping to reassure them that their child will flourish, make progress and be happy.
"Social media enables prospective parents to get a feel for the school life in real time. It shows all of the varied and engaging opportunities our students have to develop and fulfil their potential," says Zoe Scoular at St Mary's School.
Schools put a lot of effort into their communications. They may be carefully curated to reflect the school's corporate goals but what also comes across is an infectious enthusiasm for what they do. "It's an accessible way of giving prospective students and parents an idea of our personality," says Zoe Scoular. 
In some schools, individual departments or teachers have their own Twitter accounts. It's not hard to see, from the number and variety of posts, which staff have a campaigning zeal for their subject and take a real pride in their department's achievements. (It's not unheard of to find a particularly gripping equation taking centre stage online).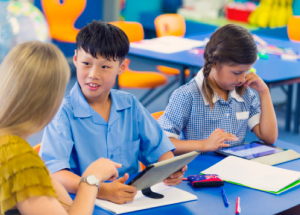 At Culford, staff are notably keen contributors to the school's social media accounts, with encouragement from leaders at the school. It's all about conveying a sense of authenticity, says Dave Watkin. "There is nothing more powerful than a housemaster tweeting or Facebooking about the life of the school. If you're halfway round the world and you get a tweet that shows your son or daughter smiling and enjoying their existence in the school, for me, that's the crux of it." 
The school's website can also be an invaluable way into a school's personality – if you take the time to explore it thoroughly. Take communications with parents. Positive, friendly messages via online bulletins or letters rather than a continuing nag about uniform infringements or parking problems (for example) can create a real sense of community, with school and parents working together in partnership.  
What you should be able to take away from a website is a sense of the school's ethos and the all-round education it provides, says Zoe Scoular at St Mary's, Cambridge. Check the website for ease of use, she suggests. Is finding information on open days, the admissions process,
and visiting the school straightforward? How easy is it to find out key information about the different areas of school life, results and news about students' recent achievements? 
With so much to gain from getting to know a school virtually, it's a good idea for prospective parents to start the process early. "I would start following their accounts straight away," says Claire Ziwa at The Perse. "You can get a real flavour for the things that the school is telling you about before you've even gone there. It can be a really good initial insight into the school that can actually give you a whole raft of opportunities to ask questions you may not have necessarily thought of if you just turned up on an open day."