Whether eating out or foraging to eat at home, make the most of the short-lived wild garlic season
If you're enjoying a springtime walk through any woodland in the region, look out for wild garlic. Of course, you'll smell it before you see it, that distinctive garlicky smell with a hint of chive and spring onion.
In the past this time of year was known as the 'hungry gap'; a time when the last of the winter crops of brassicas and potatoes had all been used up, but new crops weren't yet ready. Wild garlic would have been a much-welcomed fresh food after a long winter. Today, of course, we can easily get Spanish salad leaves and asparagus from Peru all year round. But there is something rather nice about being able to pluck a small bunch of native wild garlic for free.
How and where to forage
If you're going to forage wild garlic (or anything else for that matter), you need to know exactly what you're looking for. Lily of the valley is a poisonous plant that can be mistaken for wild garlic, however it differs in a number of ways and is easy to tell apart once you know them.
---
There's something nice about plucking a wild bunch of garlic
---
Its flowers are bell shaped and all grow off a single stem, whereas wild garlic's flowers resemble an exploding star shape with many small, white, straight petals in a bunch, all on individual stems. Each plant also likes different types of soil. Wild garlic prefers damp, wet, shady woodland; lily of the valley meanwhile likes drier, more exposed ground. What's more, while wild garlic is around between April and May, lily of the valley arrives May to June. Of course the biggest giveaway is the smell. Wild garlic has a strong smell, while lily of the valley has none.
In the kitchen
Having safely identified your wild garlic, how else can you use it? Well, Gemma Whiting, owner of the Linton Kitchen, likes to use it in a wild garlic, potato and feta tart. Here's her recipe.
wild garlic, potato and feta tart
For the Spelt Pastry: 150g plain flour • 75g spelt flour (we use Swaffham Prior stone-milled flour) • 65g chilled butter, cut into small cubes • 65g chilled lard, cut into small cubes • 2tbsp chilled water
For the filling: 300g potatoes, peeled and thinly sliced • 150g wild garlic leaves and stalks (if tender) • 200g feta cheese, crumbled • 3tbsp of toasted seeds (we use pine nuts, pumpkin and sunflower) • 4 free-range eggs • 150ml double cream • ¼tsp freshly grated nutmeg • salt and pepper to taste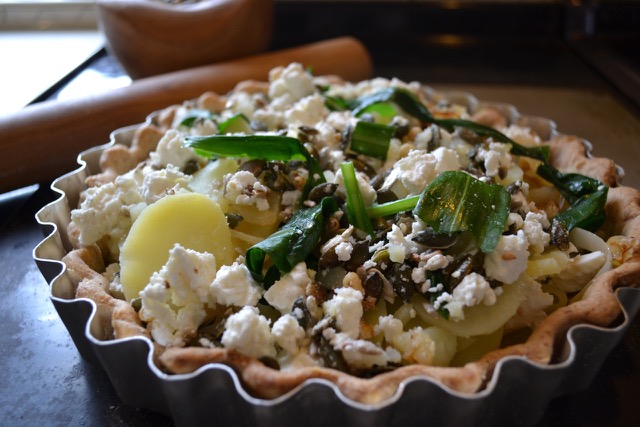 For the spelt pastry:
• Pop all the ingredients, except the water, into a food processor and blend until they resemble breadcrumbs
• Add the water until the mixture comes together easily and is pliable
• Wrap in clingfilm and chill for 30 minutes
• Roll out to around 5mm thick and line your greased tart tin, prick the base with a fork
• Chill again for 20 minutes
• Line the pastry case with baking parchment and fill with baking beans. Cook for 20 minutes at 180°C fan/gas mark 5. Then remove baking beans and cook for a further five minutes, or until the tart case is crisp on the bottom and starting to turn golden at the edges
For the filling:
• Boil the potatoes in a pan of salted water until tender, leave to drain on kitchen paper
• Blanch the wild garlic in boiling water for 30 seconds, leave to cool, and then roughly slice
• Mix the feta and toasted seeds in one bowl
• Whisk the eggs and cream in another bowl with a pinch of salt and pepper and a little freshly grated nutmeg
• Once the tart case has been blind baked, start to assemble it. Layer the potato, wild garlic and feta mixture twice over in the tart case.
• Slowly pour the egg and cream mixture over it and then let it seep into the layers
• Bake at 180°C fan/gas mark 5 for 25-30 minutes until the feta is golden, and the egg mixture is set but has a slight wobble
• Leave for 15 minutes to cool slightly, and serve with roasted vegetables, or a fresh leafy salad and some roasted beets – we love the herby, mustardy mixed leaves from Wild Country Organics. They are available from The Old Granary Organic Veg shop in Linton, or through Cambridge Organic Food Company.
Foraging advice
• Only take what you're actually going to use
• Leave plenty behind for wildlife and others
• Don't damage the root or bulb of the plant
• Seek permission of the landowner if on private land
• It is illegal to forage on Sites of Special Scientific Interest
• Identify it properly and make sure it's not poisonous
The forager
You'll be fine foraging for wild garlic in the county's woodlands. However, if you'd rather have someone do that for you, then Angus Birditt is your man. Originally from West Wratting in Cambridgeshire, he now spends his time split between Cambridgeshire and North Wales, where wild garlic grows in abundance.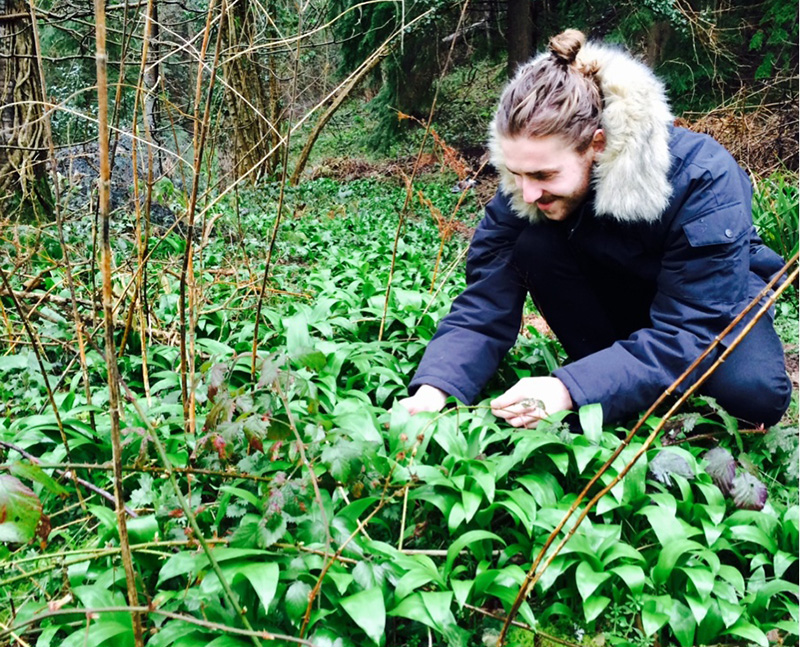 "I've always loved the countryside and wanted to involve myself in it as much as possible – whether that be spending my free time on long walks and foraging expeditions, or endeavouring to have a career based around it", he tells me. "I was inspired by the writings of the naturalist, Richard Mabey, who – in his book Food For Free – taught me to go out and find what edible foods nature grew. I love the notion of walking no more than a few yards from your front door and picking ingredients to pack into that day's lunch."
Angus and university friend Lilly Headley have recently established The Bridge Lodge, centred on collecting wild foods from land Lilly's family own. He now supplies foraged ingredients to both the public and food businesses such as delis and shops nationwide.
---
Go out and find edible foods outdoors
---
"We forage wild foods and make products from them, such as our wild garlic leaf pesto (fab stirred through pasta or used on chicken) and wild garlic leaf butter (great melted on sizzling hot steaks). The butter can be added to stews or sauces, and is, in our opinion, best spread onto a warm loaf of bread. The leaves meanwhile can be used in a huge variety of dishes, such as added to cream and pasta, or topped on a fillet of steamed fish."
They currently attend local markets and festivals around North Wales and are planning to come to Cambridge markets in 2017, "with the hope to both sell our products and promote others to learn about nature" Angus tells me. In the meantime, you can order online.
Wild Garlic Bread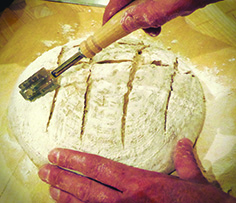 Of course one of the most common uses for any form of garlic is in a classic garlic bread. Helen Underwood at White Cottage Bakery in Kingston, Cambridgeshire loves the stuff and uses it in her baking during the growing season. "With the last of my 2015 harvest of wild garlic almost gone, I'm eagerly anticipating this year's glossy leaves appearing in our woods during spring", she says. For her, its pungent smell, yet delicate, almost sweet flavour when cooked makes it a wonderful addition to her breads.
"I use the leaves torn and folded into the dough. Also, you can place a dampened whole leaf on the finished, shaped dough before baking which gives an impressive visual finish." Helen also uses the coarsely chopped leaves in her soda bread, which is one of the easiest bakes to make. "Add a good grating of pecorino to the mix and you have the makings of a perfect quick lunch!"
"I make batches of wild garlic pesto, which freezes so well. These can then be used all year round in my favourite Italian breads, such as focaccia, topped with a few Kalamata olives and a good drizzle of extra virgin olive oil. It can also be rolled into a savoury pane all'olio dough just as it's shaped, to produce a colourful swirl of wild garlic running through the entire loaf". Now that's what I call garlic bread. If you'd like to learn how to make this bread and more, Helen runs courses at her bakery, check out her website for more details.
Can You grow your own?
Finally, if the thought of tramping around damp woodlands or buying garlic in doesn't appeal, you can grow wild garlic in your own garden if you've got lots of damp shady space, but you'll need to uproot a good amount of it to get it to bed in. Tim Hayward, owner of Fitzbillies tried it once.
"Living in Camden Town I tried to grow it for years in the back garden but it would never take. Finally I set up a watering system to make a swampy corner and dug up a huge block of the stuff, almost a cubic metre slab, from a riverbank in Dorset and replanted it. The next spring it started to show shoots just as we decided to sell the house and move to Cambridge. A year later I asked the person who bought the house how the garden was doing and they said it was great – apart from the epidemic of wild garlic."