One of my suppliers arrives at the back door of my restaurant every Friday morning with a small van. In it are boxes and boxes of fruits, vegetables, herbs and other edibles. Some of these are familiar, others totally alien. It is these previously un-tasted pieces of produce that always cause the greatest stir in the kitchen, as well as a flurry of creativity, ideas and speculation. Last week we were huddled around an Indonesian snakefruit, a bizarre reptile-skinned fruit with mildly chocolate-flavoured flesh packed around a brown pit the size of a marble. The week before, we had bitten into a small, green, avocado-shaped fruit called a fejaia which was addictively sour and will make it onto the menu before too long.
In addition to the unfamiliar, there will be new varietals of fruits and vegetables I do know: a squat, rotund pear, its stem tipped with red wax, or a white-skinned, round aubergine, prized by Italians as being the perfect ingredient for a melanzane parmigiana. I've discovered two new varieties of apple, both of which are delicious, and at least a couple of types of tomato I had no idea existed.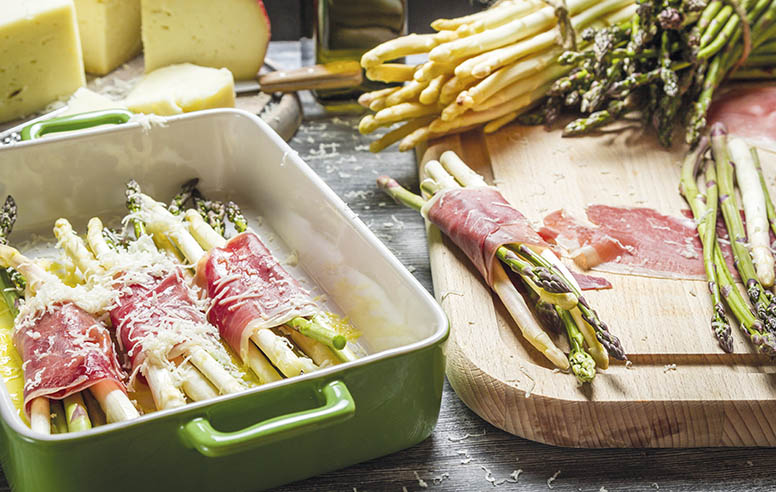 But most exciting of all is the reappearance of fresh produce whose time has come round again, about which I had almost forgotten while weighed down with dark nights and cold mornings and beetroots and cabbages. New batches of wild mushrooms are a pleasure to see (even when the price is prohibitive). Yorkshire forced rhubarb is a happy pink beacon at the beginning of the year, and the first few bunches of white asparagus that trickle in from the continent are quickly snapped up, partly because of their flavour but mostly, I think, for what they promise.
More indicative of all this is the box of ramsoms (or wild garlic) I bought just two days ago. It is, of course, a wonderful ingredient that can be spun through a pesto or wilted over new potatoes with too much butter. I've rolled it inside paupilettes of lemon sole and served it with the first of the new season lamb, alongside red peppers, aubergines and other flavours of the Med, and even eaten it raw mixed in with a few other, slightly more mellow, salad leaves.
But it is its role as a precursor for what is around the corner that is truly exciting. Because these pungent leaves are trailblazers, nature's pioneers that dare to peep through the warming soil and signal the end of hardy roots and tough-stemmed brassicas and the imminent return of soft-leafed salads, sweet English berries and, of course, the stems of asparagus that deserve to grace every mealtime during their short season. After months of winter foods, the presence of a box of wild garlic is a shining beacon of what is almost upon us: clement warmth, days that stretch long into the evenings and languid weekends just made for eating and drinking.
Alex Rushmer is head chef at The Hole in the Wall, Little Wilbraham