Bella Italia adds to its Cambridge choice with a new restaurant on Bridge Street
Historic Bridge Street gets a new addition this month in the shape of Bella Italia, which is set to open its doors on 25 April. Known for its good value Italian cuisine, funky decor and relaxed atmosphere, Bella Italia is the nation's fastest-growing restaurant brand, with the new outpost joining existing Cambridge branches Newnham Road, Clifton Way and The Grafton Centre.
The large space can cater for up to 134 (making it a good choice for a large party booking) and features lots of cool little design touches. We're especially taken with the retro–styled Gelato Truck, with its myriad flavours and colourful toppings.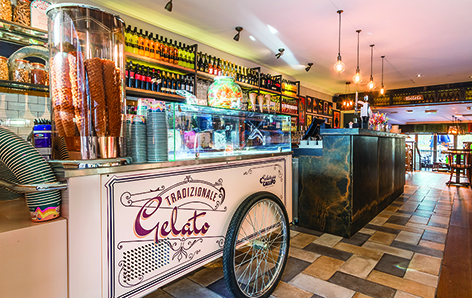 There's a new menu to try, which is packed with products from family-run Italian producers, and offers classic Italian favourites with a twist. Expect hand-stretched pizzas, fresh pasta dishes and favourites like lasagne, made from scratch each day in the restaurant. There's a lovely range of cocktails and Italian Prosecco too, as well as a menu especially for the bambinos, if you've got little ones with you.
"We're delighted to be bringing a slice of Italy to Cambridge!" says Bella Bridge Street manager Thomas McCartney. "The buzzing Bridge Street is the ideal place to open another Bella in this beautiful, historic city. Those visiting Bella will be treated to our great new menu, a fabulous new restaurant and a team that can't wait to serve the people of Cambridge."