A monthly round-up of delicious happenings around Cambridgeshire
Take a dip
Cambridgeshire-based company Dips Sauces will be taking over The Swoop on 3 August, offering amazing chicken wings paired with their delicious range of sauces. Both meat and vegetarian options will be available. If you love food and support local, then this event is for you! Book tickets here.
Nectarine of the gods
Summer has well and truly arrived at Crosstown, with the launch of its latest doughnut flavour – nectarine and cherry. Made with signature vegan sourdough, this sweet and tangy treat comes loaded with nectarine & cherry compote, topped with a crisp cherry glaze and crunchy vanilla crumble. For a refreshing alternative, Crosstown's ice cream is the way to go: we recommend mango sorbet or strawberries and cream, for a taste of Britain in a cone! 
Feeding the multitude
Ely Markets are a real honeytrap for food lovers, and with a packed schedule lined up for the bank holiday weekend, they're sure to draw crowds. The ever-popular Foodie Friday will be back in the main square on 26 August from 5-8pm, followed by the Farmers' Market on Saturday from 8.30am-3.30pm, where you'll find Nonna's Lab, George's Bakery and Borakis Greek Food, among others. On Sunday, catch Ely Markets favourites Uncle Paul's Greek and Gino's Pizza – also returning on bank holiday Monday (9am-4pm), with Al Chile and more.
Cocktail companions
The LAB is inviting local chefs to take part in a kitchen takeover on selected nights this month. Stepping up to the plate first is Jason from Shanty with a selection of South African street food dishes on 12 August, including Jason's 'Boerewors Roll', a South African spiced sausage in a bread bun, cooked over charcoal and served with 'monkey gland sauce' (that's a fruity BBQ sauce to you and me!). Also on the menu from Shanty is Cape Malay Roti – the perfect summertime snack – and Biltong spiced doughnuts, a savoury vegan treat stuffed with Chakalaka (a South African bean & vegetable relish). On 19 August, Isaac and Rob from Fasta Pasta take over the kitchen, cooking up a treat that will put dishes like nduja and mascarpone and creamy basil pesto on the menu, with sides including ragu-stuffed panzerotti. And for dessert? Heavenly tiramisu – not to be missed!
Magic of Thailand
Bringing an authentic taste of its home country to cities all around the UK, the popular Magic of Thailand festival returns to Parker's Piece for a celebration of Thai food, drink and entertainment on the weekend of 6 and 7 August, from 10am to 7pm. 
Out of the box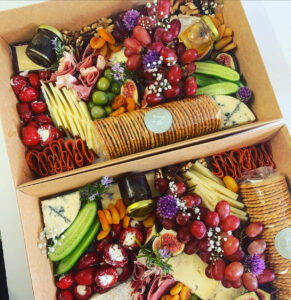 Nothing says summer quite like a picnic. To take things to the next level, check out delicious bespoke grazing boxes from All On Boards, which come chock-full of the good stuff, from finger sandwiches and scones to homemade chocolate tiffin and lemon drizzle – or pastries, waffles, fruit and granola bowls if you opt for brunch. Boxes come in a range of sizes, perfect for date night or sunny afternoons.
Pierogi
On 14 September at 7pm, we will sit down with self-styled 'storyteller cook' Zuza Zak at David's Bookshop in Letchworth, to hear about her latest book Pierogi, which delves into stories behind this Eastern European speciality. Join us to find out more!
Brunching out
Fuel the bank holiday festivities with a boozy brunch at Novi on 27 August. Run in collaboration with ISSA Brunch, this classy food fest includes bottomless cocktails, mouth-watering meals (try the homemade waffles with streaky bacon, fried chicken and maple syrup), entertainment and games. Plus, live DJs will serve up hip-hop, afrobeat, pop and more. Tickets cost £35 – follow @issa_brunch_vibe for all the latest.
A global cuisine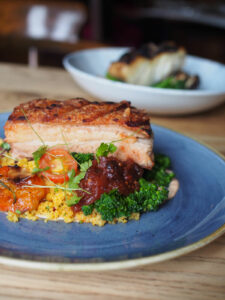 Cambscuisine's new menus are now available at its country pubs, packing bold flavours in every dish – perfect for alfresco dining. Don't miss the charcoal roast coley with red Thai curry at The Royal Oak in Barrington, or the burrata with grilled peach and heritage tomatoes at The Three Horseshoes in Madingley. For a taste of the Mediterranean, book a table at The Cock in Hemingford Grey on the evening of 11 August and enjoy tapas accompanied by Spanish music, washed down with punchy sangria. Book online at cambscuisine.co.uk
That's amor-ish
Willingham's best kept secret, Hidden by Puddini's next Supper Club takes place on 12 August with an Italian-themed menu, starting with a selection of antipasti followed by a primo piatto of tomato and ricotta ravioli, and a secondo that stars lamb rump with char-grilled potatoes and a salsa verdi. For dolce, Bozzey baba with cherries and milk ice cream is on the cards – a modern twist on a Neapolitan favourite! 
Cornering the Market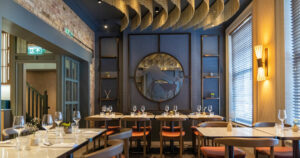 One of Cambridge's most iconic buildings has been given a dramatic makeover, and is now welcoming guests for dining, working and relaxing. 
Its former incarnation as Italian eatery Don Pasquale now a distant memory, Market House is spread over five floors of Grade II listed grandeur, with large windows offering impressive views over the Market Square, Senate House and Great St Mary's Church. At the helm is Cambridge resident Bill Brogan – whose CV includes Michelin-starred Le Talbooth – and his wife Jinzhao Li, who has worked in the education and culture sectors in China and the UK for over two decades. 
The food reflects this multicultural foundation, with modern British fare alongside pan-Asian plates. Drinks-wise, expect a smorgasbord of tea, artisan coffee, gin, wine and beer, while the roll call of local suppliers includes Stir Bakery, The Saffron Ice Cream Company, Cambridge Cheese Company and lots more.
"Market House will be a warm, welcoming space, with good food and great wine at the heart of our offering," comments Bill. "We want people to come and enjoy a nice time over a comforting meal. Consider us your home from home."
With alfresco dining on the square, wine bar, all-day cafe, 'food lab' and flexible meeting and working spaces, we can see this venue becoming a huge hit in the months to come. Watch this space!