The Old Spring on Chesterton Road has long been amongst my favourite Cambridge watering holes: cosy, smart but unpretentious décor, good pub food and ales and a buzzing, friendly atmosphere. In fact, its popularity might be its only downfall, it being tricky at times (Fridays after work especially) to nab a table, or even a seat.
Fellow fans of the establishment will therefore be as gladdened as I to learn that owner Steve Murphy has lately taken over The Burleigh Arms, just a gentle stroll across the river to the other side of Midsummer Common, allowing loyal drinkers and diners to spread their custom comfortably between the two.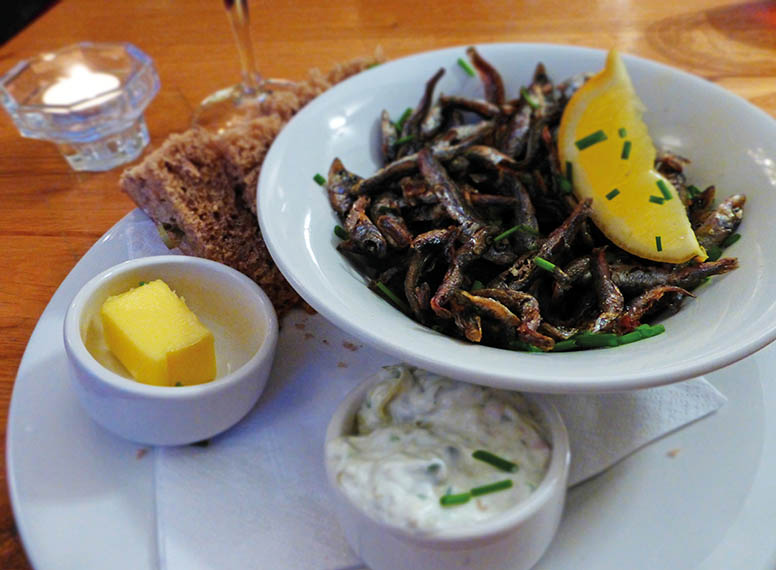 Word of the new opening had clearly got out when I visited the pub on Newmarket Road early last month. For a Thursday night the pub was abuzz with chatter from professionals popping in for a post-work pint and families sitting down to eat. I took a seat in the window in the dining area, beneath glinting mirrors and antique prints of scholarly fellows in gowns.
To start, my dining partner and I chose to share a bowl of crispy whitebait, unbattered (good news for the diet), and served with delicious home-made tartar sauce, lemon and a chunk of granary bread. The portion was ample but delicious, and we had to leave a few morsels (I tried not to look them in the eye) to save room for our much anticipated mains.
The menu, still a work in progress I'd been told, nonetheless offered a wonderful selection of tempting pub classics, like beer battered fish and chips, halloumi and couscous salad, chargrilled chicken pesto linguini. But it was the Burleigh Burger (£9, and burly indeed) that really got my attention, promising a beef patty, cheese, bacon and relish, served with salad and skinny fries. It was every bit as delicious as it sounds, the burger meltingly tender between a soft, floury, white bun; the mustardy, tomato- based relish adding that necessary zing.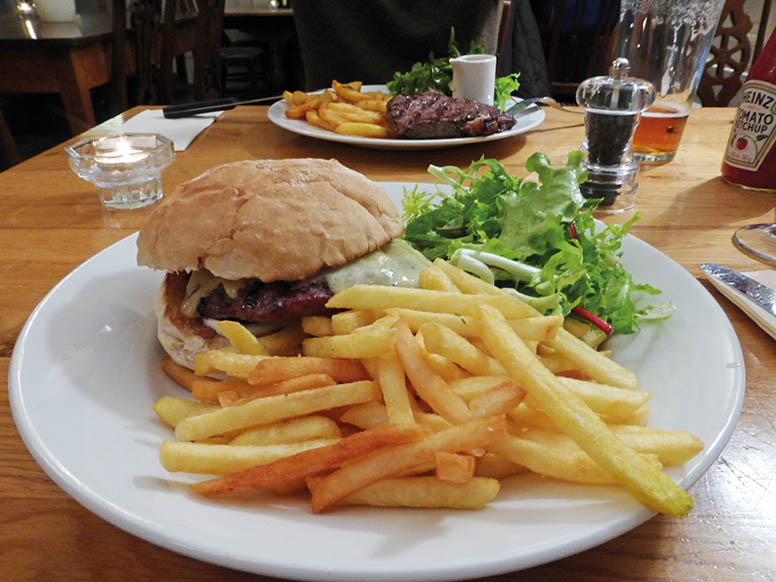 Opposite me, my partner was making easy work of his rump steak (£15). To me, a good steak should stand alone, dependent on no insipid onion rings, flat, watery mushroom or grilled tomato to hit the mark. Simplicity is key, and this is what we got: a juicy steak, cooked (unusually) as requested, with hot, fat chips, a little salad garnish and a creamy sauce (peppercorn, according to the menu, but tasting more like a Béarnaise).
Keen to please, perhaps, the kitchen was a little enthusiastic with both portions of chips – next time we'll request a few less in order to save room for one of the home-made desserts (ginger and sticky toffee puddings were on the sweet board that day). The new-look Burleigh Arms is a welcome addition to Cambridge's lively gastro pub scene. Not only was the food and drink excellent, but I should mention the staff too, who were unfailingly well informed and friendly. One to consider next time you're looking for somewhere new to eat in town.
The Burleigh Arms, Newmarket Road, Cambridge CB5 8EG 012223 357228
www.burleigharmscambridge.co.uk