From age-old vineyards to community cropshares, East Anglia is fully in the grip of the grape. Miriam Balanescu soaks in the scene of Cambridge vineyards
If you're partial to a glass of vino, you're probably familiar with wine from the sunny inclines of Italy, cava from the alcoves of Spain or bubbly from the bucolic fields of France. But the dark horse of the trade, English wine, has been flourishing since the first commercial vineyard was planted in 1951. 
Due to certain geological quirks, some parts of East Anglia happen to sit on the same ribbons of chalk that run through the famous Champagne region. Vines growing on chalk tend to stretch their roots deep into the soil, lending a complexity and minerality to the grape's final flavour.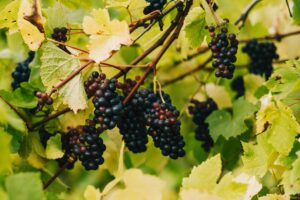 Bottling It Up
With rumoured Roman vineyards in the county (a vast 70 AD irrigation system was uncovered in north Cambridge in 2014) and confirmed medieval tipple-makers, Cambridge is home to one of the oldest official commercial vineyards in East Anglia. Chilford Hall was planted by the entrepreneur Sam Alper in 1972 using Germanic grapes, the first to be planted in England, due to their robustness. Head winemaker Mark Barnes came aboard in 2006, swapping a career with the RAF for the fields. 
"Being a winemaker sounds like a glamorous job, but most of the time you're not making wine, you're looking after the grapes," explains Nick, tour leader and finance operator at Chilford. "You're a farmer really."
Producing over 17,000 bottles from 17,000 vines, the vineyard's main varieties are bacchus ('East Anglia's signature grape, a bit like sauvignon blanc'), müller-thurgau and, most recently, pinot noir. The bulk of the work is attending to grapes, pruning, 'tucking in' to ensure the fruits aren't shaded by leaves – and eventually picking for harvest in October. "They are weeds, but useful weeds," jokes Nick. 
Under the instruction of Sam, a health centre in Linton was relocated to the site, reconstructed with fragments of an old London Stock Exchange staircase, billiard tables and a King's Cross St Pancras fresco to create the winery. Now Mark's domain, while the winemaker is working with old vines, much has changed. "You've got to move with the times," he urges. "You can't stay rooted in the past. Perception of English wine is changing. There's a greater audience, so if you focus on older styles, you're narrowing that audience."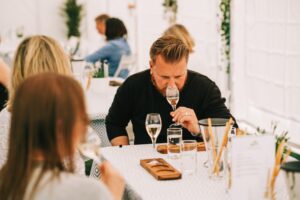 A Bit of Sparkle
Chilford Hall introduced sparkling wine to its roster in 2016. Meanwhile, another vineyard had been putting down roots
for the region's fizz. Founded by Paul Edwards, family-run vineyard Saffron Grange – a hop over the border into Essex – is becoming immensely popular across Cambridgeshire for its sophisticated sparkling wines. 
Planting the first vines in 2008, an intricate plan was drawn up for the sloping acres. "You need to know your site before planting it," says sales manager Nick Edwards. "When you've planted, you can't go back." The vineyard officially launched 11 years later, after the wines had been finessed. "We're a family of perfectionists
– so we waited and waited."
Saffron's five grape varieties (chardonnay, pinot noir, pinot meunier, seyval blanc and pinot gris, plus a host of clones to monitor which are most successful) are geared towards producing bubbly – like the French counterpart, but on a smaller scale. "The joyful thing about being a smaller vineyard is that you can focus on quality," says Nick. 
"Back in the 00s, the concept of producing quality wine in this country was just beginning," Nick recalls. "There weren't a lot of vineyards in the area, which didn't make sense because Saffron Walden has this unique climate. The history of champagne is very intertwined with the UK. Christopher Merret invented the reinforced glass bottle. It was the English that would sparkle the champagne, that liked the dryer style. The term brut was created for the British."
In 2018, viticulture climatologist Alistair Nesbitt was among those to suggest East Anglia could prosper in winemaking. Foreseeing more of a localised vineyard scene, Nick notes that there are huge varieties even within East Anglia, but says about English wine: "The fruit should come through and the acidity should be there." Saffron Grange aims for complexity. "We don't encourage malolactic fermentation because you take away some of the Christmassy, orchard fruit characters, pear and apple, which we really like."
In creating vintage wines, each year's releases are reliant on grapes from the previous growing season. "Each year tells
a different story," Nick says.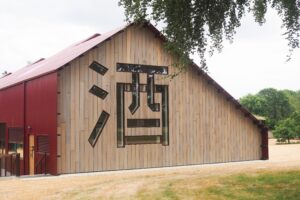 On the Grapevine
Elsewhere, new and remarkable Cambridge vineyards and businesses are cropping up. Not least, Dojima Sake Brewery, which brings Japanese culture – including sake festivals, tea ceremonies and more – to our area. 
"Sake was made as an offering to the Shinto gods," explains Kumiko, daughter of Yoshihide Hashimoto, who established Dojima in Osaka in 1996 (and is the fifth generation of sake makers in the family). "People believed that when you get a bit tipsy, you feel closer to others and might see this different dimension. Sake was thought to be a medium between divine and human worlds – a purifying drink connecting people."
Relocating from Myanmar, where the last branch was founded during the military dictatorship, Fordham Abbey was the perfect spot, with its glacial water supply and cool climate. "Koji mould is essential for sake making, along with soy sauce, miso, rice vinegar and mirin. This tiny living thing is at the very core of Japanese fermentation and food culture," says Kumiko. "For two to three days, our brewers sleep on-site, because they constantly need to check how the mould is growing on rice. If you make one mistake, there's no saving that batch."
Rice is another must. "There used to be the big Dojima rice market of the Edo period, which is said to be the world's first commodity futures market," Kumiko continues. "Rice is still the staple food of Japanese people, but used to be more revered. When samurai achieved something in battle, they would be rewarded with a piece of land measured in a unit called koku – describing how much rice that
land would yield.
"Traditionally, in my family, we like sake that's umami-rich and not too dry," Kumiko says. "You can design sake by polishing away the outer layers of rice. The more you get rid of the outer layers, the lighter the taste. In sake rice, there is starch in the centre. Protein, fat and other minerals are in outer layers."
While the Hashimoto family hopes to make sake as ubiquitous worldwide as Japanese whisky, Chris Wilson at Gutter & Stars is working on a much smaller scale – from the basement in the old Chesterton Mill. Experimenting with products such as orange wine since getting started in 2020, Gutter & Stars has already become a fixture of Cambridge restaurants. 
"There have always been more wine merchants here than I could understand," Chris muses. "The appetite for good-quality wine is clearly here." Spotting an unmet demand, he amalgamated equipment including a basket press, German flotation egg and barrels. "There's no fining or filtering, so I'm not putting anything in the wine to remove particles," Chris says. "Historically, you would have used things like gelatine and isinglass, which are not
vegan-friendly."
No Sour Grapes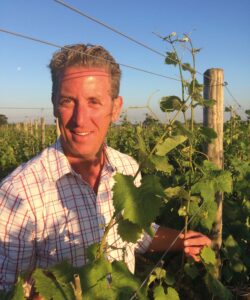 Keeping sustainability in mind, Chris collaborates with Pastore Brewing to donate all wineskins to be transformed into beer. It's something also at the fore for Saffron Grange: "Frosts are coming later now with climate change, because everything is starting earlier, which means from a budding perspective, they're more susceptible to later frosts," Nick says. 
"Not just locally, but globally, rules feel like they are going to have to be rewritten. What were traditionally wine-growing regions might get too hot; we're seeing new areas like ourselves, Scotland and even Norway making vineyards. That growing threshold is changing and everyone's having to adapt."
For most Cambridge vineyards, minimal intervention is what growers strive for, but Saffron Grange turns this up a notch. Encouraging insects as natural pesticides, taking pride in the diversity of bird species and planting thousands of trees in partnership with Creating Nature's Corridors, the environment is key. A number of studies on biodiversity and wellbeing are being carried out on-site. 
Other Cambridge vineyards have been finding that getting green-fingered can fuel communities. Warden Abbey Vineyard, which was of medieval, monastic origin, runs wellbeing activities to support those with brain injuries or learning difficulties, rough sleepers and ex-offenders. Over at Coopers Croft in Newmarket, WineGB East deputy chair Nick started growing after a local vineyard gifted him two vines. 
"It's an incredible community," he says. "Everybody is so welcoming and wants to support the development of this somewhat new sector. In East Anglia alone, we have seen an increase in planting of over 400% in the last four years." With vineyards like La Leghe tipped to open in 2023, there is no doubt that Cambridgeshire's wine scene will continue to grow.