A huge food and drink fair kicks off the fabulous two-week festival that is Eat Cambridge, and we've got the low-down
After many months of anticipation, Eat Cambridge is finally upon us! Taking place 7-22 May, the event includes a large food and drink fair at the Guildhall which showcases some of our area's finest foodie enterprises: expect plenty of deliciousness to try and buy, as well as talks and demos throughout the day. On the line-up for the fair, taking place on the 7th, are The Gog Farm Shop, Kandula Tea, Jack's Gelato, Cambridge Artisan and plenty more great local foodie companies. That's before we even get to the Fringe line-up, which features a fortnight of fabulous foodie fun across the city.
The Garden Kitchen: In Bloom
Serving up delightful cakes, great coffee, top salads, savoury bites and more, Mill Road's Garden Kitchen has quickly cemented itself as a favourite in the area. In May, as part of Eat Cambridge, they'll be taking their name more literally than usual by transforming into a flower themed café serving lunch and treats for one day only on Sunday 8 May.
Open 10am-6pm, The Garden Kitchen: In Bloom will serve up a delicious menu exploring the vibrant and aromatic flavours of botanicals. Expect edible flowers, infused drinks and treats aplenty.
The event will help to raise funds for the Mill Road Midsummer Fair on 2 July, and follows on from the success of the Garden Kitchen's 1940s pop-up last May.
"We're so excited to be bringing the look and taste of a beautiful spring garden to Mill Road," says event coordinator Laura Matthews.
"The team and I are thrilled to be working with The Garden Kitchen again and hope we raise plenty of funds for the Mill Road Summer Fair!"
Search Facebook for details.
www.thegardencafecambridge.co.uk
The Gog and Guerilla Kitchen Supper Club
Street food faves Guerrilla Kitchen, headed by chef Jay Scrimshaw, will be returning to The Gog for a supper club style feast as part of Eat Cambridge. Taking place on both 13 and 14 May, the event will take place in The Gog's super cool outdoor space, The Shack, and feature a sensational six-course supper.
Though they're keeping shtum about the exact menu, we do know it's going to feature lots of lovely seasonal ingredients, as well as produce from The Gog's grocery, deli and meat from the butchery. Places at the supper are £45 per person.

foodPark Night Market
Taking place on 21 May, 5-10pm, the Eat Cambridge edition of the much-loved foodPark night market looks set to be a total winner. The location, once again, is Gravel Hill Farm, and as always there will be great food, a fully stocked bar, music and plenty of areas for cosying up.
Expect appearances from heroes of the local street food scene like Wandering Yak, Jalan Jalan, Steak & Honour, Churros Bar and more. Tickets are £5 per person.

Wine Festival
Cambridge Wine Merchants will host a large wine festival at the Arts Theatre, 21-22 May, featuring loads of fantastic tipples to try and buy.
There are three sessions to choose from, each lasting two hours and featuring more than 100 wines to taste. Sip your way around reds, whites, pinks, champagnes, ports and sherries, and snack on cheese, bread and meat platters.
The entrance fee is £7.50 (includes a platter), and you'll also be given a free branded glass and tasting brochure. The festival will work on a pay-as-you-taste voucher system, costing £1 for a strip of three (the more expensive the wine, the more vouchers required), so you'll get to sample loads of top tipples!
Sunday Best
Who doesn't love Sundays, with their hearty lunches, country walks and endless lazing about? We know we do, which is why we're completely head over heels with the idea of Sunday Best, taking place on 22 May as part of Eat Cambridge.
A celebration of all Sunday's 'best bits', the event takes place in a beautifully restored church in Swaffham Prior, and
will feature delicious food, live music, Bloody Marys, great wine, board games, Sunday papers, comfy sofas and even a walk in the country!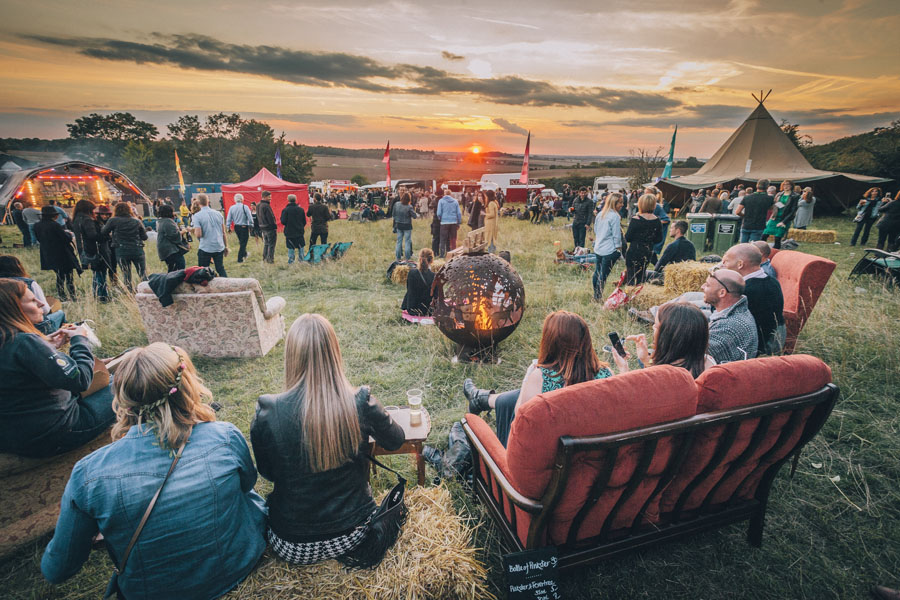 It's hosted by Guerrilla Kitchen together with the My Little Festival team, who have bags of experience working on major festivals such as Secret Garden Party and Glastonbury, as well as putting on brilliant local events like the Gogs' Giant Sundowner, and they're promising to give you the ultimate Sunday.
Guests will be entertained by Cambridge's coolest choir, the Dowsing Sound Collective, who always serve up an eclectic set. They'll be stripping their sound back for an acoustic afternoon of chilled grooves, Scandi sounds and mellow indie pop.
---
As you relax, he'll be preparing a sumptuous three-course lunch
---
The centrepiece, of course, will be that all-important Sunday feast, which is in the capable hands of Guerrilla Kitchen's chef Jay Scrimshaw. As you relax in the cosy, shabby chic surrounds, he'll be preparing a sumptuous three-course lunch for everybody to enjoy at the feasting tables. Heaven!
There are just 60 places so you'll need to move fast to bag your space. Tickets are £35 for adults (and £15 for children under 12 years), and the cost includes all food and a guided walk. If you fancy getting stuck into the Bloody Marys, there will be a 'Sunday School Bus' toing and froing between the venue and Cambridge. The event runs from 1pm until 5.30pm.