The long hot summer presented a real challenge for coffee fiends: how to stay cool without compromising on caffeine? Charlotte Griffiths rounds up of some of the best iced coffees to be found in Cambridge…
Fitzbillies, Bridge Street
The barista leaned forward, away from the roar of the coffee-maker, checking she'd heard me correctly. "I mean… technically you could have any of the ice creams with an espresso," she replied, shrugging and smiling. "Let me know which you'd like…"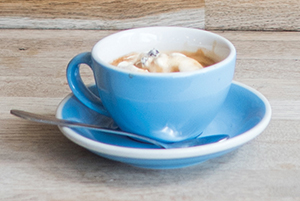 I can't be the first to combine Fitzbillies' London-roasted Climpson espresso with a single scoop of its Chelsea Bun ice-cream, but I hope I'm not the last: the combo would no doubt make coffee snobs clutch their neckerchiefs with horror, but, reader, it worked: the intensely dark roast was softened and lifted by the warming, sugared-and-spiced cream, and made for a much more interesting take on the drink than the on-menu classic vanilla affogato.
I perched at the window bar of the busy Bridge Street branch, spooning up small scoops of be-creamed, cinnamoned coffee, wondering what terrible mash-up pun-based name I'd give this drink if I had indeed invented it.
Other, less sacrilegious cold coffees are also available on Fitzbillies Bridge Street's short menu: their iced latte makes a good accompaniment to people-watching on a warm afternoon, and they use paper straws as a matter of course, which earns them a very big tick. But it's this off-menu take on an affogato which I'd earnestly point you at, and the beauty of that particular iced coffee is that it'd work at any time of year – whether the permanent snaking lines of tourists are in shorts and flipflops, or wrapped snugly beneath layers of college scarves.
Urban Larder
"Go on," he grinned.
"I've heard a rumour you make some sort of iced coffee…" I trailed off, hesitating. "…with… condensed milk… is – is that…"
"Yes!" he replied, confusing me for a microsecond (Was it a rumour? Was it true?) "We do: with two shots of espresso. We're surviving on them in the afternoons. I'll bring it over."
The Vietnamese was delicately placed on the table in front of me: a short glass of ice, thick cream and intensely dark coffee, swirling like the surface of Jupiter where the layers met. A cheerily-striped paper straw, which matched Urban Larder's cerulean paintwork, allowed me to slurp the beyond-sweet condensed milk before mixing the two layers for a treat straight from the streets of South-East Asia.
I'd had this drink before when on holiday in Thailand, and spent the following few months obsessed with decadently pouring condensed milk into as many of my coffees as I could get away with. Keeping a tin of rich, sticky almost-caramel milk in the fridge is a dangerous game, especially when you work from home, with no co-workers to raise an eyebrow over their desks: knowing I can get one of these coffees at Urban Larder is a much safer route. While the warmer weather lasts, I suggest you head straight there, bag a table outside or at the enormous sash window which fronts the eatery, and treat yourself as soon as possible.
Bould Bros
Double-filtered, re-mineralised water: 90+ scoring coffee beans, six months of milk frothing training to make thicker, creamier foam than other high-street coffee-purveyors – and quite possibly the cheeriest staff you'll ever encounter – it's clear the Bould Brothers are serious about their plans to provide the best speciality coffee experience in the centre of Cambridge. Their regular coffee offering (which is far from regular in terms of quality) keeps a steady stream of people lining up outside this pocket-sized, beautifully-appointed coffee bar to power their days with perfectly prepared caffeinated drinks, and the iced coffee served up is no exception. Presented in exquisitely delicate glassware, the iced coffee experience is a peculiarly restful one, despite the bustling nature of the store's location opposite the Round Church – grab a seat on their cushioned bench and watch the world go by.
Hot Numbers

Perma-packed Hot Numbers beats the heat with its traditional cold brew single-origin coffee, served mixed with a little honey and plenty of ice – but if you're feeling adventurous, its 90+ Nitro iced coffee is the one to go for: infused with nitrogen using a tap and crash-chilled during the serving process, the resulting stout-like drink promises the velvety feel of a flat white, but without involving any dairy whatsoever.
Rumours abound that there's more caffeine in coffee served this way – or that it simply hits you faster – but whatever's true, you do look a little as if you're tucking into a Guinness at 10am, which is bound to earn you cred amongst the other freelancers.
Call ahead to check the Nitro's on if you're making a special trip: or fail to do this and fall back on Hot Numbers' classic but no less delicious iced cold brew coffee with milk, which is what I did.
Novi
Novi stock nitro cold brew coffee stored in cans – exactly like stout you'd buy off the shelves – which is made just a short hop away in Bury St Edmunds by roasters Frank & Earnest.
They specialise in single origin, ethically-sourced coffee beans which are ground, mixed with local, filtered water, then brewed for 18 hours before trapping in a can with nitrogen goodness and transporting to Novi for your enjoyment.
Apparently this canned nitro coffee also makes an excellent base for cocktails – espresso martini, anyone? Novi also serves up extremely tall, creamy iced lattes topped with coffee beans, pictured right, bathed in the bar's spectacularly clear and beautiful side-lighting that turns any drink into an irresistible #InstaCam-worthy snapshot.