Whether you like oodles of thick or thin noodles, Cambridge has plenty to offer. Based on your recommendations, here's five top choices, each with their own special qualities
Best comfort food:

Mee & I



No line-up of noodle bars in Cambridge would be complete without a respectful nod to the much-missed Dojo's – which, happily, reappeared on the scene two years ago when the team regrouped halfway up Castle Hill in the form of Mee & I.
A new name and location obviously brings new dishes, but it's the old favourites that keep us heading back through their doors: number 162 (the dish formerly known as 39a) features a heaped plateful of wok-fried egg noodles, veg, chicken, duck and char siu pork all flavoured with a rich Malay satay sauce. There's even a veggie version for those avoiding animal products.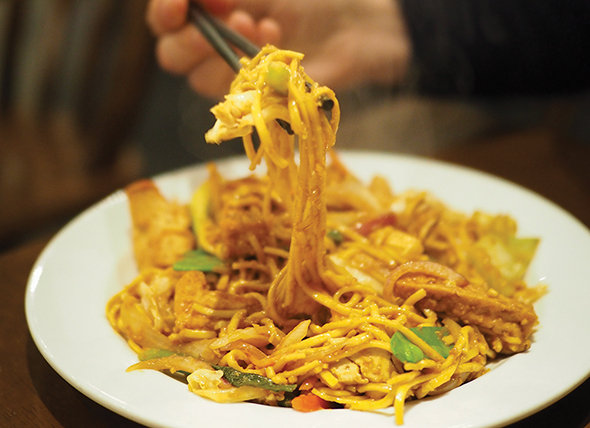 Anyone who says nostalgia isn't what it used to be, in this case, is just wrong. Mee & I's ramen is also worth a look: rich, lubricious and belly-warming, and everything you'd hope for from a bowl of this splendid soup.
Best for groups:

Yippee Noodle Bar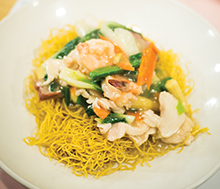 A long-time Cambridge staple and favourite amongst the student crowd, King Street's Yippee's has been filling the bellies of our city's residents since the dawn of the millennium.
The menu zips throughout Asia, boasting fried noodles, soup noodles and rice dishes aplenty, so even those with enormous appetites will find happiness on the noodle bar's long wooden benches. According to Yippee's army of die-hard fans, the dish to go for is the generous nest of crispy noodles that's served up with stir-fried chicken, king prawns, pork and crunchily-fresh vegetables.
Yippee's trademark punchy chilli sauce is served on the side, allowing you to add as much, or as little, spice as you desire.
Best for families:
Wagamama
It's hard to overstate the influence that Wagamama has had on the British dining scene since the first branch opened way back in 1992. The family-friendly space has always offered reliably good-value food that has remained contemporary and relevant throughout its 25-year history, and the Cambridge branch is no exception.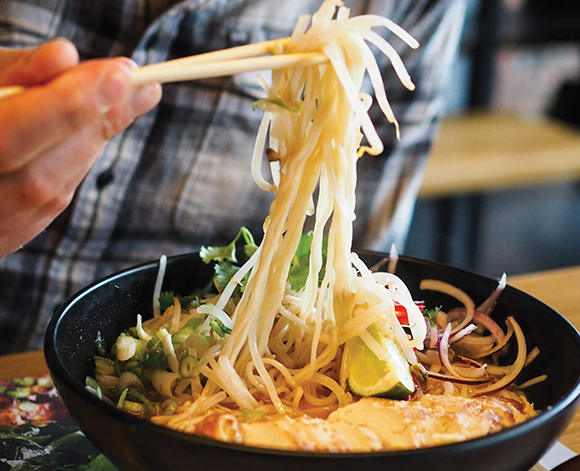 Noodle dishes form the bulk of the menu, either fried in a wok or served in a variety of broths as filling soups. The dish of choice is the classic Ginger Chicken Udon – a heaped plateful of thick Japanese noodles fried with ginger-marinated chicken, mange tout, bean sprouts, chilli and red onion.
Be sure to top it with a drizzle of chilli oil and a sprinkling of Shichimi Togarashi – a spicy and aromatic blend known as Japanese Seven Spice – to turn these noodles into a knock-out.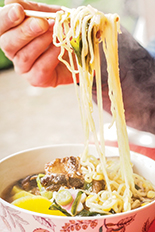 Best for speedy eats:

Cambridge market, Azuma No Ryu

Keen foodies will already be aware that Cambridge's Market Square is home to an increasingly large number of brilliant independent food vendors, and the amazing smells wafting from Japanese eatery Azuma no Ryu are hard to resist.
The black miso ramen gets our vote: perfectly cooked noodles and a deep, dark, umami-packed broth topped with long-cooked pork belly, seaweed and pickled golden beetroot.
Grab your bowl, hunker down on a trestle table and tuck in.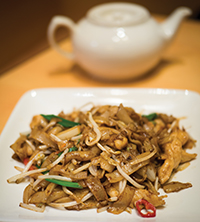 Best selection of dishes:
HK Fusion
With its epic selection of Hong Kong, Cantonese and Szechuan dishes, HK Fusion fully succeeds in its aim of bringing the full Hong Kong dining experience to Cambridge.
With so much to choose from on the extensive menu it's hard to pick just one dish – but the spicy chicken satay ho fan is definitely worth a look.
The noodles' complex flavours are given further depth by a slight smoked taste that speaks of serious heat, well-seasoned steel and years of experience behind the stoves.
Perfect for late-night eats or a cheeky mid-week treat.