Cool down and chill with these fabulous, melt-in-your-mouth delights
5.

Six
For an ice cream with a view, check out Six – the restaurant on the sixth floor of Cambridge's chichi boutique hotel The Varsity. As well as scrummy pizzas and lip-smackingly good rotisserie chicken, they also do a mean line in ice cream sundaes. The Varsity Punt, with its meringues, strawberries, marshmallows and vanilla ice cream, is like summer in a glass, and the Dusty Road is a chocolatey, butterscotch-drenched delight. You can also go off-piste if you like, creating your own sundae laden with toppings such as mini mallows and toffee sauce. Yum.

4.

Sweet Ally Scoops
Serving up scrummy iced treats from an adorable vintage van, Sweet Ally Scoops is a regular at local events including foodPark. With retro good looks and and pretty bunting, Lottie the van pulls in the punters all by itself, but the ice cream is gorgeous, too. Sample flavours include pecan brittle, burnt sugar and salt, roasted pear, and almond and praline, all of which are handmade by local ice cream alchemist Jack's Gelato. For true nostalgia it has to be a 99 from the Mr Whippy soft serve machine, complete with a Cadbury's Flake – hello childhood!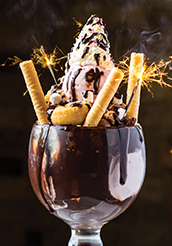 3.

MillWorks
If you're a Cambridge dweller of a certain age, you might recall that the building now home to the excellent MillWorks used to go by the name of Sweeney Todds. If so, you'll probably remember the brilliant, messy ice cream sundaes for which the restaurant was known. Happily, MillWorks has revived this tradition – introducing the mighty, comically huge Rupture Rapture. This behemoth of an ice cream sundae, which arrives studded with sparklers for extra fanfare, is a "perverse explosion" of ice cream, whipped cream, doughnut, Maltesers, salted caramel sauce, brownie and marshmallow. It's the stuff kids (and big kids) dream of!

2.

Aromi
A little corner of Sicily right here in Cambridge, the shelves of Café Aromi are lined with plump focaccia, molten mozzarella-stuffed arancini, homemade pizza and bite-sized cannoli.
The jewel in the crown, however, is the ultra-authentic gelato, made using a much-loved family recipe and with traditional Italian ingredients.
Served in a cone, pot or sandwiched in a homemade brioche bun, you can choose between flavours such as Sicilian lemon, stracciatella, and mandorlato (crema with roasted almonds).
Aromi has branches on Bene't Street, Peas Hill and Fitzroy Street.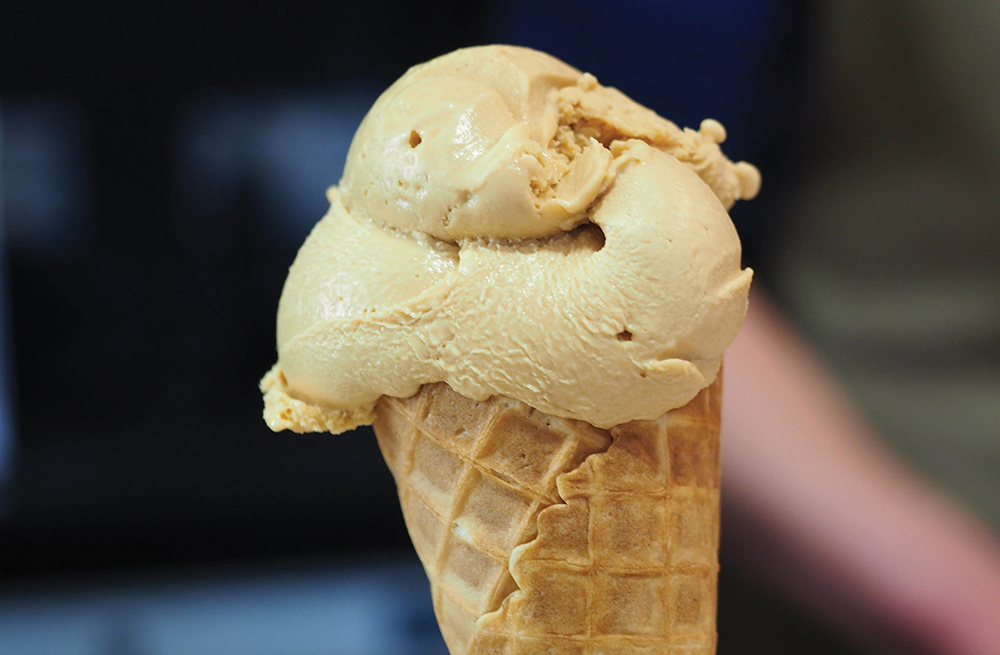 Image: Nicola Foley
1.

Jack's Gelato
Jack van Praag, the man behind Jack's Gelato, has been delighting the tastebuds of Cambridge folk for around five years, first scooping iced delights from his tricycle and now in his own bricks-and-mortar premises on Bene't Street. He picked up bags of experience cheffing in top-end kitchens around the world, and it shows on his ever-changing menu, which showcases exactly the kind of deliciously intriguing flavour combinations he's become Cambridge-famous for.
Sample gelatos such as salted treacle, malted milk or cardamom and rose, or opt for sorbets including Alphonso mango flavour with chili and salt, or Earl Grey and plum, all handmade using top-quality ingredients, often including herbs from Jack's own allotment. The shop is open from noon until 9pm daily. Follow @jacks_gelato for news and updates.