All images: Charlotte Griffiths, above, one offering at The Salisbury Arms
Charlotte Griffiths selects the best pizzas for miles around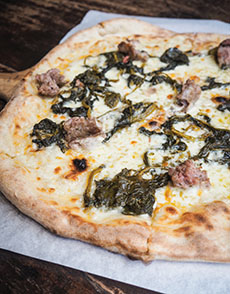 Cambridge's pizza offerings have come a long way in the last few years – gone are the days of struggling to choose between the Hut or the Express. Whittling down this list to just five proved to be a hard, but delicious, challenge. We've selected some independents to highlight, but if we've missed out your favourite, tweet us @cambsedition and tell us why…
1.

Charlie's Coffee Co.

Push past the families (or add your own brood to the play area) and get your order in pronto for some of the lightest, most flavour-packed pizza in the city. Family-run Charlie's wafer-thin dough is liberally strewn with some seriously fresh and flavourful ingredients and then fired in a G-branded Gosney oven, before being rushed to your table.
Heads up: their pizzas are large, so come hungry or ready to share – but if you don't manage it all in one sitting, their branded takeaway boxes are really rather stylish. A new-ish daytime slice bar next door allows you to sample their creations for as little as £1.50 per piece: bargain.
@kiukiuli says: "I second @CharliesCambs – anywhere with a chocolate menu is a winner"
2.

Gattuso's
Head to The Junction and cross over Hills Road for this family-friendly trattoria which serves up thin, flavourful, mozzarella-strewn Neapolitan-style pizzas alongside a lengthy menu of Sicilian-inspired dishes. There's an extensive list of topping options to choose from, including white pizzas and calzones, and a specials board which changes daily. Perfect for pre- or post-cinema eats or an after college snack – and you can even take away, if you're homeward bound.
@irishgrldm says: "Definitely Gattuso's on Hills Road – loads of toppings, super tasty!"
3.

The Salisbury Arms

No list of fine pizzerias in Cambridge is complete without the Salisbury Arms. It's been a few years since this station stop-off underwent its dramatic reimagining, but it's still a truly splendid food-powered local which puts pizza at the heart of a small but perfectly formed menu. Their wood-fired Gosney oven sends out consistently light, crisp, finger-lickingly good pizza that's beautifully seasoned and slathered with just the right amount of cheese – and if you drop by on Mondays, it's two-for-one. Pair your feast with a pint from their Bedfordshire-based brewery and slather on the home-made "goil" (that's garlic oil to you and me), and you won't be disappointed.
@TimHayward says: "Salisbury on Tenison Road. Just don't tell anyone else, huh?"
4.

Signorelli's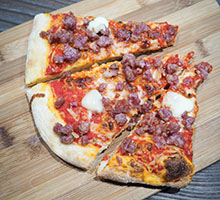 Burleigh Street's newest residents have arrived in style: this Italian eatery-slash-deli-slash-wine bar-slash-pasticceria serves up a little slice of Rome in the heart of our city. Open all day until 10 on Thursdays, Fridays and Saturdays, Signorelli's delivers whatever time you visit: some superbly tempting lunch deals give way to late-night cocktails and aperitivo. Their Roman-style pizza is, in a word, superb: piled high with toppings and created fresh every day in their in-house bakery just backstage. As owner Alex says, the food miles you'll accrue here will total about six steps – but that first bite of Bergamasca, laden with Italian sausage and Taleggio, is guaranteed to immediately transport you to the Tuscan hills.
@deepamstry says: "Going back to Signorelli's tonight – was good the first time I tried it!"
5.

Tradizioni
This much-loved Mill Road eatery started out life as a takeaway, but rapidly expanded to meet clamouring demand for their square slices. Hunker down on one of the chic white tables, admire the local art which decorates the walls, and wait for your pizza feast to arrive. Super-fresh toppings are laden onto a satisfyingly chewy, uniformly thick Roman-style base, which – if you can't manage it all in one sitting – is just as delicious for breakfast the next day. Tradizioni still delivers all over Cambridge (call them to check for your postcode) but better still, grab a bottle of Chianti from Cambridge Wine Merchants up the road and sit in to take advantage of their absolute bargain
£1 BYOB.
@MillRoadCambridge says: "Tradizioni on Mill Road – best I've ever eaten. I'm not vegan, but I even like their vegan pizzas!"
Catch them if you can
Cambridge's lively street food scene naturally includes pizzas, served hot and fresh out of mobile kitchens: if you're able to track them down at events or pop-ups, we whole-heartedly recommend both Fired UP and Pizza Mondo for delicious slices on the go. Keep your eyes on their social media pages for their next appearances.
@FiredUPizza @PizzaMondoPizza