All images: Charlotte Griffiths
Charlotte Griffiths showcases some of the best places which serve up plant-powered dishes
Cambridge now boasts several exclusively vegan eateries, so for January – a month traditionally focused on healthier feasts – I wanted to highlight some slightly lesser-known destinations where those eschewing animal products can tuck into delicious feasts alongside those more carnivorously-inclined. It was meant to be easy. It wasn't.
It felt as though some of the mainly-meat places were simply conducting a box-ticking exercise to ensure they had a "vegan" dish on the menu. Others had clearly put in a bit of effort and thought creatively about their offering, but hadn't bothered with the basics: all too often the plant-based dishes were woefully under-seasoned or – in one particularly memorable experience – bland to the point of inedible, leaving me to wonder if the brains behind the menus had actually taken the time to sit down and try the food they'd dreamed up.
At first I was disappointed, but then: I got angry. It's 2018. The Internet is full to the point of bursting with inspiration for vegan dishes and exciting flavour combinations designed for those who prefer not to consume animal byproducts. If you do want to cater to vegans, there's no excuse for mediocrity. And if you have come up with something clever, make sure it tastes delicious before it hits your customers' tables!
Don't think that this micro rant means the five I've found aren't any good: this couldn't be further from the truth. Whether you're exclusively eating vegan or just trying to cut back on meat, this list of exceptional eateries is designed to showcase some less-obvious places serving plant-powered feasts – which are all very much worth a visit.
1.

The Wandering Yak



If you were lucky enough to sneak a seat at the Wandering Yak's Mexican night at the Blue Moon before Christmas, you'll know how astonishingly talented this pair is when creating plant-based dishes.
It feels as though the duo see avoiding animal products as an exciting challenge, rather than a limitation, and the Middle-Eastern-inspired offerings served out of their food truck during the week are guaranteed to delight even the most committed of carnivores.
As their menu changes all the time you won't quite know what you're getting until you arrive at the serving hatch, but regular stars of their mezze box include Turkish bulgar salad with pomegranate, smoked paprika potatoes, crunchy Egyptian falafel, butternut squash fritters with herb and chilli pesto and roasted spiced cauliflower with tahini, lemon and agave sauce – all vegan, and all delicious.
The Yak wanders as part of the street food collective foodPark, and can be found across Cambridge throughout the week: as with most trucks, the best way to track them down on any given day is to check social media. Keep an eye out for any future special event evenings catered by the Yak: we recommend you snap up tickets as soon as you see them.
2.

Banana Leaf



One approach to accommodating vegan eaters is to head for one of the many Indian-inspired restaurants found across Cambridge – so this felt like the perfect opportunity to throw a spotlight on Chesterton's much-loved Banana Leaf.
This Sri Lankan and South Indian restaurant is always splendid whether you're eating meat or not, and proved extremely accommodating of plant-based diets: a quick chat with the waiter helped guide our choices towards several suitable dishes including a smoky dhal, a soul-warmingly-spicy vegetable curry and a small plate of lentil-based fried vadai.
Two vegan dishes stood out in particular – one was an enormous wafer-thin masala dosa, at least a foot long and a little like being presented with an edible kite, which was packed with perfectly-spiced potato and served alongside fresh coconut chutney and a tangy sambar. The other was Gobi 65, deep-fried nuggets of cauliflower coated in masala spices and accompanied by another bowl of coconut chutney. And if that's not enough to tempt you, it's all remarkably reasonably priced.
Ignore the fact that their website seems to be permanently offline and either settle into a seat in their Milton Road restaurant, or order your feast to go and enjoy it on the comfort of your own sofa.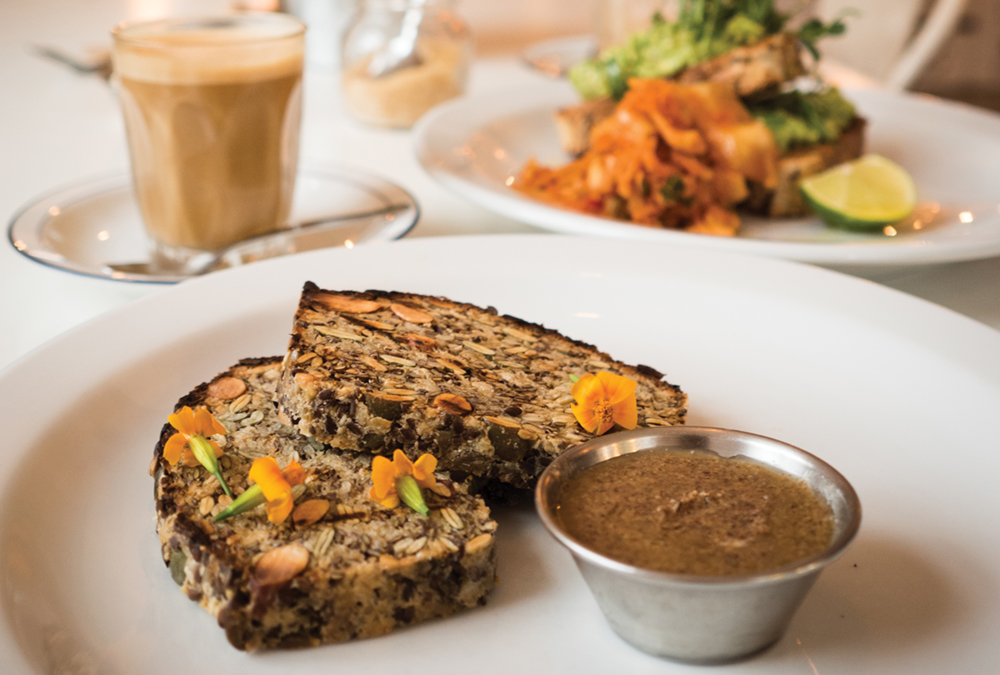 3.

Co Fifteen



Further out of town on the other side of the city is Co Fifteen, an eatery which deserves to be busier. Its calming, leafy interior is an ideal place to hide out from the stressors of modern life, and provides plant-powered brunch-like dishes that are inventively packed with flavour. Smoky carrot lox makes a clever stand-in for salmon, and their in-house fermented kimchi will wake sleepy minds just as effectively as a double shot espresso.
It's their take on a "Life-Changing Loaf" that I'd like to spotlight: two densely-packed slices of flavourful seed and nut goodness, lightly charred at the edges and served alongside gloriously slatherable hazelnut butter. The number of nuts involved means a full loaf of the stuff would be ruinously expensive (as I discovered when I asked about buying one – there's a reason Co sells it as slices!) but as a weekend treat, it's hard to beat.
Grab one of their excellent coffees – available with soya or oat milk if you're going full vegan – tuck in, and let your cares drift away.
4.

Cafe Abantu
The phrase "hidden gem" is thrown around a lot, but it is correctly applied to this delightful cafe situated alongside Wysing Arts Centre in Bourn. Head just a few miles out from Cambridge and you'll be treated to a range of delicious-sounding light lunches and a counter that's heaving with sweet treats, which always include both a vegan option and a gluten-free cake, and the occasional item supplied by local chef Paola Davies-Romano.
When I visited the café, I chose a slice of their homemade vegan toffee fudge and raspberry cake, which was sticky, sweet and everything you could hope for on a blustery winter's day. The light-drenched cafe was busy (clearly this place isn't that well-kept a secret), but the staff were very cheerful, and happy to chat between preparing orders.
There's plenty of parking available and – if you feel the need to burn off your cake after feasting – head out to enjoy the outdoor sculptures located around
the centre.
5.
La Latina Bustaurant
Eagle-eyed visitors to Cambridge Retail Park in the pre-Christmas maelstrom will have spotted this cheerful double-decker parked up next to Homebase, providing knackered shoppers with respite and delicious eats inspired by South American dishes and flavours.
The bustaurant is exactly as you're imagining – an old two-storey coach that's been beautifully renovated, with a small but perfectly-formed kitchen downstairs and a light and airy set of tables and chairs upstairs, upholstered with old coffee sacks and adorned with colourful bunting. You even have to climb the bus's original stairs to access the dining space.
Owners Catalina and Nelson offer a neat menu, all of which is customisable to vegan appetites: the tostones – double-fried green plantain served with spicy tomato, bean and veg toppings – is a particularly effective winter warmer, or try a small pile (you can't just have one) of the vegan empanada for a finger-lickingly delicious lunch.