A recently released cookbook celebrating British farmers and their food features Cambridgeshire farms and recipes. We find out more…
If there's one thing the lockdown gave us, it was time. Those of us used to rushing from pillar to post suddenly had a chance to pause, reconnect and take our time with life's simple pleasures – and for many, chief among them was food. Planning, cooking and eating meals took centre stage in lockdown life, and we also developed a new appreciation of what growers, butchers, bakers, deli owners, delivery drivers and shop staff do to put great food on our plates. All of which makes For The Love of The Land, a new cookbook from Meze publishing, a timely release. It's compiled by Jenny Jefferies, and features farms from the length and breadth of the UK, specialising in everything from lamb to lavender; cheese to chillies.
Among their number are numerous local farms, including Burwash Manor Farm in Barton, South Farm near Royston, Caldecote Farm in Milton Keynes, and La Hogue Farm in Chippenham, alongside stars of the food world such as Michelin-starred chef Tommy Banks. As well as stories from the farms and contemplations onto the future of our country's agriculture, the book features an mouth-watering selection of recipes that showcase the best of British produce, from Blackbrook Beef Bolognese from a traditional lowland farm in Leicestershire to Reestit Mutton Soup by two sisters who run their family farm on Shetland.
"After marrying my husband, John, I discovered the wonderful, challenging and sometimes isolating world of farming" comments Jenny Jefferies, who compiled the book. "I never before quite appreciated where our food came from so it's been a real privilege to speak with the farmers within this book; they are truly the backbone of our country. They nurture and provide for us; putting food on our table for us to enjoy, so let's give thanks and praise for all the hard work that they do.
"This book has become a labour of love and I hope this collection of stories and of the farmers' favourite recipes is simply enjoyed for its food, provenance and for the sharing of good and positive stories. This is a celebration of British farming – enjoy!"
Read on for delicious recipes from local recipes featured in For The Love Of The Land.
Burwash Manor Farm's meatballs in tomato sauce
"This is the recipe that we use in The Larder for our meatball sub sandwiches, but there are any number of variations on the theme; you could use 100% beef or any ratio of pork to beef, and they'll team with any carbs (couscous, quinoa, rice, pasta, noodles, potatoes) or none (finely chopped cauliflower, for example) with gravy, apple sauce, onion marmalade, redcurrant or cranberry jelly, topped with fennel seeds, chilli flakes, or oregano. We're always keen for customers to tell us what works for them!"
Prep time: 20 minutes
Cooking time: 20 minutes
Serves: 4
Ingredients
500g sausage meat (we obviously prefer our own Burwash reared meat!)
1 onion
Knob of butter
2 cloves of garlic
500-700g passata (1 jar)
Salt and pepper, to taste
Dash of Tabasco, if that's your thing
Step-by-Step Guide
Preheat the oven to 180˚c and grease a deep-sided baking tray. Squeeze the sausage meat into a large mixing bowl. Using your hands, shape the mixture into around 20 small balls, each about the size of a gobstopper. Place these a few centimetres apart on the prepared tray and bake in the preheated oven for 10 minutes.
Meanwhile, slice the onion into half centimetre strips and fry gently in the butter. Finely chop the garlic and add to the onion when it has softened. Fry until soft and on the verge of caramelising. Pour the passata over and reduce to a simmer. Add seasonings to taste.
After the 10-minute baking time, shake the meatballs on the tray and pour the sauce over the top, mixing well. Add 50ml of water and put the tray back in the oven for 10 to 15 minutes until the meatballs are cooked through.
Find your crusty bread and grated cheddar cheese, or prepare your pasta and Parmesan, or make some quinoa and salad…whatever you fancy to accompany them!
Caldecote Manor Farm's pheasant and asparagus bake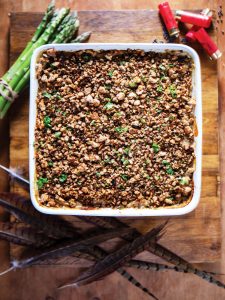 "During shooting season this dish is a firm favourite at the shoot lunches, especially as we always use our own birds. It's equally delicious with partridge, turkey or chicken."
Prep time: 1 day
Cooking time: 30 minutes
Serves: 6-8 people
Ingredients
2 sticks of celery
1 carrot
1 onion
8 pheasant breasts
1 bay leaf
A few parsley stalks
1 can of asparagus
50g butter
75g plain flour
500ml stock
100ml milk
295ml tin of condensed chicken soup
200ml crème fraiche
1 tbsp wholegrain mustard
2 tbsp chopped parsley
For the topping
25g butter
5 or 6 slices of bread
Step-by-Step Guide
Make the stock the day before. Roughly chop the celery, carrot and onion. Arrange the pheasant breasts snugly in a casserole dish with the bay leaf and parsley stalks on top. Season with salt and pepper, then cover all the meat and veg with cold water. Bring to the boil and then simmer for 1 and a half to 2 hours until the pheasant breasts are very tender. Leave to cool completely in the liquid, then measure out 500ml of the stock to use in the dish.
When the pheasant breasts are cool, cut each of them into four or five pieces and lay them out in an ovenproof dish. Cut the asparagus into thirds and place on top of the pheasant breasts.
In a separate pan, melt the butter and then stir in the flour to make a paste. Gradually add the stock, milk and chicken soup. Simmer until the sauce has thickened. Remove the pan from the heat and add the crème fraiche, mustard and parsley.
Season the sauce to taste, then pour it over the pheasant breasts and asparagus. Gently mix everything together.
For the topping
Turn the bread into breadcrumbs by whizzing the slices in a food processor. Melt the butter in a pan and add the breadcrumbs. Mix until well combined. Pour the topping over the pheasant and asparagus mixture. Bake in a preheated oven at 180°c for around 30 minutes. Best served with vegetables and either new or baked potatoes.
La Hogue Farm Shop and Cafe's slow cooked pulled lamb
"Lamb has always been one of my favourite meats and this recipe perfectly displays its versatility. The melt-in-the-mouth shoulder is rich and warming and reminds me a little of crispy Peking duck from your Chinese… In fact, I simply reheat any leftovers on the bone and shred the meat off into pancakes or wraps with spring onion, cucumber and sweet chilli or hoisin sauce!"
Prep time: 20 minutes
Cooking time: 5 hours 30 minutes
Serves: 6
Ingredients
1-1.5kg lamb shoulder, bone in
Splash of olive oil
25g butter
4 large onions, peeled and quartered
1 bulb of garlic, cloves separated and peeled
240ml white wine
240ml chicken or beef stock
4 sprigs of fresh rosemary
3 bay leaves
1 lemon, zested
1 tbsp Dijon or wholegrain mustard
2 anchovies
1 tbsp cumin seeds
Salt and black pepper
3 tsp cornflour, mixed with 60ml water
Step-by-Step Guide
Take the lamb out of the fridge 1 or 2 hours before cooking so it comes to room temperature. Preheat your oven to 130°c and heat a little oil in a large frying pan over a high heat. Add the lamb shoulder, skin side down, and cook until browned. Turn over and brown the other side then set aside on a plate. Drain the excess fat from the pan.
Reduce the heat to medium-high, add the butter to the same pan and cook the onions for a few minutes until golden. Add the garlic cloves and cook for another few minutes. Add the wine, turn up the heat and let it bubble rapidly for a minute while you scrape up any caramelised juices stuck to the bottom. Add the stock, rosemary, bay leaves and lemon zest. Stir then carefully pour everything into your largest roasting dish.
Place the lamb shoulder into the dish, skin side up. Spread the mustard and anchovies over the top and drizzle with olive oil. Sprinkle with the cumin seeds and season with salt and pepper.
Cover the dish tightly with tin foil and bake in the preheated oven for 5 hours or until the meat is falling off the bone. Baste the lamb a couple of times while it's cooking. Remove the tin foil, turn up the oven to 200°c and cook for another 10 to 15 minutes before serving.
Transfer the lamb to a warmed plate or platter – use a dinner plate instead of tongs, as it will be falling apart and very tender – then cover with the foil. Let it rest for 10 to 15 minutes.
To remove the layer of oil on top of the pan juices, gently lay 6 or 7 paper towels on the surface without pressing down. Wait a few minutes for them to soak through, then discard. Pour the remaining pan juices through a sieve into a clean saucepan. Add the cornflour mixture and boil until the liquid has reduced to a nice pouring sauce while the lamb rests. Taste and season as required.
To serve, pull the lamb into nice big chunks. Serve on mashed potatoes with seasonal vegetables, pour your gravy over the top and scatter with a few fresh herbs for garnish. Leftover lamb can be used to make a great salad or sandwich for lunch the next day.
South Farm's home-grown heritage tomato salad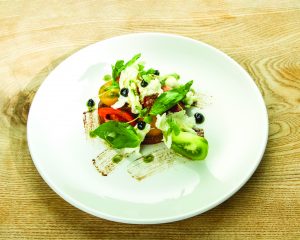 "In the summer months, our many varieties of tomato plant burst with colourful fruit. Some of the most interesting tomatoes we grow are Indigo Beauty, Golden Sunrise, Red and Green Zebra and Giagantomo. Using a mix of varieties and sizes will enhance the visual impact and deliciousness of this salad."
Preparation time: 30 minutes
Chilling time: at least 1 hour
Serves: 4
Ingredients
100ml aged Aceto Balsamico de Modena vinegar (or any other good quality balsamic vinegar)
2g agar-agar (a vegetarian alternative to gelatine)
1 or 2 of each tomato variety you have (use as many colours, sizes and textures as available)
20g smoked Maldon sea salt
20 basil leaves
50ml aged Aceto Balsamico De Modena glaze
250g burrata (or buffalo mozzarella)
5g basil cress (or very young basil)
5g shiso cress (optional)
100ml good quality extra-virgin olive oil
20ml basil oil
Step-By-Step Guide
For the balsamic jelly cubes, Bring the balsamic vinegar to the boil, then stir in the agar-agar using a whisk. Make sure it has all been dissolved. Line a small tray with cling film and pour the balsamic mix into the tray. Leave the jelly to set in the fridge for at least one hour. This can be done a day in advance. Once set, tip the contents of the tray onto a chopping board and dice the jelly into 1cm cubes.
To prepare the tomatoes, cut each tomato into different shapes, letting their shape guide you. Don't go for the same size pieces. Some tomatoes naturally lend themselves to being cut into large chunks, others could be sliced, and some, for example baby plum tomatoes, could be left whole or simply halved. The aim is to have a variety of shapes, sizes, colours and textures. Once you are happy with the mixture of tomatoes, season them with the smoked Maldon sea salt. Tear the basil leaves into pieces using your fingers and add them to the tomatoes. Toss them in the bowl to mix everything together, then cover the bowl with cling film and leave to sit on the side for up to 15 minutes. The salt will season the tomatoes and release their wonderful flavour.
To assemble, place four plates in front of you. Dip a pastry brush into the balsamic glaze and spread some in the centre of each plate. Divide the seasoned tomatoes between the plates, making sure that every serving has a variety of shapes and sizes. Tear the burrata or mozzarella into 12 pieces and divide them between the four plates. Add five or six cubes of balsamic jelly to each plate, but if you love balsamic then feel free to add more! Sprinkle the basil cress and shiso over the top then finish the salad with a drizzle of extra-virgin olive oil and basil oil.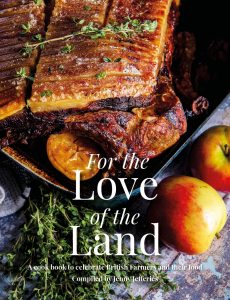 For the Love of the Land is published by Meze Publishing, priced at £22 with a proportion of royalties going to The National Literacy Trust. Pick up your copy from bookshops, Amazon or fortheloveoftheland.co.uk