An in-the-know gem with a New York loft bar vibe
A Cambridge favourite for more than a decade, Italian restaurant De Luca added an inspired new addition to its offering in 2014 with the launch of its top-floor cocktail and piano bar. With a great atmosphere, killer cocktails and New York loft bar vibe, it quickly established itself as an in-the-know gem for those in search of something a little different from their night out in the city.
"I think part of the success of the bar has been that it is hidden away," says Robin from the De Luca team. "People discover it and then revel in introducing it to their friends and family, taking ownership of it as if it was their own." And in a way, it does belong to the punters, offering a piano and vocal show which revolves entirely around audience requests, driven by the musical passions of whoever's in the house that night. Stop by and you can expect to hear the ivories tinkling everything from Elvis to Kanye West to Ed Sheeran: a melting pot of genres and eras where anything goes and there's something for everyone. Audience members are encouraged to throw their inhibitions out of the window (easily done after a couple of cocktails), and sing along, making for a cracking atmosphere.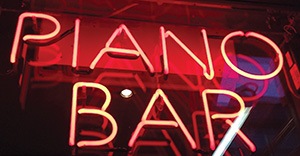 Drinks-wise, they do well on classics like espresso martinis and mojitos, but we recommend sampling something that has a De Luca spin, like the Strawberry and Elderflower Fizz with elderflower liquor, or the Hendricks mojito. With both the good cheer and the drinks flowing, Robin tells us that the Regent Street bar is a great meeting place.
"A number of people have started relationships with a date at the bar," he says. "We have even had engagements, and taken the piano show to perform at the weddings!"
As of September, there will be piano entertainment on Thursday, Friday and Saturday evenings. The bar is available for private hire Sunday to Wednesday.