Nicola Foley hosts a dinner party… with a little help from the pros
While I adore the idea of hosting elaborate dinner parties – of rounding up my friends and impressing them with a huge feast, lots of wine and witty conversation in the comfort of my own home – I think we can all agree, the reality is somewhat more stressful. Trying to coolly entertain a group of people and simultaneously whip up a culinary masterpiece is no mean feat. In fact, I'd go as far as to say it's virtually impossible to properly enjoy oneself until after you've served up the dessert (unless of course you're some kind of domestic ninja, which I'm most emphatically not).
Enter La Belle Assiette: a company on a mission to make home entertaining as stress free and enjoyable as possible. Founded in 2012, the company brings top-flight chefs into homes around Europe, operating a nifty online booking platform where you can browse menus and find out more about the chefs on their books – all of whom are both fully vetted and extremely talented. Within a few short clicks you can have your dinner party sorted, with as little as 24-hours notice, and the chef will be on your doorstep at the allotted time, replete with all the ingredients, utensils, cutlery and crockery needed to make your feast go off without a hitch.
In celebration of the launch of La Belle Assiette in Cambridge (hurrah!), I was invited to try out the service – an invitation which I (and seven of my friends) enthusiastically accepted.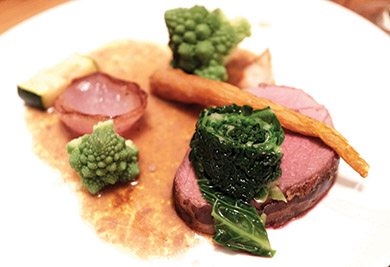 Our host for the evening was the lovely Alec Tomasso, who's appeared on Masterchef no less, and who instantly made us all feel at ease while he pottered about getting things ready and describing our jaw-droppingly elaborate and delicious sounding menu.
One of the great things about La Belle Assiette is that chefs get to flex their culinary creativity – creating well thought-out menus which you can help them design, depending on your likes and dislikes and the kind of dinner party you're after. Scan the website and you'll find everything from a garden barbecue to a Japanese-French fusion feast to a three-course fine dining affair.
While we sat, chatted and sipped a few pre-dinner drinks, Alex got to work on creating our dinner, ushering us through to the dining room when the first course was ready. Home-made bread was accompanied by creamy salty-sweet balsamic butter, before we tucked into duck egg and truffle custard. The next course involved a perfectly textured risotto with succulent Scottish langoustine tail and the tender venison main, with its rich jus and Romanesco broccoli, parsnip, onion and cabbage accompaniment, was a triumph of a pièce de résistance. A refreshing blackcurrant sorbet – again, impressively made from scratch on the night – rounded off the meal beautifully.
The evening was deemed a great success by all. The food was exquisite, and despite the uber-ambitious goings on inside, Alec left my kitchen absolutely spotless (yes, including doing all the washing up).
If you fancy drafting in the help of the pros at La Belle Assiette for your next dinner party, the offerings start at £39 per head. Find out more online.