Shun your soulless, tax-dodging coffee chains and join us in rejoicing at the opening of Stir, a fresh new neighbourhood coffee shop in CB4. Located on Hawthorn Way/Chesterton Road, Stir is run by Matt and Judith Harrison, who wanted to create a social hub where people can meet over good quality coffee.
"This has been a labour of love for us," explains Judith. "There's just nothing like Stir on this side of Cambridge. People often don't want to go very far to get a coffee and we hope to offer them a fantastic place where they can get great coffee and food, relax and unwind without having to trek into town."
Inside, the décor is Nordic/industrial, with a friendly vibe. There are extra large tables for groups of rowers and cyclists, lots of space for parents with pushchairs (we love the big chalkboard wall too, great for keeping little ones busy!), plus a great outdoor area for any unseasonably warm autumn afternoons. The pair also hope to welcome groups and classes to make use of their 'Back Room'.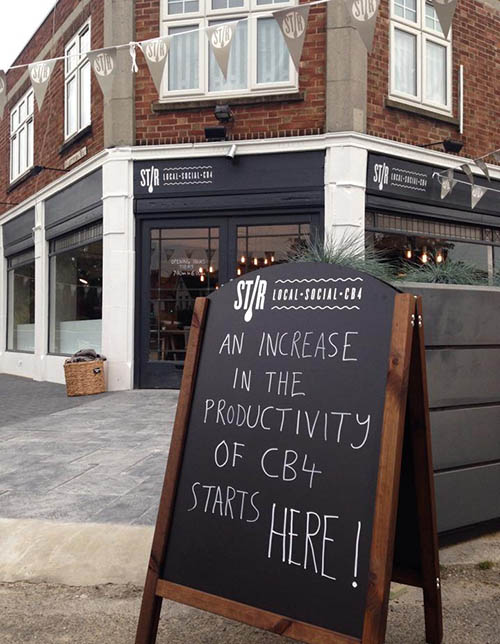 "The Back Room is a superb area which gives us total flexibility. Our philosophy is unashamedly about serving the needs of those who live, work and play in the area so we're teaming up with people in the community to offer a range of activities and events," adds Judith.
"We'll be hosting everything from Pilates and baby massage classes through to toddler art, fitness classes and even a local knitting group. And over the October half term we'll be running all sorts of things to keep the kids occupied."
The menu includes sourdough toast, porridge for breakfast and a selection of panini – all with a gluten-free option, and all locally and fairly produced.