Our city's iconic bakery shares some crowd-pleasing ideas to make your picnic an alfresco feast to remember
Savoury courgette muffins (makes 12)
The grated courgette in these muffins keeps them wonderfully moist, like the carrot in a carrot cake. The feta, sun-dried tomatoes and parmesan add an irresistible salty, savoury, umami taste. These are perfect for a savoury breakfast or picnic.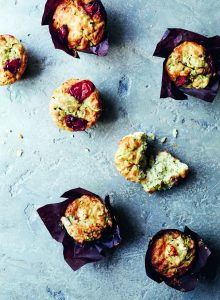 Ingredients
• 200g plain flour
• 40g jumbo oats
• 2 tsp baking powder
• 1/2 tsp bicarbonate of soda
• 1 tsp salt
• 1/2 tsp black pepper
• 8g basil leaves, chopped
• 60g parmesan, grated
• 2 medium eggs
• 250ml buttermilk
• 4 tbsp olive oil
• 200g courgette, grated
• 40g pine nuts for the topping
• 40g sun-dried tomatoes, chopped into
small pieces
• 40g feta cheese, chopped into cubes
• 20g parmesan, grated
Step-by-Step Guide
1. Preheat the oven to 230°C (210°C fan) and place paper muffin cases in a 12-hole muffin tin. 
2. Mix together the flour, oats, baking powder, bicarbonate of soda, salt, pepper, basil and parmesan in a bowl.
3. In a separate bowl, beat together the eggs, buttermilk and oil. Pour the wet ingredients over the dry ingredients. Stir to combine, then add the grated courgette and pine nuts and stir until just combined (do not overmix or you will make tough muffins).
4. Spoon the mixture evenly into the 12 muffin cases. Top with the pieces of sun-dried tomato and feta and sprinkle over the parmesan.
5. Bake for 20–25 minutes until the muffin tops have domed and they spring back to the touch. Remove from the oven and leave to cool in the tin.
Fresh Fruit Tarts (makes 12)
These tarts are the precious jewels of the bakery world. The bright, translucent colours of the fruit look so beautiful and they taste so fresh. People who say they don't like cake like these tarts. So simple, so perfect.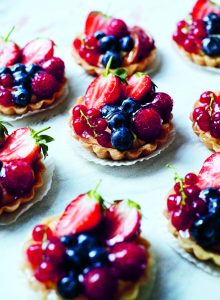 Ingredients
• 540g pre-made sweet pastry
• Fresh strawberries, raspberries, redcurrant, sliced peaches, cherries, mint leaves etc
For the creme patissiere 
• 300ml full-fat milk
• 1 tsp vanilla bean paste
• 3 medium egg yolks
• 50g caster sugar
• 2 tbsp cornflour
• 2 tbsp plain flour
For the topping
Apricot gam, for glazing (optional); butter or cooking oil, for greasing
Step-by-Step Guide
1. Put the milk in a saucepan, add the vanilla bean paste and bring to the boil. Leave to cool a little.
2. Put the egg yolks in a bowl (save the whites for making meringues) and whisk in the caster sugar. Add the cornflour and plain flour and mix to combine, then whisk in the warm milk.
3. Clean the pan, then strain the creme patissiere mixture back into it. Bring to the boil, stirring continuously until thickened.
4. Pour into a bowl and immediately cover the top with a piece of cling film – the cling film needs to be touching the surface of the creme patissiere to stop a skin forming. Let it cool completely, then refrigerate.
5. Preheat the oven to 190'C (170'C fan). Grease and flour 12 small tart tins – or a muffin or cupcake tray, but these make smaller, deeper tarts, so less room for decoration.
6. Now make your tart cases. Remove the pastry from the fridge. If it's been in there a long time, ie overnight, get it out half an hour before so that it comes to room temperature. Lightly flour a surface and roll out the pastry. Ensure it doesn't stick by moving it around gently as you work and keeping the surface well floured.
7. Using a cutter slightly larger than your tart tins, cut out 12 suitably sized circles and gently press them into the bases and sides of the tins. Trim the top edges all the way around with a sharp knife and prick the bases with a fork. Blind bake for 15 minutes until lightly golden – you don't want to overtake the edges, but nor do you want a soggy bottom. Leave to cool completely.
8. Fill the bottoms of the tart cases with the creme patissiere. We usually make a lot, so we use a piping bag, but spreading with the back of a spoon works fine, too.
9. Go mad topping them with fresh berries, sliced fruit and mint leaves.
10. If you are serving the tarts immediately, they will be fine just as they are. if you want to serve them the next day or add a bit of gloss, you can glaze the tarts with some warmed apricot jam (add a teaspoon of boiling water if it seems overly thick).
Savoury Tart
We love changing the flavours of our savoury tart, and there are infinite ways to vary things, but it's worth remembering this simple rule – most tarts work well with one main vegetable, one aromatic element and one cheese. Also bear in mind that one medium egg will set 200g of cream, and 200g of cheese to 1.2 litres of cream makes a good strong cheesy flavour. We make all our tarts vegetarian, but there's nothing stopping you from adding any meaty element that takes your creative fancy.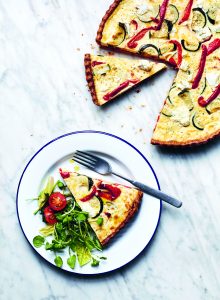 Ingredients
•  500g pre-made shortcrust pastry
•  6 medium eggs
•  1.2 litres double cream
•  Salt and pepper
•  Butter, for greasing
•  Plain flour, for dusting
Filling flavours

Spinach, lemon & ricotta:
•  200g baby leaf spinach, wilted and drained 
•  Zest of 1 lemon
•  50g ricotta
Mushroom, asparagus & taleggio:
•  100g mushrooms, sliced and quickly fried in butter until soft
•  100g asparagus, steamed and cut into chunks
•  200g taleggio, chopped into rough slices
Onion, marjoram & goat's cheese:
•  2 red onions, roasted whole in their skins at 170ºC (150ºC fan) for 30 minutes, then tough outer leaves peeled off, the onions quartered and flaked into individual 'petals'
•  Sprinkling of marjoram
•  200g goat's cheese, chopped into small chunks
Leek, new potato & smoked Cheddar:
•  100g leeks, sliced and softened in a little butter
•  100g new potatoes, cubed and boiled
•  200g grated smoked cheddar
Roasted red peppers & feta:
•  100g jarred roasted red peppers, cut into strips
•  200g feta, roughly crumbled
Courgette, lemon thyme & ricotta:
•  100g courgette, coarsely grated or finely chopped
•  Sprinkling of lemon thyme
•  200g ricotta
Step-by-Step Guide
1. Preheat the oven to 180°C (160°C fan) and grease and flour a 28cm tart tin. This will give you a wide, shallow tart that looks great on the table. Use a narrower, taller tin if you need deeper, chunkier slices for portability. 
2. Remove the pastry from the fridge. If it's been in there a long time, ie overnight, get it out half an hour before so that it can come to room temperature.
3. Lightly flour a surface and roll out the pastry until it's a few inches wider than the tin, Ensure it doesn't stick by moving it around gently as you work and keeping the surface well floured.
4. Roll the pastry over the rolling pin and then place it over the tart tin. Gently press into the sides, then trim the top edge with a sharp knife. Prick the base with a fork.
5. Blind bake for 20 minutes until lightly golden – you don't want to overbake the edges, but nor do you want a soggy bottom.
6. After the 20 minutes, paint the interior of the tart case with the egg wash and return to the oven for five minutes. 
7. Reduce the oven temperature to 100°C (80°C fan). Add the cream to the eggs, then season generously with salt and pepper. Mix well.
8. Arrange your chosen fillings in the tart case, then place it on the oven shelf. Carefully pour the custard mixture into the tart case to cover your filling, then close the oven door. The longer and lower you can cook your custard, the smoother and more unctuous it will be. The core temperature of the custard needs to be 80°C to be perfectly and safely cooked, so any oven temperature of 100°C (80°C fan) or higher will eventually set it perfectly as long as you're not in a hurry.
9. There are two ways to be sure that your tart has a perfect texture. You can use the traditional 'wobble test', where you shake the tart gently and stop cooking when the custard 'wobbles' without 'slopping', but before it goes solid. It's a great trick, but you really need an experienced cook to show you how it's done. 
Rosie Sykes, our first chef at Fitzbillies, showed us her wobble in 2002 and our tarts have never been the same since. At home, we'd recommend doing the wobble test after 25 minutes of cooking time and at ten-minute intervals thereafter until set. You can also use a probe thermometer like our chefs, cooking in a low oven until the centre of the custard reaches 80°C.
If neither of these methods appeal, or if time is of the essence, cook at 200°C (180°C fan) for 45 minutes. This will give you a safe tart, though possibly a more rubbery one. 
10. Allow to cool before tucking in.