Roast Butternut Squash and Parsnip Soup
Time: 15 minutes prep, 45 minutes cooking.
Serves: 8
Michelle Alston shares January recipes that show eating well needn't be time-consuming or expensive
A warmly spiced roasted butternut squash and parsnip soup, topped with crispy chorizo,
spiced chickpeas and a crumbling of feta
Ingredients
• 1 medium butternut squash (850g), peeled and cut into chunks
• 3 parsnips (425g), peeled and cut into chunks
• A pinch of sea salt and ground black pepper(1/8tsp each)
• 3tbsp olive oil
• 4 fat cloves of garlic, skin on
• 1 medium onion (125g), peeled and roughly diced
• 1tsp of cumin
• ¼tsp smoked paprika
• 4 or 5 sprigs of thyme
• 1 vegetable stock
Toppings:
• 70g chorizo, sliced and
chopped
• 120g cooked chickpeas
• ¼tsp smoked paprika
• 50g feta, crumbled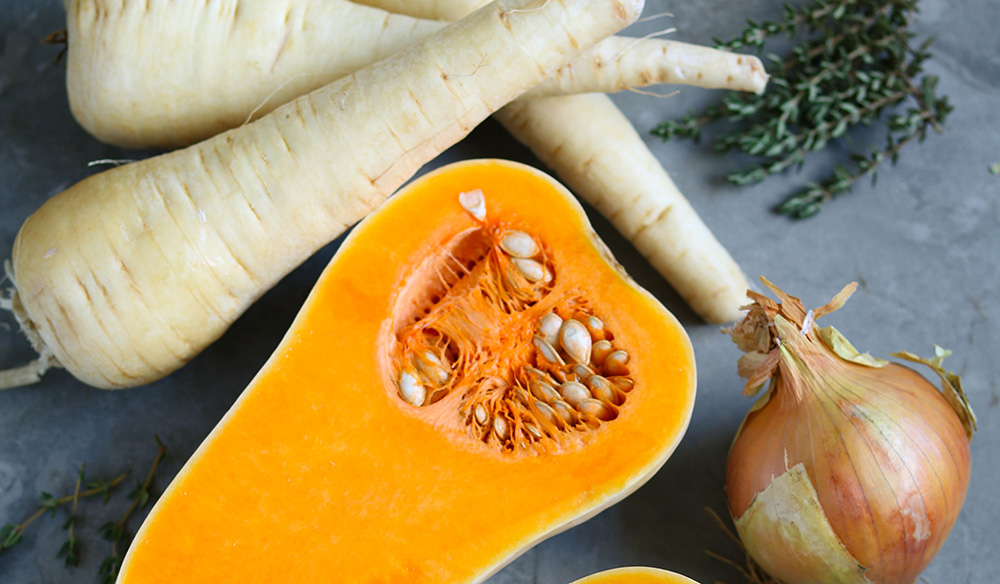 Directions
1. Preheat the oven to 180°C. I use a fan-assisted electric oven so please adjust for your oven, approx. 200°C/gas mark 4.
2. Place the butternut squash, parsnips and garlic on a large baking tray. Add 2tbsp oil, salt and pepper, and make sure everything is coated in the oil then roast for 35 minutes, turning the veg over halfway through.
3. While the vegetables are roasting, dry fry the chorizo in slices. When nice and crispy remove from the pan and place on some kitchen paper to soak up the oil. Once cool, chop it up into small pieces.
4. Now heat 1tbsp oil in a large saucepan, add the onion and cook over a low to medium heat for about 10 minutes, or until they are soft and golden. Then add the spices and cook for one minute.
5. When the veg is soft and almost caramelised at the edges, after about 35 minutes, take the garlic from the roasting tray. Carefully remove the skin and add the soft garlic to the saucepan with the onion spice mix. If there are any hard bits, discard them.
6. Now add the roasted squash, parsnips, stock and thyme sprigs. Season with a little sea salt and ground black pepper, stir and simmer for 10 minutes.
7. Drain and dry the chickpeas. Put them on the oven tray used for the veg, then add the smoked paprika and mix well. Cook in the oven for about 10 minutes, giving the tray a shake halfway through.
8. After 10 minutes remove the thyme sprigs from the soup, and blend using a handheld blender, until smooth.
9. Serve hot with the chorizo, chickpeas and feta.
Notes: This soup will keep in the fridge for up to three days. Let it cool down before you put it in the fridge. Keep the topping separate and add to the soup when reheated. Want to make the soup vegetarian? Leave out the chorizo, and make sure you use vegetarian feta. And if you want to make it vegan, leave out both the chorizo and feta and serve with chilli seed crackers.
Ely-based Michelle Alston writes The Last Food Blog, where she showcases recipes which prove that eating well needn't mean time-consuming and expensive recipes. A trained dietary coach, she launched her blog with a goal of sharing knowledge, helping people to make healthier food choices and encouraging the use of great quality, local and seasonal ingredients. We love the gorgeous photography on her blog, and how achievable all
the dishes seem!