Recipe#1 Carrot & courgette burger with shaved fennel and sriracha mayonnaise
Ingredients
2 carrots
1 courgette
1 shallot
salt, ground cumin & ground cinnamon
1 egg cashews breadcrumbs
To serve fennel sriracha sauce mayonnaise a brioche bun
Step-by-Step Guide
1.Grate two carrots and one courgette, add a finely chopped shallot, then soften the mix in a little oil over a medium heat. Add salt, ground cumin and a small pinch of cinnamon.
2. When the mixture is soft, add a handful of the cashews, finely ground. Then mix thoroughly.
3. Break an egg into the mixture and combine again: if cooking for vegans, you could replace this egg with a mashed sweet potato. Mix a handful of breadcrumbs into the mix to help bind it even further.
4. Shape into patties and leave in the fridge for a couple of hours to solidify.
5. When ready to cook, press the burger into a shallow dish of breadcrumbs to coat the exterior. Place on the BBQ until golden brown and cooked through.
6. To serve, thinly slice a fennel bulb and add a thin layer onto a bun of your choice: we served this on a soft brioche-style bun to contrast with the crunchy vegetable patty, but it would work in a flatbread or tortilla wrap. Apply a dollop of sriracha mayonnaise, created by mixing the spicy sauce with mayonnaise
Recipe#2 Aubergine, halloumi, tomato & chimichurri
Ingredients
1 aubergine
1 block halloumi
1 tomato
1/2 red chilli
1 shallot
garlic
red wine vinegar
olive oil
bunch of parsley
To serve
ciabatta rolls
Step-by-Step Guide
1. Slice your aubergine so you end up with discs about two centimetres thick. Lightly oil and season these and start barbecuing: these are done when soft and blackened. Keep them somewhere warm, like a low oven, to wait for assembly.
2. Slice the halloumi into one centimetre thick slices and start griddling: they're done when they're brown and crispy on the outside. Try to resist eating them and place these somewhere warm to wait.
3. Finely slice a fresh tomato. Create a zingy chimichurri by combining a chopped bunch of parsley, half a red chilli, one shallot, one clove of garlic, a healthy splash of red wine vinegar to taste and enough olive oil to loosen the mixture. You want this to be like a more liquid pesto sauce.
4. Drizzle the chimichurri over the assembled burger and place slices of fresh tomato between the barbecued components. The combination of fresh flavours and smoky aubergine should be a real hit.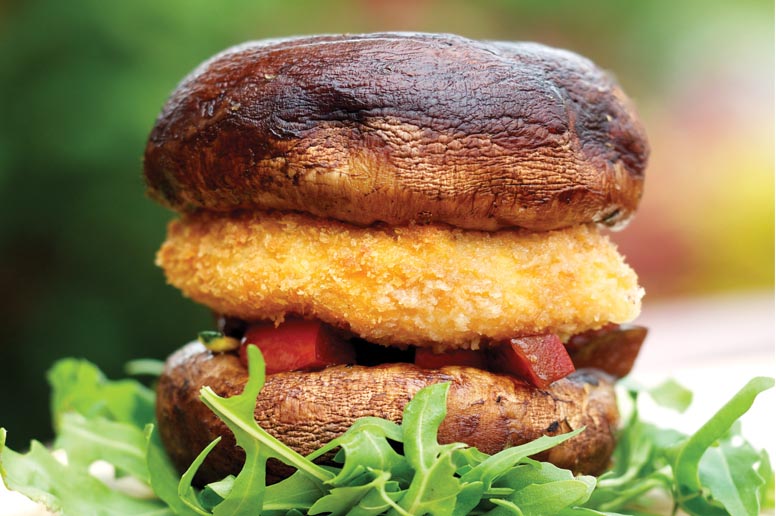 Recipe#3 Mushroom, mozzarella & caponata
Ingredients
2 portobello mushrooms per person
1 mozzarella ball
beaten egg
breadcrumbs
a handful of flour
For the caponata
1 courgette
1 stick celery
1 red pepper
1 aubergine
balsamic vinegar
olive oil
caster sugar
Step-by-Step Guide
1. Take two portobello mushrooms for each single burger. Remove the stems, lightly oil and season both, then slice the dome off one to make a stable base. Place these mushrooms on the BBQ and turn regularly until cooked – then keep somewhere warm until it's assembly time.
2. Deep-fried mozzarella is a rather cheeky addition to this unusual burger – the gooeyness of the cooked cheese gives you a truly sloppy Joe-style experience, hopefully held together in a handy package by the cooked mushrooms.
3. Slice a mozzarella ball. Coat a slice in flour, egg and breadcrumbs. Shallow fry until golden brown, taking care not to burst it. Keep somewhere warm.
4. Make the caponata by chopping the courgettes, celery, red peppers and aubergines and softening in olive oil over a medium heat. Then finish with balsamic vinegar and caster sugar to taste.
5. Fill the grilled mushrooms with a few spoonfuls of caponata. This sweet/sour mix should go perfectly with the gooey mozzarella and provide an excellent crunch. Place the top (domed) mushroom on the breaded mozzarella and serve with napkins – this is a fun one to get stuck into.