It's all about individuality at Cambridge Canteen, the new out-of-town eaterie serving burgers your way, writes Jenny Shelton.
We're always on the lookout for a really good burger here at Cambridge Edition, so when we heard about a new burger joint springing up just minutes from our offices, a post-work dinner was duly planned. Cambridge Canteen opened earlier this year in Whittlesford, offering a princely selection of 'build-your-own' burgers, each named after a Cambridge college.
We're used to reading about 'hidden gems' and 'best-kept secrets', but Cambridge Canteen really is well hidden. Find it by the Duxford Junction for the M11, within an unassuming 60s building. Inside, however, it's all clean lines, wood and candles, with a fresh, modern Scandinavian vibe. Tables are long, designed for communal, sociable eating, and it's possible to peek into the kitchen and watch your burger being assembled.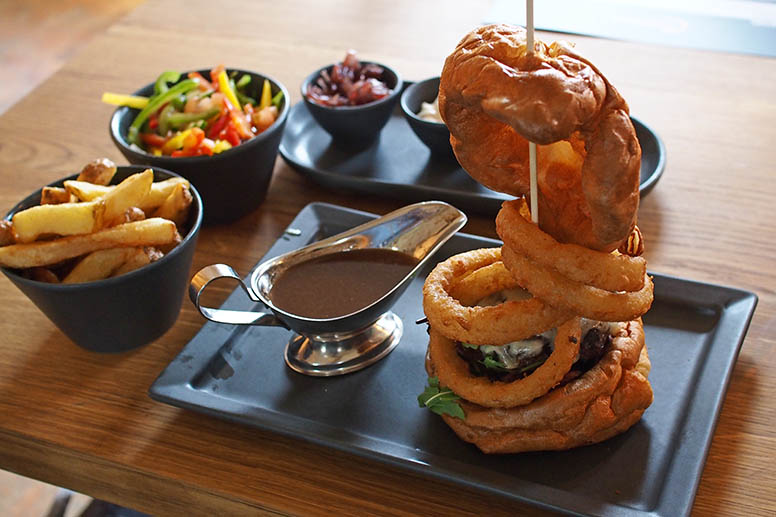 Creativity is key to Cambridge Canteen. The menu invites diners to select the patty of their choice – chilli beef, venison, lamb or lentil and mushroom to name a few – then a bun, chips (sweet potato fries or rustic chips) and type of cheese.
I went for the venison burger – the Wolfson – with rustic chips, Dapple cheese (a mild, Norfolk variety) and a Yorkshire pudding bun. This may be a first for Cambridge, and is certainly the only time I've combined a Yorkshire pud with a burger. Fortunately, it came with gravy, staving away any dryness, as well as a selection of sauces, including a sweet, homemade onion relish, and separate colourful side salad, justifying the £15 all-in price tag. The concept is novel, and the portions are huge, making for certainly the most toweringly impressive burger I've ever had the pleasure of devouring.
The meaty options went down well within our group, and the veggie option, featuring a generous lentil patty with Portobello mushroom on top, served with cheese, caramelised onions and baby mushrooms, certainly had all bases covered (there's also the option to substitute your bun for a side of mixed grilled vegetables).
The staff were attentive and friendly, and quick to oblige a request to give the skinny sweet potato fries a little longer in the heat, ensuring they came back deliciously crispy outside and fluffy within. They also provide a little theatre when it comes to the daily Chef's Special, adding a sparkler to each order as it is presented to your table.
Groaning from the effort of devouring (most of) my enormous burger, I steeled myself to order a pavlova to finish. This proved an excellent move; the dessert arrived in a glory of fresh, whipped cream and crunchy meringue, piled high with fresh summer berries and bright sprigs of mint. And it wasn't hard to persuade my colleagues to help me finish what was another substantial portion. Cambridge Canteen is certainly one to seek out if you like your burgers big, bold and a bit more interesting.
Cambridge Canteen, Hill Farm Road, Whittlesford CB22 4AN