Nicola Foley discovers Cambscuisine's latest restaurant is another treat, serving up smoky delights and killer cocktails
You'll find the latest outpost from local restaurant group Cambscuisine perched on the edge of the Mill Pond, in the building previously home to Bella Italia. Depending on how long you've been knocking around Cambridge, you may even remember this impressive building as Sweeney Todd's, but it dates back much further – in fact it's even mentioned in the Domesday Book.
Step inside today and you'll find a handsome, modern brasserie which has been completely transformed from its most recent incarnation, and there's no denying that the fit-out at MillWorks is lovely. Local interiors firm Loci have done a great job giving nods to the building's history while bringing it bang up to date – I was particularly taken with the glass flooring, which allows diners to see the river rushing past underfoot, as well as the beautifully restored watermill wheel.
Food-wise, we kicked things off with the BBQ baba ganoush, which came with flatbread and whipped yoghurt. There's always a danger this Middle Eastern dip will simper into soggy blandness, but MillWorks' baba has a deep smoky flavour and luscious consistency. It was the smoked beef rib croquettes that stole the show for the first course though, which were stuffed with melt-in-the-mouth meat and encased in crispy fried breadcrumbs. We adored the piquillo pepper marmalade accompaniment too; a perfectly sweet foil for the smoky tang of the meat.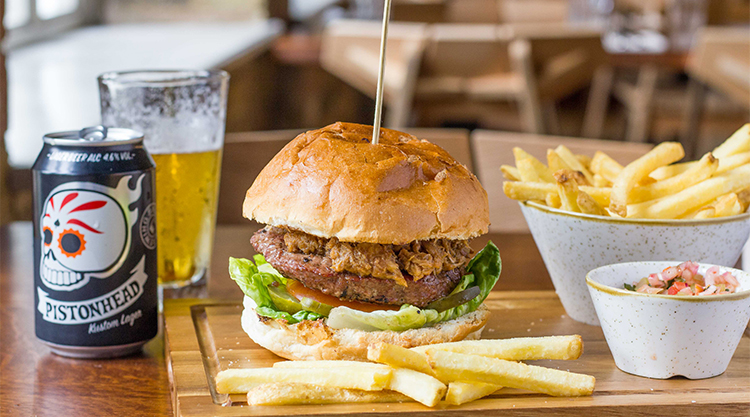 More meaty indulgence came with the mains, where we opted for steak and burger respectively. Making excellent use of MillWorks' custom built charcoal grill (affectionately known as Mortimer), the slices of flat iron steak had a perfectly cooked tenderness and great smoky flavour: a match made in heaven for the rich Béarnaise sauce.
Regular readers may have noticed that I'm a bit of a Cambridge burger connoisseur and make it my business to work my way around the city's prized patties. Well, I can tell you this: MillWorks' marrow melt BBQ burger is competition slaying. The bone marrow gives it a rich, unctuous texture, levelling it up a notch before we even get to the decadent layer of pulled beef brisket. Squishy brioche bun, tangy pickles and a dollop of lemon and garlic mayo complete this burger of kings, whilst our side order of mac 'n' cheese was wholly unnecessary but utterly delicious.
---
"The glass flooring allows diners to see the river rushing past underfoot"
---
And so to dessert, where we decided that passing up the opportunity to try MillWorks' signature Rupture Rapture would be foolish. A behemoth of an ice cream sundae, it arrived (with sparklers for added fanfare) loaded with doughnuts, chunks of brownie, marshmallows, Maltesers, whipped cream and salted caramel sauce, leaving us agog at its sheer scale. Those with small people in tow listen up – this is the stuff that under 10s dream of!
A great night-time destination, MillWorks also serves up brunches and lighter bites – making it a good bet at any time of day. Something that strikes me is how well they've managed to create a perfect all-rounder: appealing equally to couples, families and those in search of cocktails and great atmosphere for a night out with friends. It's hard to create an eaterie which feels genuinely 'buzzy', but MillWorks has nailed it. It's another winner from Cambscuisine, and I for one can't wait to see what's next from this peerless local restaurant group.
Millworks, Newnham Road, Cambridge