Images: Charlotte Griffiths
Charlotte Griffiths heads up to Castle Hill for a feast she won't forget in a hurry
Halfway up the only slope in the city is a pub that's dear to many residents' hearts. The Architect first emerged from what was formerly the County Arms back in 2014 after an extensive refurbishment, then was reopened by locals Luke Edwards and Stuart Tuck in late 2017, as a sister pub to their Blue Lion in Hardwick. The latest incarnation of the Architect continues the building's mission of providing locals, students and tourists alike with a stylish and cosy spot for breaking the arduous journey up The Hill.
The creative theme visible throughout the pub's branding and decor continues in their food offering, where diners are invited to "design their own meal" from starter through to dessert. The pub claims (and is almost certainly correct in this) to be Cambridge's first (only?) "fish and chip and pie and mash" bar, where all the main courses revolve around devising your own version of these classic British dishes.
---
"The warm glow emanating from the pub's windows was extremely welcoming"
---
We visited The Architect on a chilly night, when the warm glow emanating from the pub's windows was exceedingly welcoming, and settled in for a feast. The hearty starters on offer included crispy whitebait, rabbit and black pudding sausage roll and pork scratchings – but it was the Scotch egg tasting board which caught my companion's eye. This was a chance to try all three of the Architect's eggs: a haddock-surrounded number with curry-spiced mayo for dipping; a be-falafelled egg served with tzatziki; and (my favourite) a traditional sausage-encased version accompanied by mustard. The deep-fried brie with pineapple and chili ketchup also got ordered, and devoured. Diet food this isn't – but neither of us had any issue with that whatsoever – and large glasses of viognier made an excellent accompaniment to the boards of deep-fried goodness.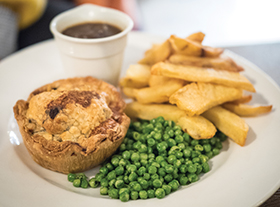 Next up came the mains, and our chance to navigate the Architect's menu to show off our creative mettle. Those choosing to plump for a pie are given the option of beef, chicken, steak and ale, a fish pie topped with cheddar mash or a roasted vegetable and lentil take on a Shepherd's pie.
This can then be accompanied with your own choice of potato – chipped, mashed, minted or fried – then smothered in a selected sauce, with options including red wine jus, mustard sauce, chasseur or vegetarian gravy.
If you're not feeling pastry, your other option for a main is based on fish and chips, where diners can choose between haddock, cod, calamari or halloumi. You then select a batter – we went for traditional beer, but were sorely tempted by the green chilli tikka, or cajun-spiced panko – and then a side, which is the same list as sits with the pies.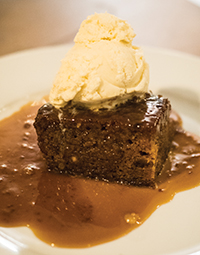 Buttered samphire ended up next to my beer-battered haddock, while my companion went for minted garden peas to accompany her beef shin and stilton pie.
The portions are not small by any stretch of the imagination, so make sure you turn up hungry. We battled through in the interest of research, of course, but kept remarking how we were hugely content to be in this extremely cosy pub, devouring such an indulgent feast.
Our mains were cleared, and dessert menus wafted under our noses: we doubled up and dived into a shared sticky toffee pudding, which arrived doused in butterscotch sauce and topped with melting vanilla ice cream – and which was everything you could hope for from a STP.
We sloped out into the night, sadly having to battle gravity by journeying further up the hill rather than giving up and rolling down into town – but will definitely be stopping back to try another of the seemingly innumerable iterations available on the Architect's neat menu.
I'm fairly sure that some clever sort will have calculated the total number of possible combinations on offer at the Architect, and if not, then this is definitely a challenge to take on. Over a pie and a pint, of course.
What: Inviting pub with a focus on fish and chips and pie and mash. Be sure to sample the Scotch eggs and get stuck into the huge range of gins, cocktails and craft beers.
Where: 43 Castle Street, Cambridge
How Much: Snacks and sharing bites start at a very reasonable £1.50, while mains begin
at £8.50.