Images: DAISY DICKINSON
This month Nicola Foley samples a menu filled with indulgent treats at new restaurant The Senate
Having put in an admirable stint serving up teas and scones to the people of Cambridge for around three decades, Auntie's Tea Shop on St Mary's Passage closed its doors for the final time earlier this year. Now, in its place, you'll find the gleaming Senate: a handsome new bistro and wine bar offering a menu of tapas-style dishes and indulgent, hearty mains.
Taking a perch inside (the weather looked a bit too temperamental out, more's the pity), we drink in the impressive setting. The Senate is nuzzled up beside St Mary's Church on one side, and overlooks the classical grandeur of the university's Senate House on the other – the kind of view which reminds you exactly how stupidly gorgeous Cambridge can be and which is taken full advantage of with The Senate's ample outdoor seating. Inside, meanwhile, it's all deep colours and dark wood, with blue and white patterned tiles adding a touch of Parisian flair.
To the menu, where my dining partner and I dithered over the range of small plates, gourmet sandwiches and salads for an age before eventually passing the responsibility of choosing our lunch over to the very obliging owner Oli, who agreed to bring us a selection of his favourites.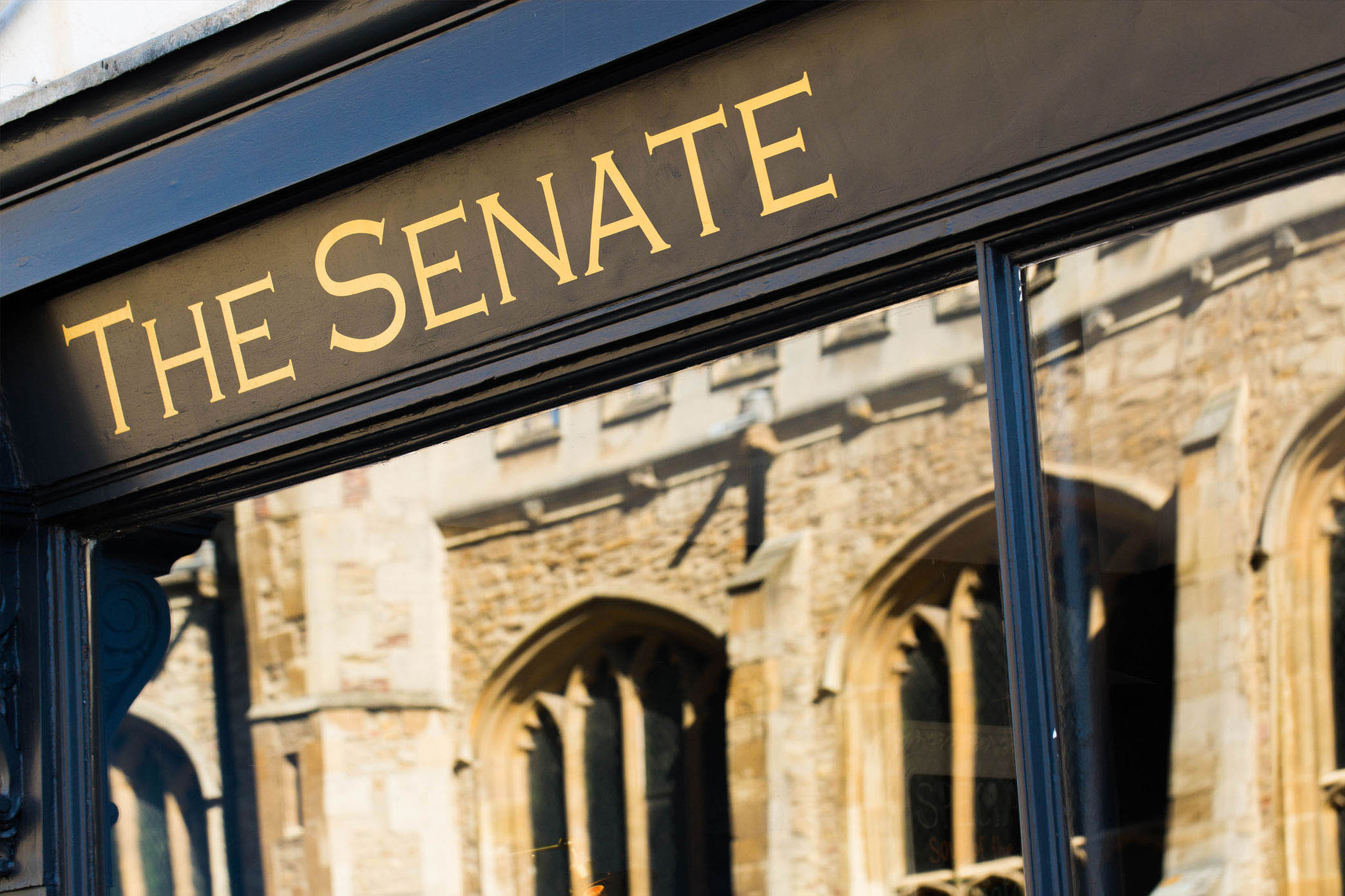 What arrived was a beautiful summery feast, bursting with colour. Making their way into our mouths first were the halloumi bites: sesame seed-crusted cubes of salty halloumi, drizzled in runny honey – completely addictive and a major hit with my vegetarian, halloumi fiend of a dining partner.
Then, it was onto the salad, a prettily presented combination of roast sweet potatoes, feta and a sticky balsamic glaze, served on a bed of spinach leaves and with a topping of bright purple amaranth shoots. Simple, but very pleasing to both eyes and mouth.
The real standout for me was the cheesy prawns – a dish I was a bit sceptical of for its committal of that supposed culinary faux pas of mixing seafood and cheese. Turns out this (along with lobster mac 'n' cheese) is the exception that proves the rule, it was sheer calorie-laden heaven. Served in a pan, still bubbling, there were fat, juicy tiger prawns aplenty submerged in a fondue-like lava of melted extra mature cheddar and crème fraiche. A little kick of chilli added a needed piquancy to all the creamy indulgence, which I happily dunked my way through with excellent home-made bread.
---
"A beautiful summery feast, bursting with colour"
---
We rounded off our rather decadent lunch by ploughing into the charcuterie board, a well-laden smorgasbord of meaty, cheesy delights. Highlights were the slivers of delicately flavoured San Daniele Parma ham and tender bresaola punta d'anca montana. We were also big fans of the The Duke and The Duchess, a creamy blue cheese and a buttery alpine-style number respectively, both made by local company Cheese+.
Though we couldn't manage dessert (the charcuterie board saw to that), there were some lovely options on offer including a home-made sticky toffee pudding.
The Senate does a sterling range of great wines too, whilst there's also a choice of cocktails which includes a to-die-for espresso Martini.
It might be blessed with an unbeatable location, but, refreshingly, The Senate doesn't use that as an excuse for laziness when it comes to the rest of their offering. The well-thought-out menu, full of lovely indulgences which make perfect bedfellows for the top class wines they serve up, makes it a winner in our book; equally suitable for a casual lunch, a romantic dinner à deux or cocktails and tapas with a gaggle of friends.
They've been expanding into events, too, with wine tastings and such brilliantly conceived happenings as the Fleetwood & Fondue night, and they've got more to come over the next few months, so keep an eye on their Facebook page for future announcements.
1 St Mary's Passage, Cambridge CB2 3PQ