This year's SGP is the last one. Nicola Foley finds out what's in store for the send-off
After 15 years of creativity, chaos and serious partying in the Cambridgeshire countryside, the organisers of Secret Garden Party have called time on the festival, announcing that this summer's event will be the last ever.
The outpouring of sadness that the news caused on social media is testament to the special place that SGP holds in the hearts of festival-goers: often imitated but never matched, the eccentricity and curious magic of this hedonistic gathering will be sorely missed on the festival circuit.
It's hard to explain the charm Secret Garden Party radiates to someone who's not been – it's something that you have to experience first-hand as you dizzy around the rolling meadows and shimmering lakes, greeted by a thousand glittered, beaming faces and savouring every eye-popping surprise the lovingly crafted site has to offer. Silliness reigns supreme, the spirit of togetherness is palpable and the whole place, a fancy dress-filled playground for grown-ups, feels delightfully removed from reality.
Absent of sponsorship and brands, and putting festival-goers at the heart of the experience, SGP ripped up the rulebook and redefined what a festival could be, setting the creative benchmark and raising it higher with every event that passed.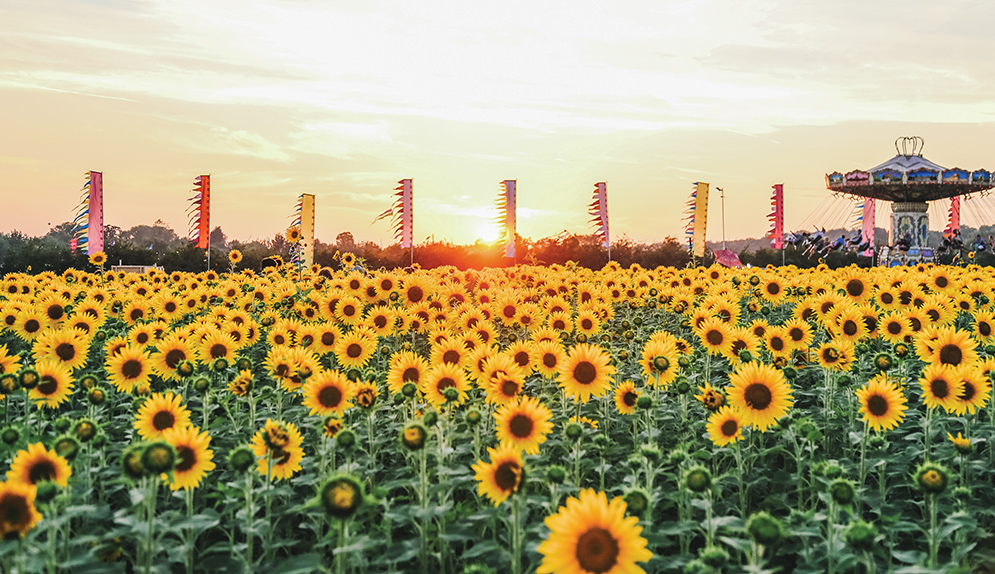 Fans are likely to be encouraged by founder Freddie Fellowes' promise of a 'phoenix' which will rise from the ashes of SGP, but there's no doubt that the end of Secret Garden Party signals a sad day for the festival scene in the UK. We'd recommend snapping up tickets to this year's festival, which takes place 20-23 July, asap. In case you need any more persuasion – here's a taster of what they've got planned…
Music
Secret Garden Party has never been all about the music, but while you might not get the huge headliners on offer at other festivals, there's a brilliantly curated melting pot of different genres across the ten or so stages. Whether you're into dirty drum and bass or solid gold disco, you'll find your tribe. The Great Stage, nestled on the edge of a twinkling lake at the foot of a grassy hill, provides a centrepiece for the whole festival, and it's where you'll catch some of the biggest names.
This year's headliners include Metronomy, Crystal Fighters, Toots and the Maytals, Wild Beasts and Peaches. The Pagoda – a dance floor floating on the lake – has become the stuff of legend (so expect queues to get on to it), but it's known for being one of the best spots for a dance, especially when the sun's setting. This year you can catch acts including Eats Everything and Jackmaster.
The serious ravers, meanwhile, will find their spiritual home in The Drop, a natural hollow in the rolling hills serving up the best home-grown underground house and techno. If that's your vibe, venture deeper into the woods to find The Labyrinth, a hidden venue serving up sets from heavyweights such as Waze & Odyssey and Maribou State. Festival fave the Collosillyum, an open-air castle constructed with haybales, is set to host the showdown of all showdowns for drum and bass fans when labels Hospital and Ram go head to head with a line-up that includes S.P.Y, Nu:Logic and Subfocus.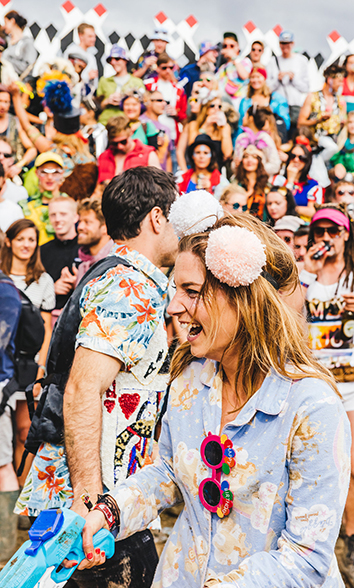 Fun & Games
From skinny-dipping to dance-offs to fancy dress parades, there's silliness to get stuck into around every corner at SGP – and this year will be no exception. Bearded Kitten will be resurrecting some of their favourite interactive hi-jinks, including the mud-wrestling pit and aerial tussles, while the kids' area will have circus skills, bake-offs and crafty fun aplenty.
Got moves to kill? Make a trip to the Dance Off stage, which kicks out feel-good grooves day and night and puts Soul Train to shame with its epic dance challenges.
Art
SGP is one big theatre for visual arts, and each and every year the organisers manage to blow the crowd away with the little (and enormous) surprises sprinkled around the site. In previous years we've been treated to LED 'stars' falling from the sky, water holograms and a secret sunflower field, not to mention the annual Sunday afternoon paint fight; so we can't wait to see what's in store for 2017.
The Great Lake will once again play host to the biggest installation of the lot – which gets ceremoniously set alight during the big burn after Saturday night's jaw-dropping fireworks display.
Pampering
There comes a point during every festival when securing some R&R becomes your main priority – and SGP excels at providing weary festival-goers with the rejuvenating they need. The Sanctuary area offers massages and therapies aplenty, a pamper parlour complete with mirrors and maquillage, and there's even the opportunity to get your hair done at the Secret Salon. Our pampering pick goes to Bathing Under the Sky, offering saunas and outdoor hot tubs. Hungry? SGP's food offering is always a cut above, but for a full-on feast in style, it has to be Milliway's, the on-site fine dining restaurant.
Secret Garden Party takes place in Abbotts Ripton from 20-23 July and tickets are available starting at £170