A beacon of brilliance on the local café scene, Hot Numbers is about to unveil its most ambitious project to date.
Charlotte Griffiths takes a look around
Sometimes in life, if you want something to exist, you have to knuckle down and make it yourself. Hot Numbers in Cambridge is the epitome of this creative philosophy: eight years ago, founder Simon Fraser couldn't find anywhere to buy decent coffee, so set about creating his own, roasting and grinding beans that he'd personally sourced to ensure perfection with every sip.
"I had a vision but it was very much in my head and not on an architects' sketchpad," explains Simon. "I just needed to realise my passion for coffee and engineering in one space, and let it evolve naturally, embracing the mistakes that come with planning a coffee shop with a blank canvas for the first time with minimal help and little finance in place."
Chances are that if you drink coffee and live in our city, then you've already been to one of Hot Numbers' two sites. Either the original branch in Dales Brewery, on Gwydir Street, which sprawled into the next-door art gallery several years ago and is now a humming hotbed of coffee aficionados all week long, or its newer opening on Trumpington Street, fuelling passing engineering students and Fitzwilliam Museum visitors alike with precisely the correct amount of caffeine to get through their days.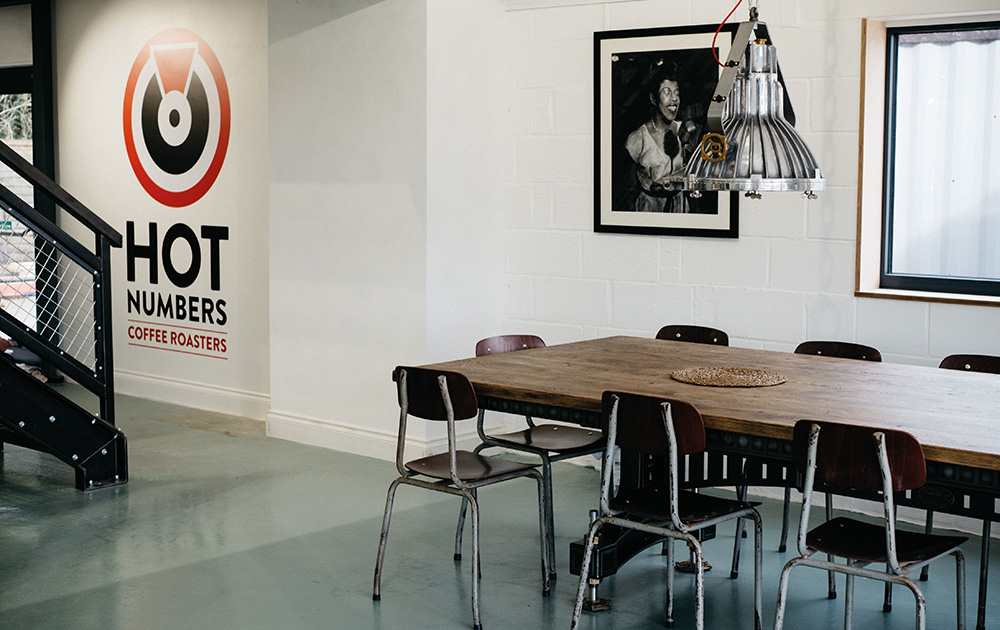 But like most successful businesses in Cambridge, space became a challenge. "Trumpington Street was originally a platform to showcase our coffee roaster," Simon explains, "but we never anticipated it being as busy as it was."
The second branch quickly became hugely popular for both its coffee and food offering, which only increased when Simon recruited chef Adam Wilkinson to overhaul the cafes' menus. Trying to roast coffee and toast sourdough in the same small space proved something of a challenge – "so that's when we moved the roastery out to Stapleford," Simon explains.
"And now we've outgrown there: that's the nature of it. It's been a naturally evolving business. So now… we're into a site where we can hopefully do everything together," he grins.
Presenting the Hot Numbers Roastery at Wrights Mowers, the newest addition to Simon's portfolio that promises to become a real destination for Cambridge food lovers. Located south-west of the city just off the A10, an old warehouse has been transformed into a two-storey light-flooded cathedral of coffee that's guaranteed to attract pilgrims seeking the perfect pour-over.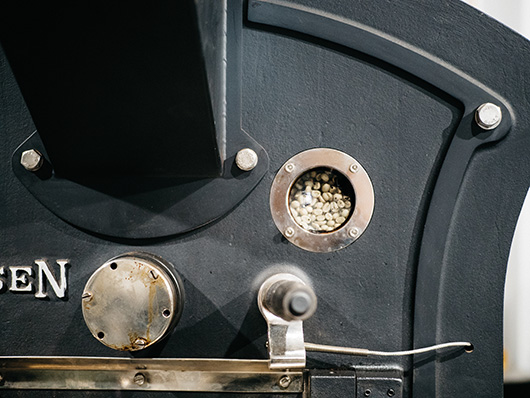 Simon first met the roastery's neighbour John Wright while out riding his old Sunbeam motorbike. "John said: 'Oh, I've got a collection of bikes – would you like to come and see?' – so we went to his house, we had a cup of tea and he showed me around," Simon explains. "Later, I asked him if he knew of any space for the coffee roasters, as we had to move from Stapleford – and he said, 'Well, I've got this whole building: you could have a portion of it.'"
Though the warehouse was a lot larger than Simon and his team had first anticipated, they summoned up the courage to take the whole space, in order to make the roastery as light as possible, and build a cafe around their production unit. "We took the floors out there," Simon gestures upwards, to the two-storey space that drenches the central bar with natural light. "It was going to be a lot more rough and ready, but as they've done more and more to it, and added more and more fine detail, the cost has grown – but it just looks fantastic. There's no architect here – there's never been an architect at Hot Numbers – it's just come from living in the spaces and deciding what we were going to do with them. We've learned, we've made a few mistakes on layout, but we've gained knowledge."
The new building opened on 10 April, and as well as serving up the same exceptional coffee you'll find at the group's other sites, the space has an open kitchen and a bakery (Simon has plans to focus on sourdough, and mentioned pizza) as well as dedicated areas for training the public and hospitality teams in the art of coffee creation.
Perhaps most importantly, it allows guests the chance to watch Hot Numbers' coffee roasters in action. "We've had the cafes, but the roasting side was always a little bit behind the scenes," Simon explains, "so the idea was to build a space around the roastery and add that visual impact."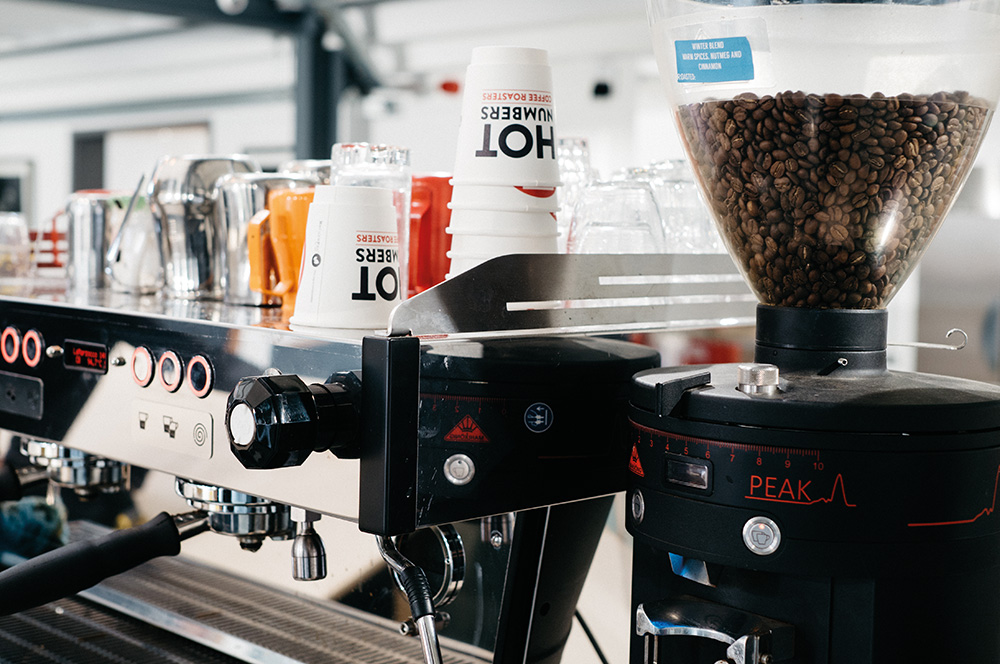 Lucas Keen, gigs and events co-ordinator, continues: "The idea is that we have these large openings over here," Lucas says, turning to face the central area of the roastery, "so people will be able to have their coffee and watch the process of what brings it to the cup – like a theatre of coffee."
At the moment, Hot Numbers' two roasters are busy all day on Wednesday and Thursday, transforming green beans to supply Hot Numbers' cafes and keep their wholesale customers stocked up. "We supply restaurants, cafes, colleges, businesses – we deliver to loads of places in Cambridge – so as we get busier and busier, we might start roasting more. And now we've got the space to do that!" Lucas smiles
"The coffee comes in on huge pallets from Ethiopia, Guatemala, Colombia – wherever we're getting coffee from at that time – and then we roast it here. And I think that's what sets us apart in Cambridge: we roast our own coffee, and we take it really seriously. It's like wine: there are so many variables in how you transform the coffee from that –" he gestures to the sacks of green beans, "to the cups that people are drinking. And like with every food, there's seasonality."
---
"If you start with a good product, you can't go wrong"
---
Justin Brown, Hot Numbers' roast master, explains. "There are so many factors that – although slight – can make a difference to the coffee: it's about nurturing that knowledge and ensuring you have control over those parameters. Brazil produces coffee all year round, but depending on the rainfall – if there's been a change in global climate, for example – we've had to turn some coffee away. We had some Ethiopian coffee a few years ago where one year it was great, and then the next year it was really quite underwhelming – and that's the thing: here we have the opportunity to say 'this isn't what it should be' and send it back."
The whole team is clearly passionate about coffee, and heavily involved in keeping track of their coffees' changing flavour profile. "When we get a new coffee, I check the climate, the geography; whether it's a natural or washed coffee, and I start to get an idea of a recipe in mind – so then we roast it, cup it and decide on a way forward," says Justin. "It's a cooperative: we're all tasting coffee at the same time, we're saying it's good, it's not good, it tastes as it should…"
Sophie Garner, head of coffee, joins in: "The tricky part is that if you're cupping loads of coffee, or if you're having a bad day, or if you've eaten something spicy… some of the coffees are so subtle. It can be the difference between a macadamia nut and a raw nut," she explains. "If you've got an Indonesian coffee, or something that's smoky and leathery with that gorgeous fullness – it could also just creep into ashy. Roasting coffee is like alchemy – but it's also like if you're baking a cake or making food: if you start with a good product, you can't really go wrong. Of course, Justin's job is so important, and he does a great job, but so much relies on the green bean. It's a crop like any other. You have what you have."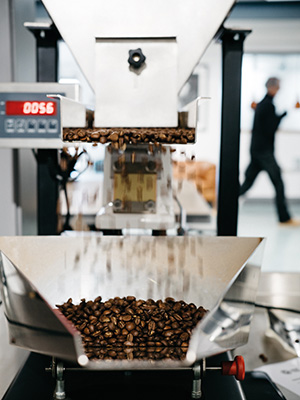 "It's mostly to do with the origin of the coffee and the quality of the coffee," Justin agrees, "and what I'm trying to do with the roasting is harnessing the flavour that's already inherent within the coffee, and to present that in the best way possible."
The Hot Numbers team's enthusiasm and eagerness to share knowledge, coupled with the high-spec surroundings, will make the roastery a must-visit for anyone even fleetingly interested in the process of transforming a green coffee bean into a shot of espresso.
Though the paint was still wet and tradespeople were hard at work, the building already felt as welcoming as the other branches of Hot Numbers: almost certainly down to the coffee shops ever-present jazz soundtrack – and a few familiar faces on the walls.
"These black and white charcoal portraits have become a talisman for the business," Lucas explains. "When we opened our first cafe, they were up on the walls: then when we opened the second cafe, they went there, and now they're here. And we'll always have jazz playing."
And for Simon, a few new additions to his team of around 45 – as well as the creation of a new workshop at the roastery – means he'll be able to get back to what he loves: tinkering with machines, thinking more strategically about the coffee that's become his life's work and continuing his charmingly understated, yet hugely successful approach to building a strong food business.
"We've never shouted much, we've just done it – so we're hoping that the new visibility of the roastery and our investment will help draw people here," he says. "This is hopefully enough now – so I can concentrate on it, and enjoy it."
Hot Numbers Roastery at Wrights Mowers, Dunsbridge Turnpike, Royston